Introducing DU's 2019-2020 Leadership Consultants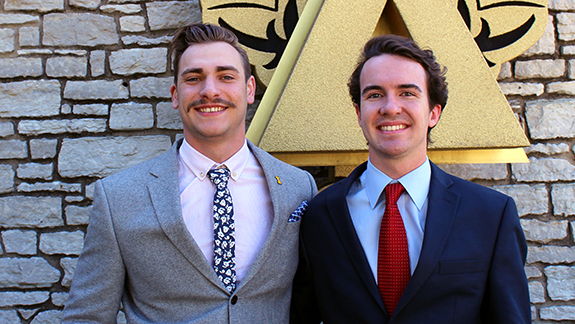 June 26, 2019 - Delta Upsilon International Fraternity is pleased to announce that Alexander Gourley, Iowa '19, and Max Parent, James Madison '19, will serve as Leadership Consultants for the 2019-2020 academic year.
Leadership Consultants are the Fraternity's key ambassadors, working directly with students, alumni and universities to advance Delta Upsilon's initiatives. Throughout the upcoming year, Alex and Max will be tasked with enhancing chapter operations, establishing new chapters and recruiting new members into the Fraternity. This includes the fall 2019 expansion at the University of Colorado Boulder.
Alex and Max will spend summer 2019 in Indianapolis training for their roles and assisting with the 2019 Leadership Institute. During the fall and spring semesters, they will travel North America to assist DU chapters/colonies and the Fraternity's educational programs.
Delta Upsilon also welcomes its 2019 summer interns. In June 2019, Christopher Gibson, Western Illinois '21, and Matthew Talley, Maryland '21, began their summer roles at Delta Upsilon International Headquarters in Indianapolis. Throughout the summer, Chris and Matt will work on a number of projects and culminate their experience with the 2019 Leadership Institute.