Michelle Marchand
Senior Director of Chapter Development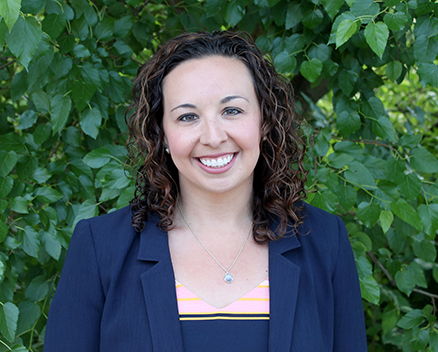 317-875-8900 ext. 217
Contact for: Chapter operations, advisors/volunteers, CEP, chapter finances
As the Senior Director of Chapter Development, Michelle manages the Chapter Development team, which includes all aspects of chapter servicing, expansion, advisors, consultant training and volunteer development.
Michelle has a rich background in fraternity and sorority management, as well as student affairs. From 2006 to 2008, Michelle served as a Graduate Assistant for the Office of Campus Life of Clarion University. She was then the Greek Life Coordinator for Lehigh University, a role she held from 2008 to 2011. Michelle began her tenure at Delta Upsilon in 2011 as the Director of Educational Programs, a role she had for two and a half years. She then returned to DU in 2015 as a Director of Program Development. She began her current role in 2016. She has also worked for her sorority, Alpha Xi Delta.
She is involved in the Association of Fraternity/Sorority Advisors, currently serving on the Nominations and Elections Committee, and previously on the Core Competencies Workgroup and as chair of the Educational Resources Workgroup, among other volunteer roles. Michelle is a member of Alpha Xi Delta and serves as the Vice Chair of the the Alpha Xi Delta Foundation Board of Trustees. She is a volunteer with the Circle of Sisterhood Foundation and has given her time to the North American Interfraternity Conference as a Lead Facilitator for UIFI, Impact, IFC Academy and FuturesQuest.
Outside of the fraternity and sorority community, Michelle volunteers with Autism Speaks.
In 2019, Michelle received the AFA Sue Kraft Fussell Distinguished Service Award, in addition to the AFA Essentials AWrd in 2015 and the AFA Gayle New Professional Award in 2010. In 2013, she was named one of Connect Magazine's "40 Under 40" nominees.


EDUCATION
University of Mount Union, 2005
Indiana University of Pennsylvania, 2008, M.A. Student Affairs in Higher Education
FUN FACT
Michelle has run four marathons.
We are DU!
Delta Upsilon is the world's oldest non-secret, non-hazing fraternity. With the mission of Building Better Men, our aim is to provide a modern fraternity experience for today's college student that equips him to be successful in all areas of life.
Mission & Vision