2018-2019 DU Educational Foundation Annual Report
A Message from the Chairman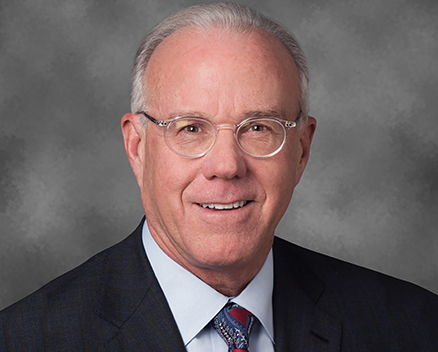 Since 1834, more than 135,000 men have been initiated into our great Fraternity. Each of us joined for our own reasons, but one thing is certain. We were searching for an experience that was going to be relevant—worthy of our time, energy and investment.
Relevancy is also important to the 1,471 donors who made a gift to the Delta Upsilon Educational Foundation this past year. With their help, the DUEF was able to offer tuition scholarships, program scholarships and housing grants, as well as help the Fraternity fund DU's award-winning educational programs. These brothers and friends of DU gave because they know the Delta Upsilon experience is relevant to today's college man. Regardless of the nonprofit you give to, no one wants to make an investment in an organization that is not making an impact.
Despite the challenges facing fraternities and sororities, Delta Upsilon is perhaps more relevant now than ever before. After four years of research and analysis with our member assessment partners at Dyad Strategies, it is clear that the DU experience of today—both at the chapter level and through our educational programming—is helping undergraduates develop healthy attitudes toward social culture, brotherhood and personal accountability.
The DU Educational Foundation is committed to putting the generous gifts of our donors to work each year through intentional programing and resources rooted in Delta Upsilon's Four Founding Principles of Friendship, Character, Culture and Justice. We wholeheartedly believe these Principles prepare our young men to lead their chapters, their campuses and our global society.
There are many ways to support Delta Upsilon brothers through the DUEF. This includes gifts made to support specific educational programs (like the Leadership Institute, Global Service Initiative, Regional Leadership Academy and Emerging Leaders Experience). Chapter Legacy Plans and Chapter Educational/Housing Accounts provide targeted support at the chapter level through tuition scholarships, educational programming and/or funding for housing projects. A strong general fund, which we call the Annual Loyalty Fund, is also critical to our success as it allows the DUEF to direct funds to areas that need the most support. Thanks to the generosity of our donors, last year, the Annual Loyalty Fund reached its highest ever fundraising total with $427,202.
As a former DU Leadership Consultant, member of the Fraternity's Board of Directors, a part of the DUEF's Board of Trustees since 2002 and now Chairman of the DUEF, I have seen Delta Upsilon grow and evolve in so many ways, further strengthening the relevancy of the DU experience. None of this success could have been achieved without the support of DU's volunteers and donors. Because of you, Delta Upsilon remains relevant.
I sincerely thank each person and entity that made a gift to the DU Educational Foundation last year. I also want to thank Steve Rowley, Ohio '65, who recently retired as Chairman of the DUEF after 22 years, as well as newly retired Trustees David Cole, Wilmington '72, and Robert Dahlsgaard, Bradley '63, for their thoughtful leadership. Throughout the next several pages, you will find the names of those who have made it a priority to financially support the DU experience. I invite others to join us. Large or small, every gift matters. Together, we will continue to build better men and make Delta Upsilon the premier men's fraternity.
Dikaia Upotheke,
Lewis Gregory, Kansas '75
Chairman, Delta Upsilon Educational Foundation
Educational Foundation Board of Trustees
CHAIRMAN
Lewis Gregory, Kansas '75
VICE-CHAIRMAN
Craig Franz, FSC, Ph.D., Bucknell '75
SECRETARY
Warren Nesbitt, Wisconsin '76
TREASURER
David Franzetta, Michigan State '70
VP – INVESTMENTS
William Rappolt, Lafayette '67
TRUSTEES
Roy Allan, Lehigh '68
Bruce Bailey, Denison '68
Bill Bittner, Bradley '74
Dick Campbell, Nebraska '68
Ralph Castner, Nebraska '85
John Delaney, Florida '77
John Eplee, M.D., Kansas State '75
David Meyers, Wisconsin '77
Coady Pruett, Cal Poly '02
Joseph Raudabaugh, North Carolina State '78
Daryl Reisfeld, Rochester '03
Richard Thompson, Michigan State '67
John Weisel, M.D., Oregon '48
Nickolas Welton, Lehigh '10