TIME MAGAZINE WALL
A highlight of the International Headquarters, the TIME Magazine Wall shows the DUs who have graced the publication's cover.
On the 50th anniversary of TIME magazine, the publishers put into production reprints of all covers of the magazine since the first issue. These prints were collaborated for a special collection. After the collection was released, the covers were compared against a list of all known alumni of the time. From this research, a more complete list of distinguished alumni was established and all alumni honored on the cover of the magazine were noted.
Following the research, the magazine's editor and alumnus of the Fraternity, Hedley Donovan, Minnesota '34, was contacted about obtaining copies of the particular covers. Donovan consented to permit TIME's archives to produce photograph reproductions of the original covers from the magazine files, which were in turn presented to the Fraternity Headquarters.
The collection has grown since, and continues to include alumni as they are featured on the cover of TIME. Colombian President Juan Manuel Santos, Kansas '73, appeared on the cover of the international edition of TIME in late April, as the most recent addition. The collection spans nearly 90 years, with more than a few dozen alumni featured since it was published in 1923.
The collection is the first of its kind assembled by a college fraternity and may be viewed by visitors to the Fraternity's International Headquarters building in Indianapolis.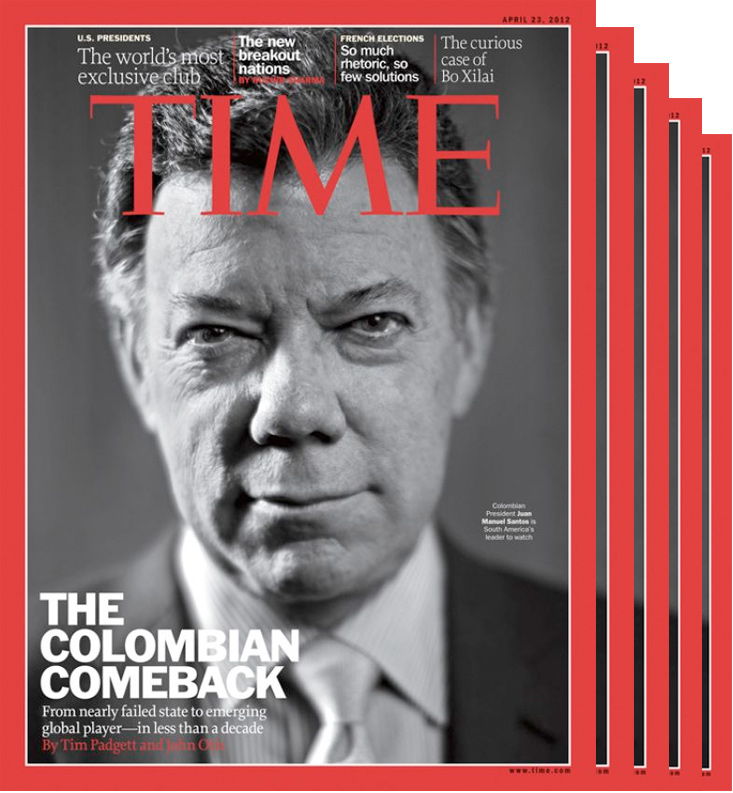 Santos on TIME
In late April of 2012, Colombian President Juan Manuel Santos, Kansas '73, appeared on the cover of the international edition of TIME magazine. The accompanying article, "Colombia Rising," focuses on Santos' work to transform Colombia from the home of drug traffickers, Marxist guerrillas and broken government to one of the region's most vibrant players. The following week, TIME recognized Santos again in the annual edition of "The 100 Most Influential People in the World."
Santos won Colombia's presidential election in 2010 and was sworn in on August 7th in Bogota. He served three years as defense minister to outgoing President Alvaro Uribe. As defense minister, Santos played a role in the 2008 rescue mission that freed Ingrid Betancourt, a former Colombian presidential candidate who was held captive by FARC, the Revolutionary Armed Forces of Colombia, a Marxist rebel group. He graduated from the University of Kansas in 1973 with degrees in business and economics. After graduation he studied at Harvard University and the London School of Economics.
Santos is following the footsteps of his great uncle, who was president from 1938-1942. The outgoing vice president, Francisco Santos, is his cousin who also studied at the University of Kansas. The Santos family founded El Tiempo, Colombia's most influential newspaper, where Santos worked as an editor before serving as foreign trade and treasury minister in previous administrations.
Santos won the Nobel Peace Prize in 2016.