OAK CIRCLE
Undergraduates learning about the Foundation and beginning their lifelong journey of giving back to DU.
ABOUT THE OAK CIRCLE
Each year DU undergraduates are encouraged to give back through the Oak Circle – the Foundation's undergraduate giving program. Hundreds of undergraduates join the Oak Circle each year with a gift of $18.34 to the Oak Circle endowment, and the dollars raised are given directly back to students through scholarships to our award-winning educational programs. Joining the Oak Circle is an annual experience and undergraduates who join receive an Oak Circle apparel item. The Oak Circle name was derived from the Oak that is located on the Convention Banneret. The Convention Banneret's principal charge is the oak tree whose trunk and branches show the relationship of DU Chapters to the larger General Fraternity. If you have questions about the Oak Circle, contact Director of Development Rayna Fordahl at fordahl@deltau.org.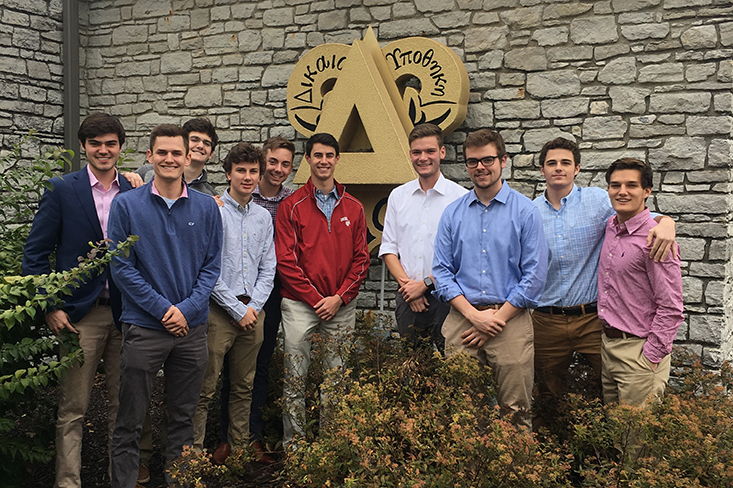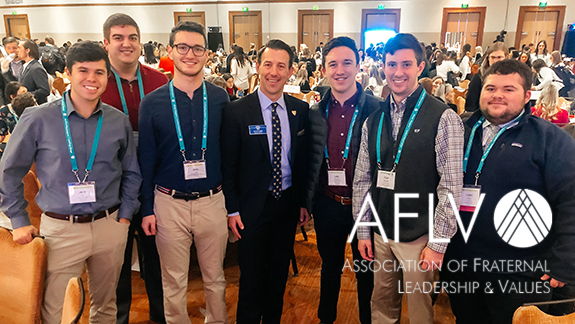 Oak Circle Scholarships
The DU Educational Foundation is proud to be using Oak Circle funds to provide scholarships to three upcoming programs hosted by the Association of Fraternal Leadership & Values (AFLV). Learn more about these opportunities and apply today!
AFLV Conference
The annual AFLV Conference is one of the premiere leadership development conferences available to fraternity and sorority members. Thousands of students from hundreds of campuses come together to share best practices, develop new networks, and sharpen skills that will help the succeed as leaders in their chapters. There are two different locations, Indianapolis and Anaheim. The program includes high profile keynote speakers, hundreds of breakout sessions on a wide array of relevant topics, and social opportunities to connect with fellow students.
AFLV Central – February 3-6, 2022, at the JW Marriot Hotel in Indianapolis, IN
AFLV West – February 24-27, 2022, at the Hyatt Regency Orange County in Anaheim, CA
Note: The scholarship will cover the cost of registration. Participants will be responsible for travel, hotel and meal costs.
AFLV Conference Scholarship Application
UIFI
The Undergraduate Interfraternity Institute (UIFI) is an intensive four-day leadership development experience for students who are looking to make an impact in their chapters and their communities. The program brings students from across the county together to work with experts in the fraternity and sorority world. Participants will learn from each other in large and small groups with space for individual reflection and introspection. Our goal is for all participants to have a new perspective about their own fraternity/sorority experience as a result of their time at UIFI. Participants will sign up for one of 6 sessions throughout the summer.
2022 Session Dates:
Session 1: May 12-15
Session 2: May 15-18
Session 3: May 22-25
Session 4: June 2-5
Session 5: July 28-31
Session 6: July 31-Aug. 3
Note: The scholarship will cover the cost of registration. Participants are responsible for their own travel. Click here for more information.
ANNUAL IMPACT
Given the vast array of educational programming offered by the DUEF each year, joining the Oak Circle is a great way for undergraduates to make their own impact on the next generation of DU leaders. Since the inception of the Oak Circle in 2001, more than 100 undergraduates have received Oak Circle scholarships for educational programming, and thousands of undergraduates have given to the Oak Circle endowment fund with a gift of $18.34 or more. The Oak Circle endowment has grown to more than $230,000, and the Foundation grants annual Oak Circle scholarships from annual interest earned. Undergraduate gifts to the Oak Circle not only provide educational programming scholarships right away, but the Oak Circle endowment ensures each gift made will make an impact forever on future generations.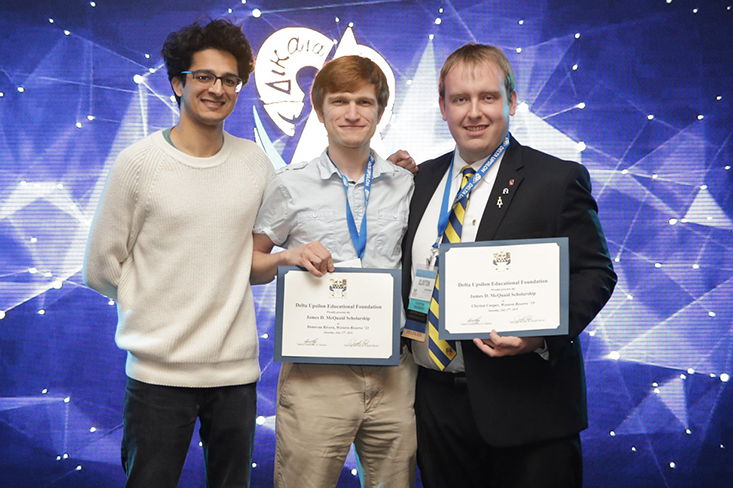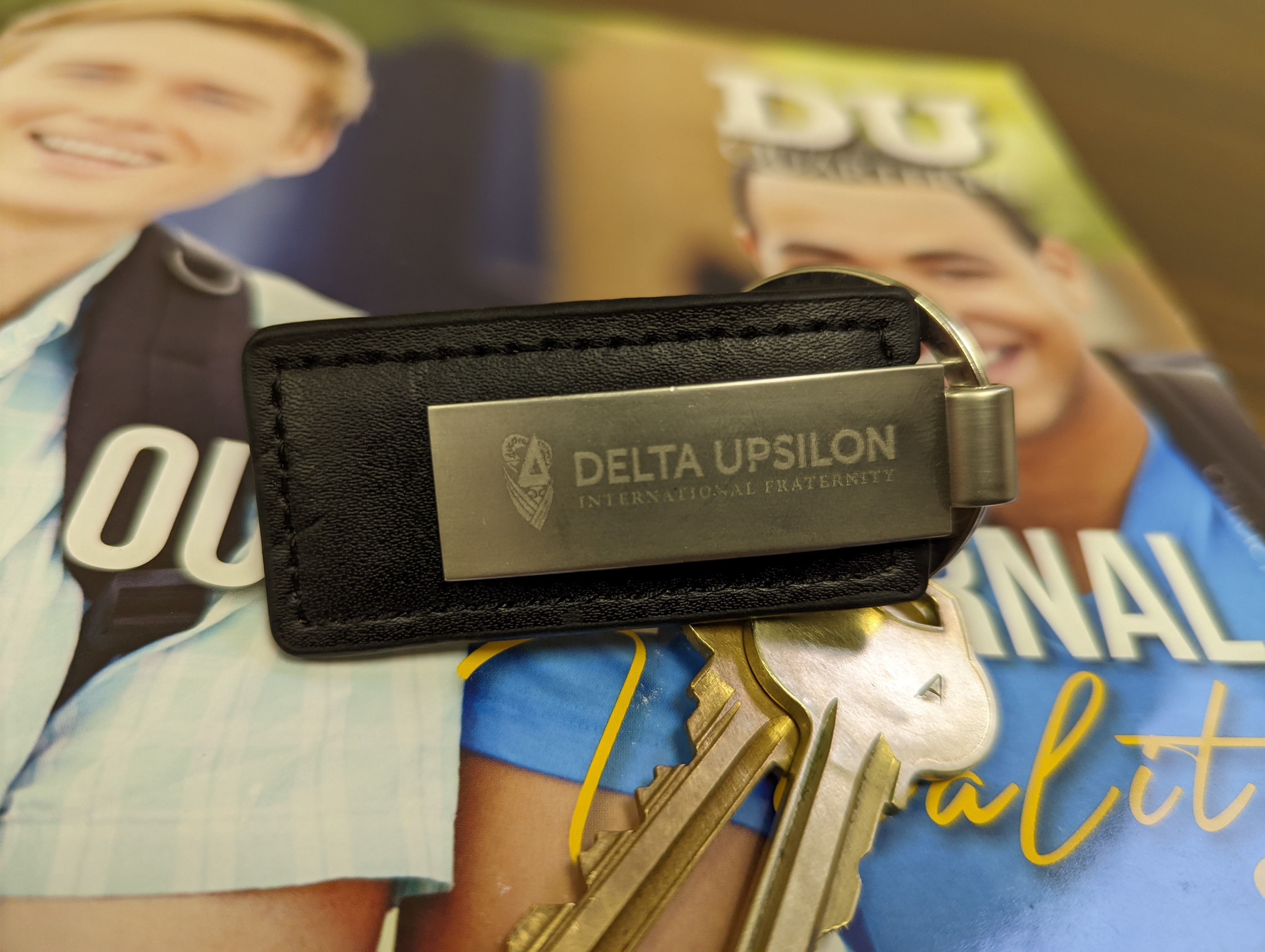 OAK CIRCLE BENEFITS AND RECOGNITION
Every undergraduate who joins the Oak Circle Undergraduate Giving Club by May 1 annually will receive the membership apparel item for that year (unveiled at the Presidents Academy in January). The 2022 apparel item is a DU keychain!
Membership apparel items will be given immediately to anyone who joins on-site at the Presidents Academy or Regional Leadership Academy, but all others who join will have their apparel items shipped to their respective mailing address. Along with publishing the names of all donors in the Foundation's Annual Report, the DUEF will also annually recognize chapters (based on the dollars raised and percentage of members in the Oak Circle) at the Leadership Institute in the summer.
Give to the DUEF Today
Will you join us in Building Better Men for a global society? Your support of the DUEF will help provide educational programming, chapter initiatives and scholarships to young men who will soon lead our world.