Virtual Programming
Even though COVID-19 has us off campus and social distancing, DU brotherhood and operations can remain alive and well in a virtual environment.
Virtual Operations and Brotherhood
COVID-19 has forced campuses across North America to move to online learning. This disruption has affected Delta Upsilon chapters/colonies in a number of ways. However, it is important to remember that DU is not just an in-person experience. There are so many ways DU can continue to function and provide fellowship virtually. Now more than ever, we must work together to support one another and ensure we come out of this pandemic stronger than before.
On this page, you will find a number of resources to help your chapter/colony function virtually. You can also find the line-up of DU's virtual education sessions and links to session recordings after they happen.
If you have specific questions about how your chapter/colony can support its brothers virtually, contact your chapter liaison or email ihq@deltau.org.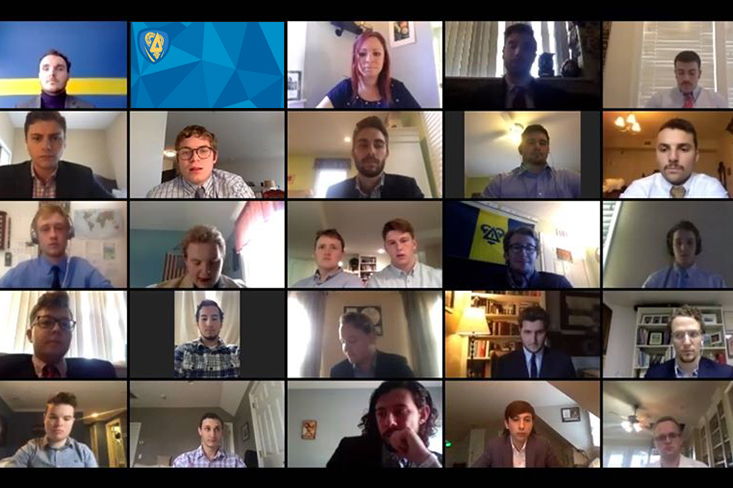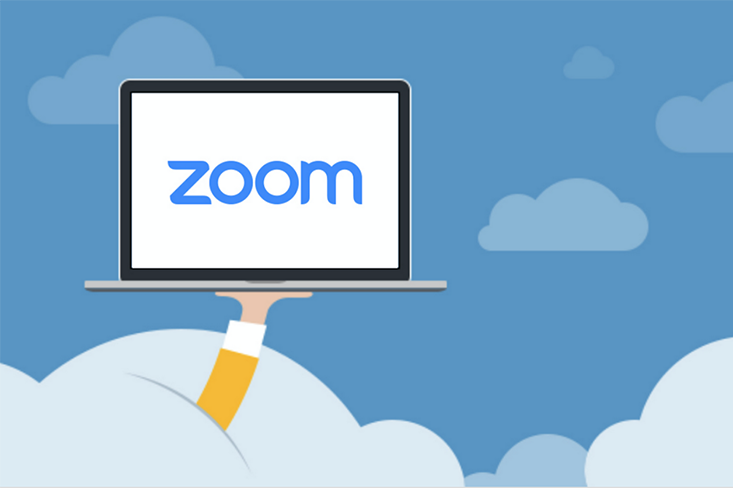 General Resources
Virtual Meetings
DU recommends that chapters/colonies continue to host Executive Board meetings, meetings with advisors and even chapter meetings virtually during this time. There are many platforms to choose from, including Zoom, Google Hangouts and others. Choose the platform best for you.
For more information, view Forbes' 12 Tips for Making Your Virtual Meetings More Professional.
If using Zoom, the following measures should be in place to ensure privacy and security:
Have a password for accessing the meeting.
Do NOT post the link for the meeting publicly. It should be sent individually to invited attendees.
Utilize the Waiting Room function, then approve members and guests for entry when ready.
Mute attendees, then unmute those who will have speaking roles.
When meeting begins, lock the meeting so no more attendees can join.
Download these Delta Upsilon Zoom backgrounds!
Virtual Service
Brothers still have the opportunity to serve their communities in a number of ways. Check out this is of online or no-contact service ideas.
Recruitment Resources
Virtual Recruitment Resources
With COVID-19 forcing chapters/colonies to operate virtually, chapters/colonies will need adjust and learn how to best virtually recruit new members. DU staff have created the following resources to share best practices, recommendations and tips for how chapters/colonies to continue to recruit virtually.
Recruitment Webinar
On April 14, 2020, Hayden Rahn, Oregon '16, Expansion & Development Director, hosted a webinar titled "Recruiting Virtually: What you need to know to be successful with virtual recruitment."
Recruitment Coaching Sessions
DU is excited to announce that staff will begin offering Recruitment Coaching Sessions via Zoom. These sessions are designed for the VP of Recruitment, Recruitment Committee and/or Recruitment Advisor to have the opportunity to spend 1-on-1 time with a DU staff member, focused on discussing chapter/colony recruitment plans and goals. Chapters/colonies can request a coaching session by completing an online request form or by emailing Expansion and Development Director, Hayden Rahn, Oregon '16, at rahn@deltau.org.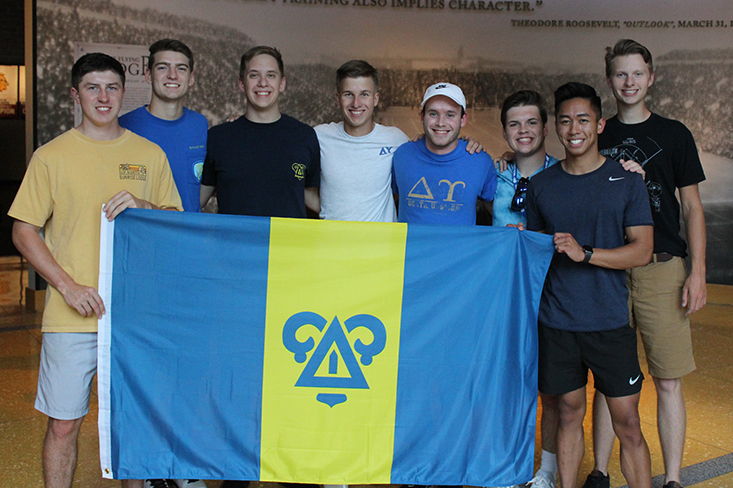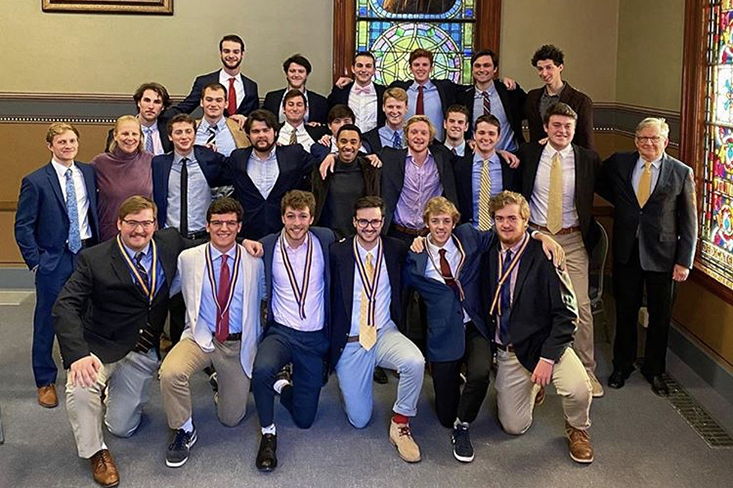 Virtual Associate Member Education and Initiation
Delta Upsilon has created a guideline for how chapters can continue the Associate Member Education Program virtually. The program can still follow a weekly schedule with a growth activity, a brotherhood activity and a weekly meeting each week.
Visit our Associate Member Education page for more information.
Thanks to DU's non-secret heritage, it is possible for chapters to host a virtual Initiation this spring.
Delta Upsilon Online Educational Programs
Now more than ever, we must remember that Delta Upsilon is not just something we do, it is a part of who we are. While we may not be physically together, we will continue to live our mission of Building Better Men by providing you with opportunities to strengthen your chapters and personal leadership development.
In conjunction with the creation of our Advancement of Justice Task Force, Delta Upsilon will host a special Justice in July webinar series to further discuss injustices in society and how we can make a difference.
If you have suggestions for future virtual program topics, or if you are interested in leading a session. Contact Senior Director of Educational Programs Noah Borton at borton@deltau.org.
A Vision for a World Without Poverty
July 15
8 p.m. EDT
Presented by Mark Bergel, Northwestern '85, Founder and Executive Director, A Wider Circle
Through the work of the nonprofit called A Wider Circle that he founded in Washington, D.C., Mark Bergel, Northwestern '85, has worked tirelessly to realize his vision of eliminating poverty. By sharing his story, Mark will help us understand the dynamics of poverty within our communities while also challenging us to take action
Register for A Vision for a World Without Poverty
Justice In July Recordings
ONLINE PROGRAM recordings