RITUAL
DU believes in the power of transparency. We are the first fraternity to have an open, non-secret Ritual that we share with our friends and family.
RITUAL of DU

Delta Upsilon was founded because students at Williams College became suspicious of the secrecy and activities of other fraternities on campus. These men believed that to truly make a difference, a fraternity needed solid and sincere beliefs you can share and articulate with others. Why would you hide any part of who you are or what you stand for?
The current Initiation Ritual of Delta Upsilon has two parts. In Rite I, candidates for admission are brought before an Examiner and Chief Marshall. Here, men are informed of the nature of the pledges to follow in Rite II, for the candidates to indicate their willingness to accept those pledges, and for them to sign the Roll Book. While Rite I is in progress, all brothers and guests are called to order and wait for the candidates to be brought in. In Rite II, the candidates profess the Oath of Initiation, are adorned with the Fraternity insignia, and are formally initiated into the Fraternity.
Click here to download "Hail, Delta Upsilon" and "Delta Upsilon Ode."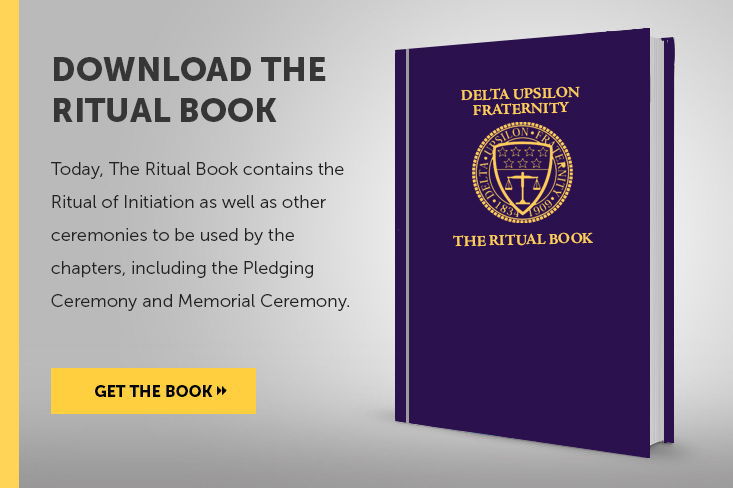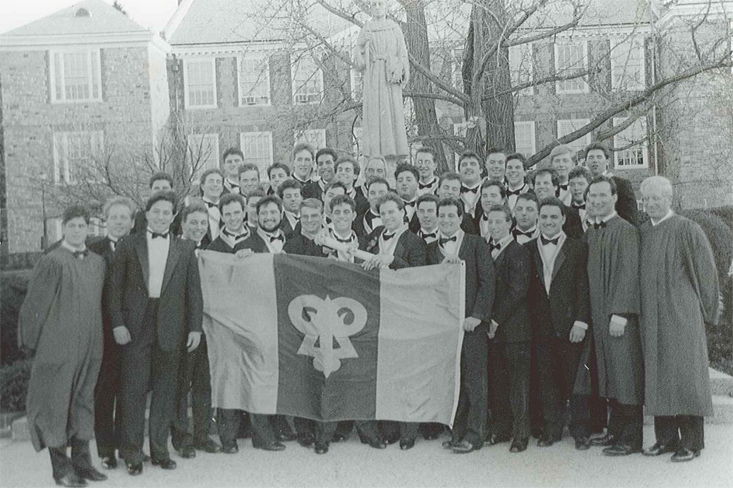 Oath of Initiation
I, of my own free will and accord, in the presence of God and of these witnesses, do hereby solemnly declare that the principles of this Fraternity as they have been explained to me accord entirely with my own views; and I solemnly promise that as a member of this Fraternity I will faithfully adhere to those principles endeavoring in every way to perfect myself morally, intellectually, and socially, and endeavoring also to act towards others according to that high standard of conduct required by the Fraternity.
I solemnly promise that I will be loyal to the Delta Upsilon Fraternity and to this chapter, abiding by their rules, discharging my obligations to them faithfully, and using all honorable means to promote their interests.
I solemnly promise that I will share with my brothers the duties of my chapter; that I will uphold and encourage them in all that is honorable and right; that I will ever extend to each brother the right hand of sympathy; and that at all times and in all circumstances I will endeavor to cultivate those sentiments which should ever exist between brothers.
All this I solemnly promise upon my honor, without any equivocation, mental reservation, or secret evasion of mind whatsoever.