Housing Resources
Safe, welcoming chapter facilities are integral to DU's mission of Building Better Men.
Chapter Housing
Chapter housing is a unique aspect of the Fraternity experience. Chapter facilities provide spaces for brothers to live and to gather together for camaraderie. With a mission of Building Better Men, DU understands the importance environment plays in member development. As such, it is important for chapter facilities to be safe, secure and promote a healthy environment for all members and guests.
If you have questions about DU housing, please contact Senior Director of Chapter Development Dominic Greene, Oregon '99, at greene@deltau.org.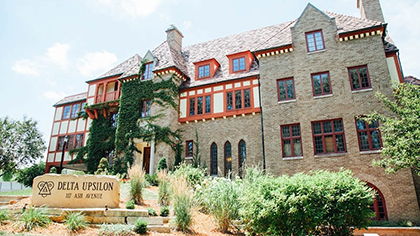 COVID-19 Recommendations
COVID-19 has provided a unique set of challenges and opportunities when it comes to DU housing. Now more than ever, we must focus on ways to keep one another safe. We have seen COVID-19 spread rapidly in places like cruise ships and nursing homes. In many ways, a dormitory or chapter house is no different. As responsible neighbors, we must also do what we can to stop the spread of the virus. Brotherhood, friendship and compassion have been, and will continue to be, foundational in Delta Upsilon's response and guidance related to the Coronavirus.
First and foremost, recommendations and health and safety guidelines from your campus, local, state and federal governments must be followed. This fall, should recommendations or guidelines change from what they were at the beginning of the term, it will be important to work in conjunction with your Delta Upsilon staff liaison and campus officials to adjust plans as necessary. Flexibility will be paramount as this pandemic continues.
Below are helpful resources your house corporation can use to ensure member health and safety this fall. If you have specific questions regarding your chapter's housing situation, please contact your DU staff liaison.
We wish to call special attention to the following documents, which we find to be the most comprehensive.
Substance-free Housing
In fall 2020, all DU chapters are to have substance-free housing unless they have been granted a waiver from the International Fraternity. This means that no alcohol is to be stored or consumed on chapter property, regardless of a member's age.
For more information about substance-free housing, visit our Substance-free Housing page.