PROVINCE LIST

Our chapters are geographically grouped into what we call provinces, allowing us to provide extra support to all of our chapters.
GEOGRAPHIC REGIONS OR PROVINCES

Delta Upsilon is broken into six geographic regions, or provinces. Each province has a Province Governor, a volunteer appointed by the Board of Directors, who offers guidance and assistance to undergraduate and alumni chapters.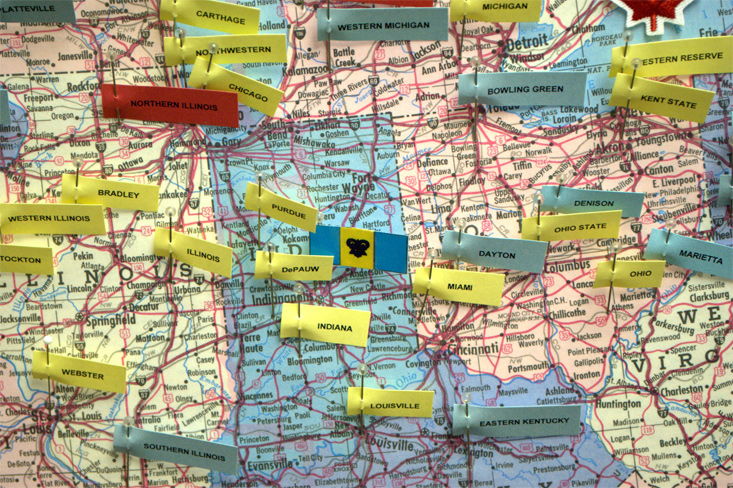 Christopher Newport, Christopher Newport University, Newport News, VA
Clarkson, Clarkson University, Potsdam, NY
Colgate, Colgate University, Hamilton, NY
Cornell, Cornell University, Ithaca, NY
Delaware Associate Chapter, University of Delaware, Newark, DE
Iona, Iona College, New Rochelle, NY
James Madison, James Madison University, Harrisonburg, VA
Lafayette, Lafayette College, Easton, PA
Lehigh, Lehigh University, Bethlehem, PA
Maryland, University of Maryland, College Park, MD
Pennsylvania State, Pennsylvania State University, State College, PA
Quinnipiac, Quinnipiac University, Hamden, CT
Rochester, University of Rochester, Rochester, NY
Rutgers, Rutgers University, New Brunswick, NJ
Seton Hall Associate Chapter, Seton Hall University, South Orange, NJ
Syracuse, Syracuse University, Syracuse, NY
Tufts Associate Chapter, Tufts University, Medford, MA
Villanova Associate Chapter, Villanova University, Villanova, PA
Virginia, University of Virginia, Charlottesville, VA
Bradley, Bradley University, Peoria, IL
Carthage, Carthage College, Kenosha, WI
DePauw, DePauw University, Greencastle, IN
Illinois, University of Illinois, Champaign, IL
Indiana, Indiana University, Bloomington, IN
Miami, Miami University, Oxford, OH
Michigan, University of Michigan, Ann Arbor, MI
Michigan Tech, Michigan Tech University, Houghton, MI
Purdue Chapter, Purdue University, West Lafayette, IN
Western Illinois, Western Illinois University, Macomb, IL
Western Reserve, Case Western Reserve University, Cleveland, OH
Wisconsin, University of Wisconsin-Madison, WI
Central Florida, University of Central Florida, Orlando, FL
Elon, Elon University, Elon, NC
Embry-Riddle, Embry-Riddle Aeronautical University, Daytona Beach, FL
Florida, University of Florida, Gainsville, FL
Georgia Tech, Georgia Institute of Technology, Atlanta, GA
Louisville, University of Louisville, Louisville, KY
North Carolina, University of North Carolina, Chapel Hill, NC
North Carolina State Expansion, North Carolina State University, Raleigh, NC
North Florida, University of North Florida, Jacksonville, FL
South Carolina, University of South Carolina, Columbia, SC
Tampa Associate Chapter, The University of Tampa, Tampa, FL
Tennessee Associate Chapter, University of Tennessee, Knoxville, TN
Province 4 - Great Plains
---
Arlington, University of Texas at Arlington, Arlington, TX
Culver-Stockton, Culver-Stockton College, Canton, MO
Iowa, University of Iowa, University Heights, IA
Iowa State, Iowa State University, Ames, IA
Kansas Associate Chapter, University of Kansas, Lawrence, KS
Kansas State, Kansas State, University, Manhattan, KS
Missouri, University of Missouri, Columbia, MO
Nebraska, University of Nebraska, Lincoln, NE
North Dakota, University of North Dakota, Grand Forks, ND
Oklahoma, Oklahoma University, Norman, OK
Texas, The University of Texas at Austin, Austin, TX
Wichita, Wichita State University, Wichita, KS

Boise State, Boise State University, Boise, ID
Cal Poly, California Polytechnic State University, San Luis Obispo, CA
California, University of California, Berkeley, CA
Colorado Associate Chapter, University of Colorado Boulder, Boulder, CO
Loyola Marymount Associate Chapter, Loyola Marymount University, Los Angeles, CA
Oregon State Expansion, Oregon State University, Corvallis, OR
San Diego State, San Diego State University, San Diego, CA
San Jose, San Jose State University, San Jose, CA
Washington State Associate Chapter, Washington State University, Pullman, WA
Alberta, University of Alberta, Edmonton, Alberta
Guelph, University of Guelph, Guelph, Ontario
Toronto, University of Toronto, Toronto, Ontario
Western Ontario, University of Western Ontario, London, Ontario