RECRUITMENT Programming
DU's various recruitment programs teach chapters best practices for recruitment.
Amplify DU: Recruitment Training Program
In summer 2021, Delta Upsilon launched a new, summer recruitment program called Amplify DU. This virtual program is geared toward chapter Vice Presidents of Recruitment and other recruitment volunteers.
In 2023, Amplify DU is now complete and featured three recruitment webinars and one-on-one coaching. Webinars will focus on year-round recruitment tactics that will boost DU's name on campus, build leads and help you come formal recruitment. See below for webinar recordings.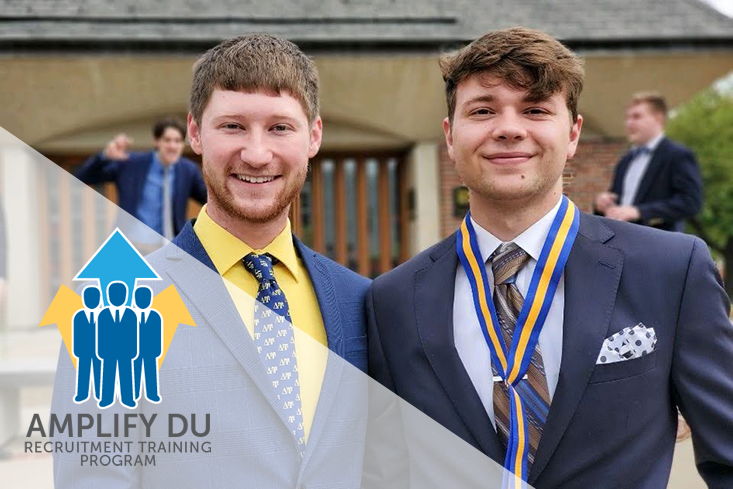 2023 AMPLIFY DU WEBINAR RECORDINGS
2022 AmPlify DU WEbinar Recordings
2021 Amplify DU WEbinar recordings
Chapter Vice Presidents of Recruitment can find recruitment resources on our Chapter Resources page under Vice President of Recruitment. This includes position descriptions, bid card templates, PNM referral guides and more!
Make sure to check out the Recruitment Tips section of our DU blog for more ideas and resources.
Virtual Recruitment
With COVID-19 forcing chapters to operate virtually, chapters will need adjust and learn how to best virtually recruit new members. DU staff have created the following resources to share best practices, recommendations and tips for how chapters to continue to recruit virtually.
Facilitator Interest
Want to help Delta Upsilon build better men? Complete our Facilitator Interest Form if you are interested in volunteering as a DU educational program facilitator.