RECRUITMENT Programming
DU's various recruitment programs teach chapters best practices for recruitment.
Amplify DU: Recruitment Training Program
In summer 2021, Delta Upsilon launched a new, summer recruitment program called Amplify DU. This virtual program is geared toward chapter Vice Presidents of Recruitment. Amplify DU consists of five recruitment webinars for all attendees, as well as three small-group coaching calls and three guided GroupMe chats. Alumni Recruitment Coaches and DU staff facilitate the webinars and small-group discussion, and small groups consist of 6-10 chapters based on similar characteristics (campus type, recruitment timeframe, housed/unhoused chapters, etc.) and provide more focused recruitment coaching. One to two additional recruitment chairs/assistant VPs also have the opportunity to attend the webinar portions of this program.

As part of the training program, all participating chapters are eligible for incentives based on recruitment performance during the 2021-2022 academic year.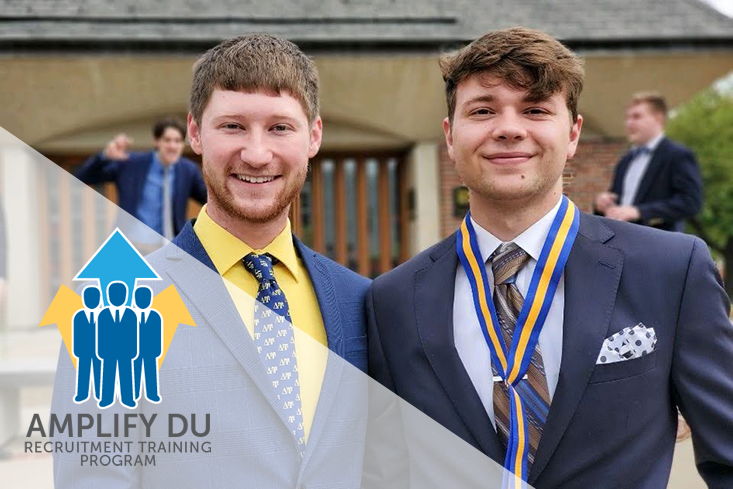 Amplify DU WEbinar recordings
The Recruitment Symposium is an officer training program for DU's chapter Vice Presidents of Membership Recruitment. that is held in conjunction with the Regional Leadership Academy. Participants learn recruitment models, best practices and soft skills to help them lead a successful values-based recruitment and selection process within their chapters during this recruitment-centered track. Each chapter/associate chapter is expected to have at least one member (ideally the VP Recruitment) attend the Recruitment Symposium.
Recruitment Symposium 2022
The 2022 Recruitment Symposium will be held in conjunction with each Regional Leadership Academy in February. Registration will launch in October.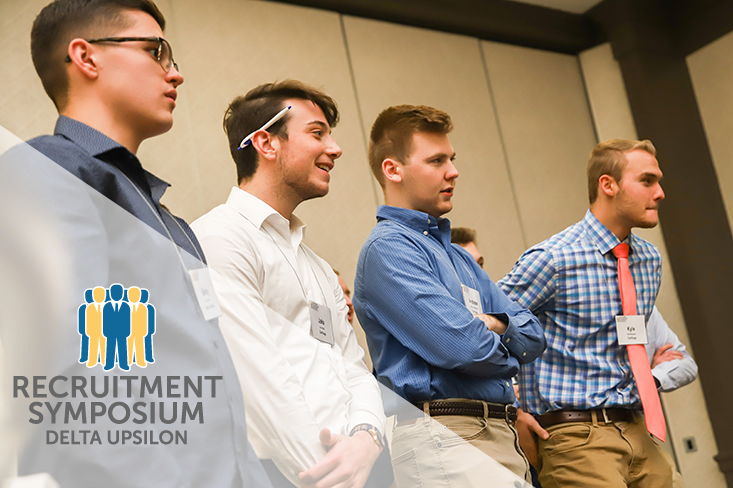 Chapter Vice Presidents of Recruitment can find recruitment resources on our Chapter Resources page under Vice President of Recruitment. This includes position descriptions, bid card templates, PNM referral guides and more!
Make sure to check out the Recruitment Tips section of our DU blog for more ideas and resources.
Virtual Recruitment
With COVID-19 forcing chapters to operate virtually, chapters will need adjust and learn how to best virtually recruit new members. DU staff have created the following resources to share best practices, recommendations and tips for how chapters to continue to recruit virtually.
RECRUITMENT COACHING SESSIONS
Let's face it. Recruitment will look different this year. Planning for recruitment, including virtual recruitment, will be important. Director of Chapter Development & Expansion Hayden Rahn, Oregon '16, is offering recruitment coaching sessions via Zoom to help your chapter plan. These sessions are designed for the VP of Recruitment, Recruitment Committee and/or Recruitment Advisor to have the opportunity to spend 1-on-1 time with a DU staff member, focused on discussing chapter recruitment plans and goals.
To request a coaching session by complete the online request form or email Hayden at rahn@deltau.org.
Facilitator Interest
Want to help Delta Upsilon build better men? Complete our Facilitator Interest Form if you are interested in volunteering as a DU educational program facilitator.