Founders Memorial Courtyard
Building Better Men with an honorary or memorial brick on display at the International Headquarters.
FOUNDERS MEMORIAL COURTYARD
The Founders Memorial Courtyard stands as a lasting tribute to the DU Founders of 1834, and it is a great way for donors to etch their name in DU history. Bricks in the courtyard come with a $200 gift to the Annual Loyalty Fund, which is an investment to the educational development of today's undergraduates.
Whether you want to add your own name to the courtyard, or want to honor/memorialize another DU brother, visitors to the International Headquarters each year see the many great DUs commemorated from our Fraternity's history. Within the courtyard, the names of our 30 Founders are each engraved on their own brick. In the center of the courtyard is an engraved tablet with the Fraternity seal. Around that tablet, every DU chapter in history is recognized with a gray brick listing the chapter's name and founding date. Around the perimeter of the courtyard, bricks are divided into 30-brick sections, symbolizing our 30 Founders.
There are a limited number of bricks available, and they make great holiday, graduation or birthday gifts. Each brick is a 4" x 8" red brick with up to three lines of text (18 characters max per line). New bricks are installed each year at the discretion of DUEF staff, with special attention to keeping chapter alumni close together whenever possible.
If you have questions about the Founders Memorial Courtyard, contact the DU Educational Foundation at ihq@deltau.org.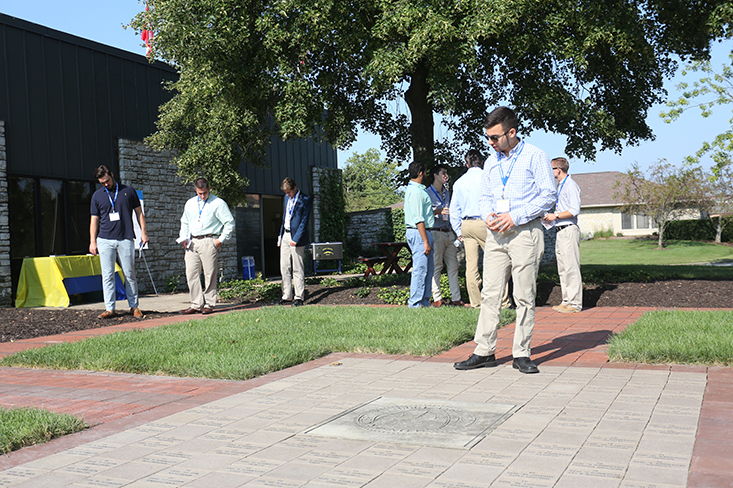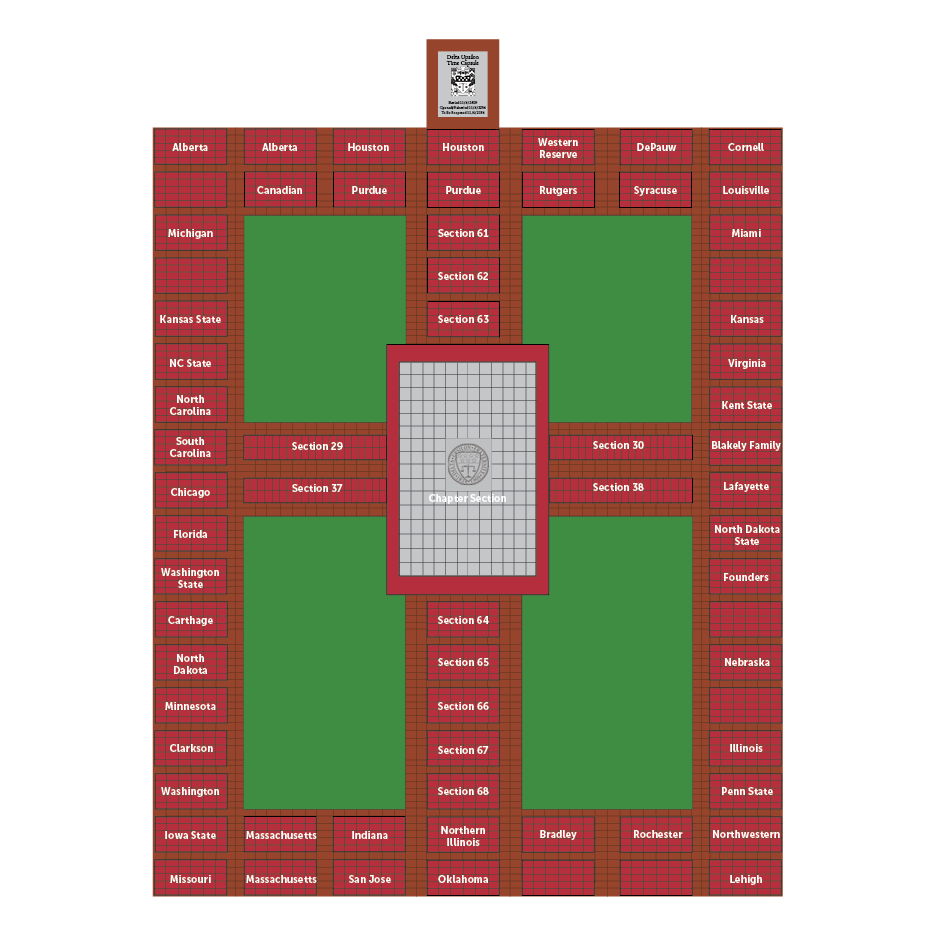 The sections around the center with a number have these chapters represented in the bricks: Arizona, Arizona State, Bowling Green, Brown, Bucknell, Cal Poly, Colgate, Colorado, Creighton, Culver Stockton, Elon, Georgia Tech, Hamilton, Iona, Iowa, Johns Hopkins, Michigan State, Michigan Tech, North Florida, Ohio State, Oregon, Oregon State, Pennsylvania, San Diego, San Diego State, Stanford, St. Norbert, Swarthmore, Texas, Tufts, Virginia Tech, Western Michigan, Wichita State and Wisconsin.

Give to the DUEF Today
Will you join us in Building Better Men for a global society? Your support of the DUEF will help provide educational programming, chapter initiatives and scholarships to young men who will soon lead our world.