Leadership Institute
Experience DU on the Fraternity's biggest stage.
About LI
Leadership Institute is Delta Upsilon's annual Fraternity convention and the highlight of our educational calendar. LI not only the largest gathering of our brothers, it is where official business of the Fraternity is conducted. At LI, undergraduate and alumni members both participate a program that includes legislative meetings, province meetings, a Fraternity update and educational sessions.
Each undergraduate chapter is asked to send a minimum of two members, though eight attendees is encouraged.
Celebrating accomplishments

The Leadership Institute provides an opportunity to celebrate the accomplishments of our brotherhood, while targeting educational content to meet the contemporary challenges of students and alumni. Educational breakout sessions are organized around several themes, including the history of Delta Upsilon, health and wellness, chapter operations, personal growth, and career development.
Visit our awards page to view awards given at the Leadership Institute and find links to apply! The awards nominations/application deadline is June 10.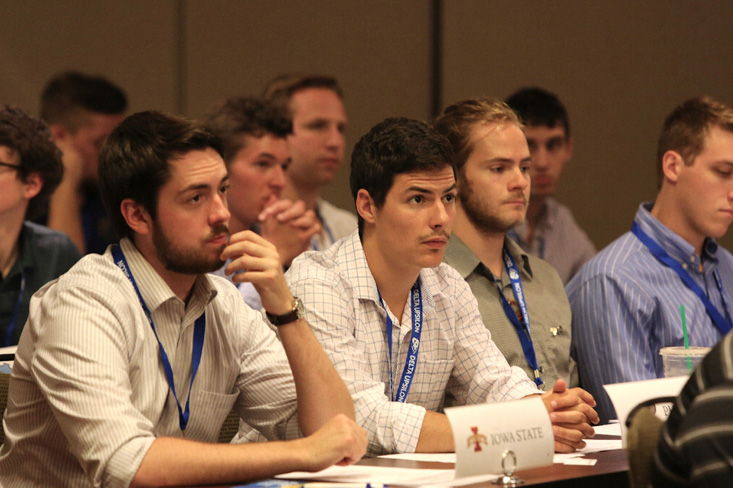 LI's Impact
Recent assessment data statistically shows that Leadership Institute has a significant impact on participants. Undergraduate brothers walk away with more pride for Delta Upsilon and a better understanding of what it means to be a DU.
(Responses are on a 1-7 scale. 1=Not at All. 7=Very Much.)
I learned information I can utilize in my role with the Fraternity. 6.41

I have a better understanding of the Four Founding Principles of Delta Upsilon. 5.52

I have a greater understanding of the International Fraternity structure. 5.86

I learned new ideas from brothers from other chapters. 6.07

"This has been an eye opening experience that has left me wanting more. My blood bleeds old gold and sapphire blue, now more than ever."
– Max Purdy, San Diego State '17
Facilitator Interest
Want to help Delta Upsilon build better men? Complete our Facilitator Interest Form if you are interested in volunteering as a DU educational program facilitator.