2018 Award Recipients
Congratulations to all of Delta Upsilon's award recipients from the 2018 Leadership Institute!
July 31, 2018 - The Leadership Institute is Delta Upsilon's annual celebration of brotherhood. At LI, Fraternity business is conducted through the Undergraduate Convention and Assembly of Trustees, and educational sessions are hosted for undergraduates and alumni. It is also DU's opportunity to recognize the best and brightest chapters and individuals from the last year.
The highlight of the Leadership Institute is the announcement of the seven Sweepstakes Finalists and Sweepstakes Trophy recipient. On Saturday, July 28, the Kansas State Chapter was named the Sweepstakes Trophy winner for the sixth time in seven years (and third year in a row). Two chapters (Michigan Tech and Wichita) were named Sweepstakes Finalists for the first time, while the Central Florida and Clarkson chapters became finalists for the first time in many years.
See below for a full list of 2018 Award Recipients.
Sweepstakes Finalists
Bradley Chapter
Central Florida Chapter
Clarkson Chapter
Iowa State Chapter
Kansas State Chapter (Sweepstakes Trophy Winner)
Michigan Tech Chapter
Wichita Chapter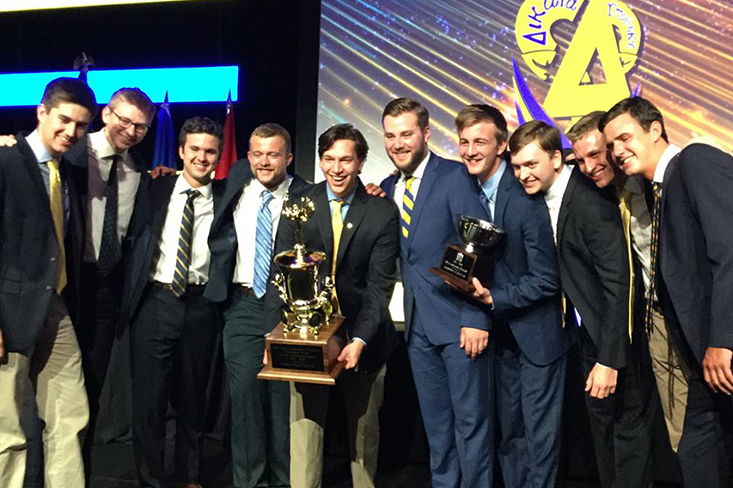 Distinguished Undergraduate
Alex Erbs, Bradley '18
Finalists:
Josh Chase, Wichita '18
Peter Gorman, DePauw '18
Nic Wade, Christopher Newport '18
Distinguished Delta Upsilon
E. Bruce McKinney, Missouri '74
President's Award: Chapter President of the Year
Max Parent, James Madison '19
Chairman's Award: Outstanding Alumni Volunteer
Mark Gehrke, Boise State '11
Outstanding Chapter Advisor
Dan Ladendorf, Indiana '83
William H.P. Faunce Interfraternalism Award
John DiSarro, Director of Fraternity and Sorority Affairs, University of Rochester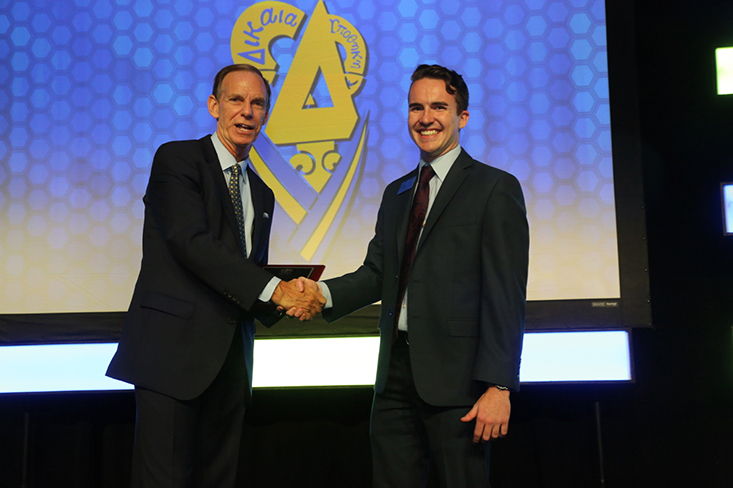 Most Improved Chapter
Rochester Chapter
Outstanding Alumni Chapter
Syracuse Alumni Chapter
Innovative Member Development Award
Western Reserve Chapter
Health, Safety and Prevention Award
Iowa State Chapter
Alumni Engagement Award
Kansas State Chapter
Campus and Community Impact Award
Clarkson Chapter
Houston Chapter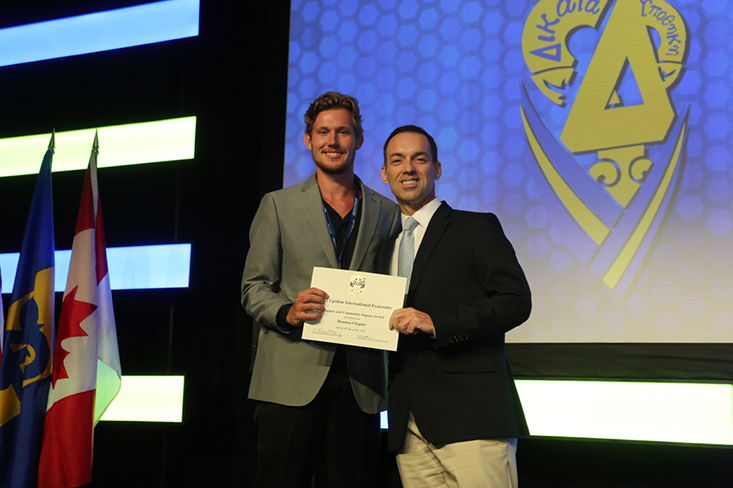 CEP Awards
Overall Chapter Excellence Award
Western Reserve Chapter
Promotion of Friendship Award
Western Reserve Chapter
Development of Character Award
Western Reserve Chapter
Diffusion of Liberal Culture Award
Western Reserve Chapter
Advancement of Justice Award
Western Reserve Chapter
Operations Award
Western Reserve Chapter
GSI Fundraising Awards
Top Fundraising Per Man
Central Florida Chapter
Total Fundraising
#1 Kansas State
#2 Central Florida Chapter
#3 Iowa State Chapter
$1,000+ Fundraising Level
Alberta, Boise State, Bradley, California, Central Florida, Clarkson, Elon, Embry-Riddle, Georgia Tech, Houston, Illinois State Colony, Indiana, Iowa State, James Madison, Kansas, Kansas State, Lafayette, Lehigh, Miami, Nebraska, North Carolina State, North Dakota, Oregon State, Purdue, Quinnipiac, San Diego State, South Carolina, Texas, Western Reserve, Wichita