2018 Leadership Institute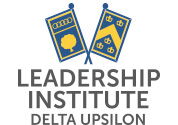 Record temperatures couldn't hold Delta Upsilon back as it celebrated the 2018 Leadership Institute in Scottsdale, Arizona. Nearly 300 brothers gathered in the desert at the JW Marriott Scottsdale Camelback Inn for DU's largest event of the year with focuses on Fraternity business, educational programming, award recognitions, brotherhood and fun.
Highlights of the Leadership Institute include the election of the International Fraternity's newest President, remarks from six alumni Award of Merit recipients, naming 2018's Sweepstakes Finalists (including two first-time finalists), the State of Fraternities Panel, educational sessions and the IGNITE Series. On the pages that follow, learn more about LI 2018 and DU's award recipients. More information, including photo and video links can be found at www.deltau.org/li.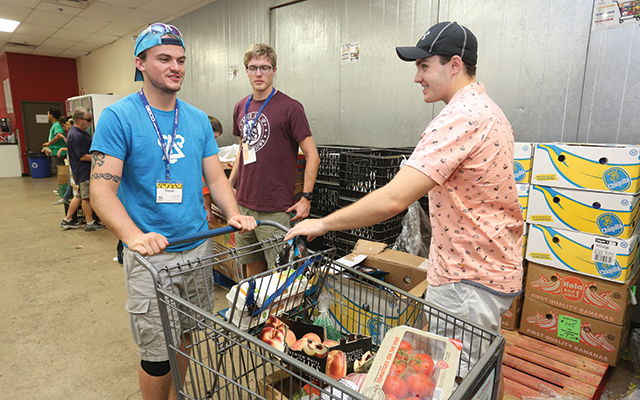 St. Mary's Food Bank Alliance got an assist from DU undergraduates and alumni who participated in a Regional GSI event. Brothers arriving in Scottsdale early had the opportunity to sort food for those in need.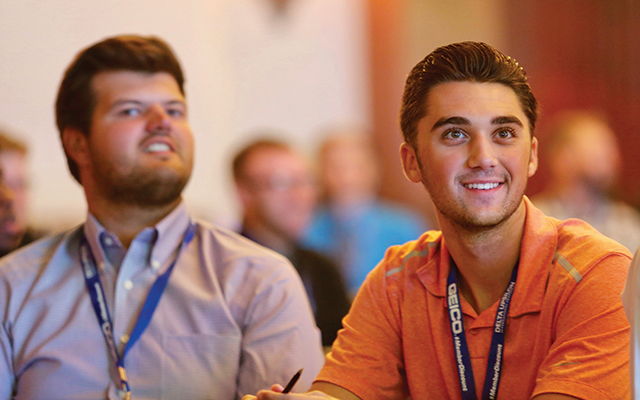 More than 30 educational sessions were held during LI ranging in topics including mental health, recruitment, ethical decision making, DU history, sexual assault prevention, managing conflict, masculinity, career advice and more.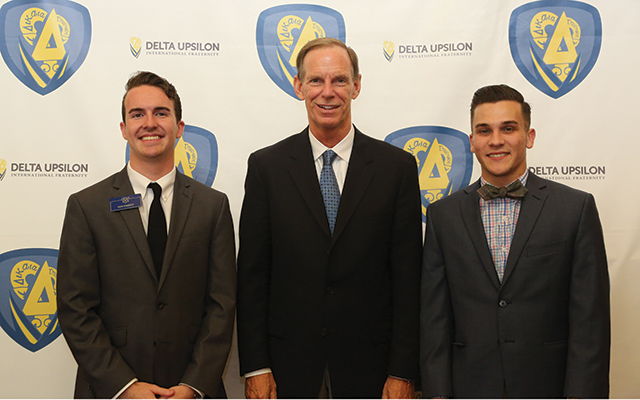 Past International Fraternity President Bruce McKinney, Missouri '74, congratulated Max Parent, James Madison '19 (left), and Ashton Mills, Oregon State '19 (right), on their election as Undergraduate Directors on the International Fraternity's Board of Directors.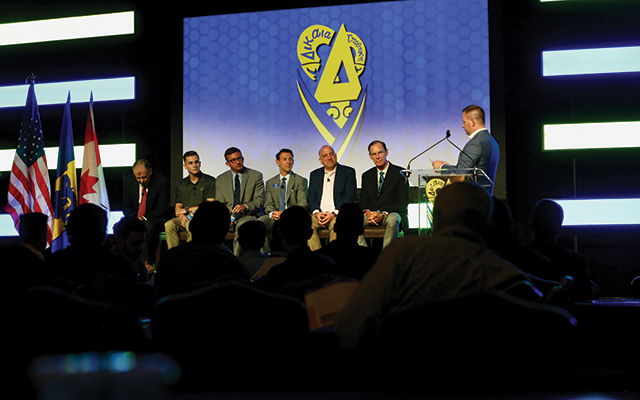 LI attendees had the opportunity to listen and pose questions to panelists on the State of Fraternities Panel. The panel discussed the Fraternity's substance-free housing policy, issues facing fraternities today and the future of fraternities in the higher education landscape.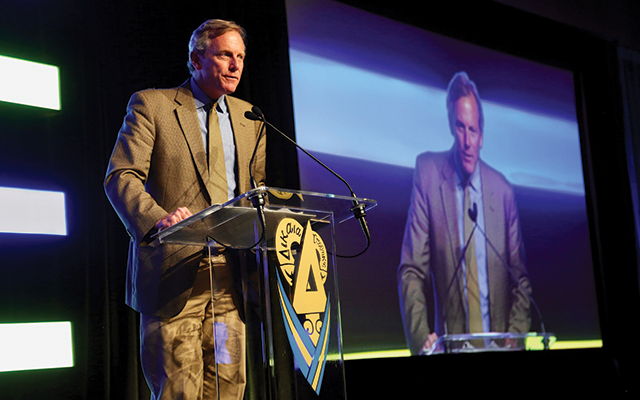 Rick Holland, Syracuse '83, gave the Charge Address during Model Initiation, challenging attendees to think of the true meaning of DU and to put the words of DU's Ritual into action.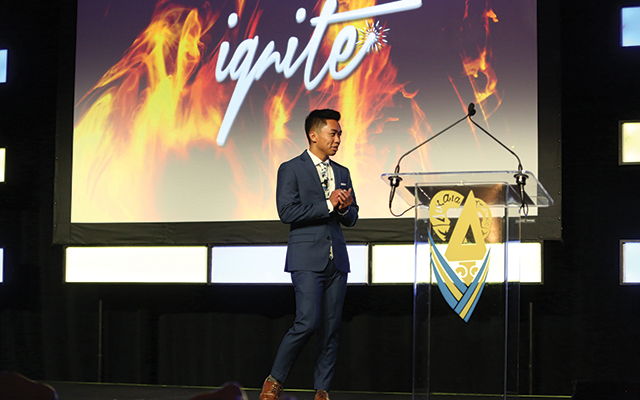 Nikkoh Mendoza, Bradley '20, was one of six undergraduates or alumni to speak during the IGNITE Series. These TED Talk-like speeches gave brothers the opportunity to share their personal stories and advice around the topic of belonging with the Fraternity.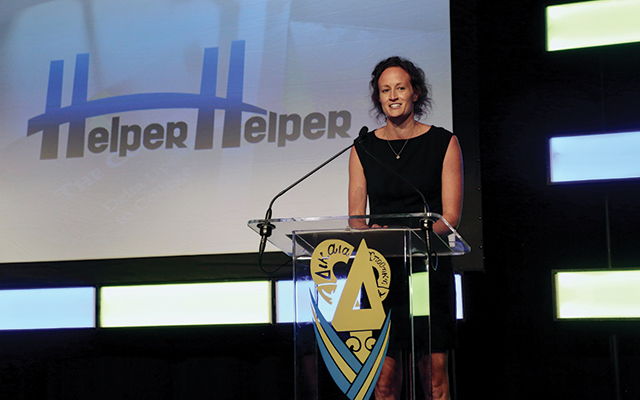 DU announced a new partnership with Helper Helper during LI. This software system and mobile app helps all chapters/colonies organize service opportunities and track volunteer hours throughout the year.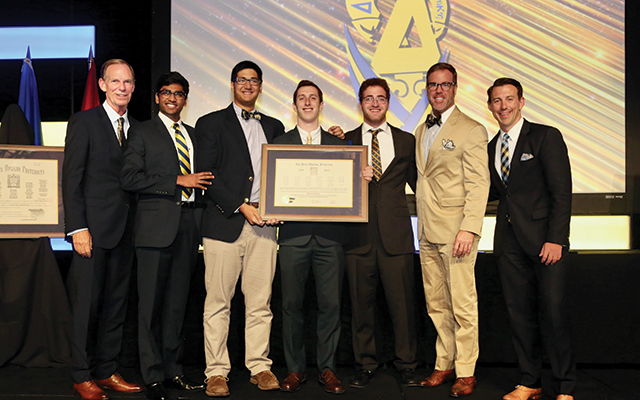 Six chapters received charters during LI's Grand Banquet. The Maryland (pictured), Northwestern, Texas, Syracuse and Vermont chapters were reinstalled during the 2017-2018 year, while the Quinnipiac Chapter was installed for the first time.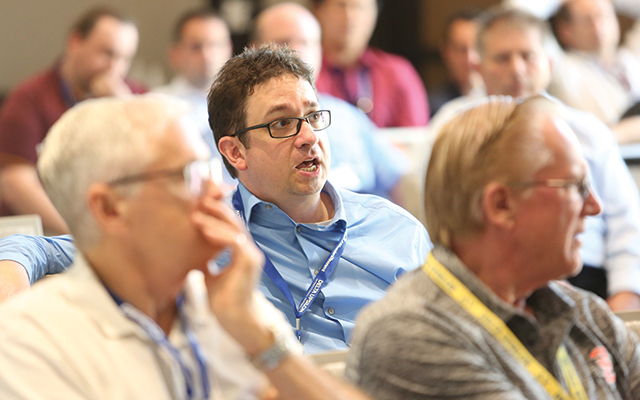 The Alumni & Volunteer Conference is designed to give alumni and chapter advisors the opportunity to attend alumni-specific educational sessions. This year's sessions focused on Fraternity policy, promoting mental health, the Membership Outcomes Assessment and more.


The Arizona desert set a beautiful backdrop for the 300 DU brothers attending the 2018 Leadership Institute.
Save the date for next summer's Leadership Institute, July 25-28 in Indianapolis.