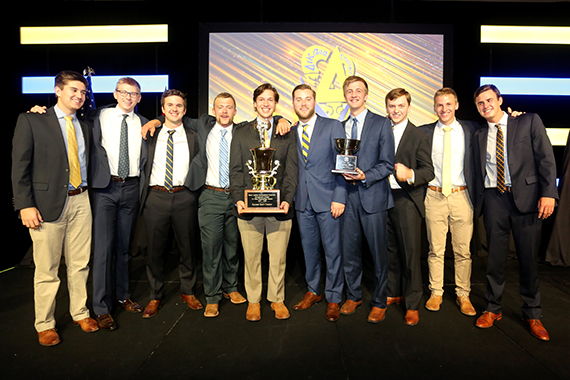 Sweepstakes Trophy Recipient
Kansas State Chapter
Sweepstakes Trophy Finalists
Bradley Chapter
Central Florida Chapter
Clarkson Chapter
Kansas State Chapter
Iowa State Chapter
Michigan Tech Chapter
Wichita Chapter
Most Improved Chapter
Rochester Chapter
Outstanding Alumni Chapter
Syracuse Alumni Chapter
Innovative Member Development Award
Western Reserve Chapter
Health, Safety and Prevention Award
Iowa State Chapter
Alumni Engagement Award
Kansas State Chapter
Campus and Community Impact Award
Clarkson Chapter
Houston Chapter
Chairman's Award: Outstanding Alumni Volunteer
Mark Gehrke, Boise State '11
Chapter Advisor of the Year
Dan Landendorf, Indiana '83
William H.P. Faunce Interfraternalism Award
John DiSarro, Director of Fraternity and Sorority Affairs, University of Rochester
Chapter Excellence Plan Awards
Overall Chapter Excellence Award
Western Reserve Chapter
Promotion of Friendship Award
Western Reserve Chapter

Development of Character Award
Western Reserve Chapter

Advancement of Justice Award
Western Reserve Chapter

Diffusion of Liberal Culture Award
Western Reserve Chapter

Operations Award
Western Reserve Chapter

GSI Fundraising Awards
Top Fundraising Per Man
Central Florida Chapter
Total Fundraising
1. Kansas State Chapter
2. Central Florida Chapter
3. Iowa State Chapter
$1,000+ Fundraising Level
Alberta, Boise State, Bradley, California, Central Florida, Clarkson, Elon, Embry-Riddle, Georgia Tech, Houston, Illinois State Colony, Indiana, Iowa State, James Madison, Kansas, Kansas State, Lafayette, Lehigh, Miami, Nebraska, North Carolina State, North Dakota, Oregon State, Purdue, Quinnipiac, San Diego State, South Carolina, Texas, Western Reserve, Wichita
Distinguished Undergraduate of the Year
Alex Erbs, Bradley '18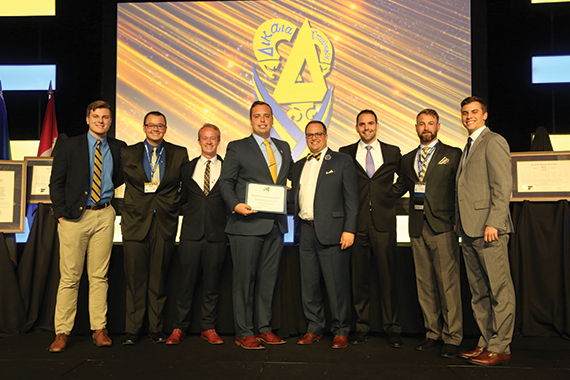 Delta Upsilon's Distinguished Undergraduate Award is the highest honor the Fraternity bestows upon an undergraduate and is designed to recognize brothers for their efforts to improve their chapter, campus and community throughout their entire collegiate experience.
The 2018 Distinguished Undergraduate Award was presented to Alex Erbs, Bradley '18. Alex graduated from Bradley University in May 2018 with a degree in construction, and boasting as 3.53 grade point average. On campus, he served as president of the Men's Volleyball Club, which he helped build into one of the largest sports clubs at Bradley. He also served as a Student Senate Vice President, a member of the Student Alumni Association and as a Student Admissions Representative. He was the recipient of the IFC's Unsung Hero Award.
Within Delta Upsilon, Alex served his chapter as an Executive Board officer and the International Fraternity as the Province 2 representative on the Undergraduate Advisory Board for the 2017-2018 academic year.
"Delta Upsilon has truly crafted who I am, who my brothers are, and so many great men throughout history," Alex said as he describes how Delta Upsilon has helped him grow as an individual. "I have met countless people who have helped me with internship, job and investment opportunities, and you wouldn't be able to find that anywhere else. DU is truly a place where you can meet a lot of people and create lifelong friends who shape who you are."
PRESIDENT'S AWARD: CHAPTER PRESIDENT OF THE YEAR
Max Parent, James Madison '19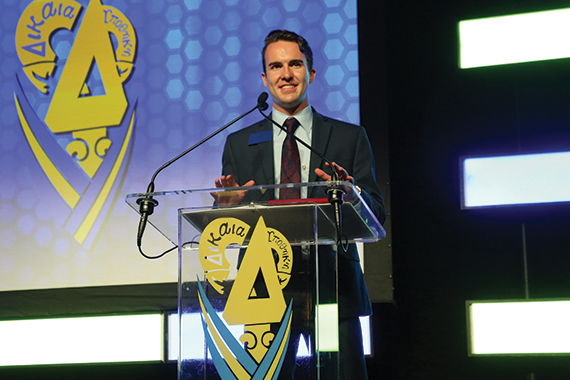 Delta Upsilon's Chapter Presidents play a vital role in the success of the Fraternity on both the local and international levels. Serving in this role is no easy task, as a successful President must keep a good pulse on every aspect of the chapter, yet motivate and empower others to lead in their own areas. For this reason, Delta Upsilon recognizes the Fraternity's most outstanding President each year.
When Max Parent, James Madison '19, joined his chapter, it was on the brink of closure. The small group had only a handful of members, most of whom were graduating seniors. Immediately, Max sprung into action, recruiting more men to the chapter and becoming Chapter President as soon as he was initiated, a role he would keep for two full terms. Thanks to Max's leadership, the chapter has grown 380 percent and is on its way back to solid ground.
"It is truly impossible to list all of the contributions he has made to the chapter," Max's brothers said in the nomination letter. "He is selfless in his time and energy when it comes to the Fraternity. His cool and calm demeanor and ability to assess complex situations are a testament to him not only being a man of character, but also why he is a great leader."
The James Madison Chapter's advisors agree. "Max is an excellent brother and excellent young man," said Chapter Advisor Francis Bush, Florida '85. "As President of the chapter, he was extremely open to suggestions and willing to be transparent."
Currently, Max serves the James Madison Chapter as Vice President of Membership Education. At LI 2018, he was also elected to serve as an Undergraduate Director on the International Fraternity's Board of Directors.