Membership Outcomes Assessment
In spring 2018, Delta Upsilon completed Year Three of the Membership Outcomes Assessment with Dyad Strategies, LLC, in which each Delta Upsilon undergraduate and associate member is asked to complete an assessment survey. The goal: to statistically analyze DU's impact on a member's personal development throughout his college experience and use results to tailor educational programming and operations to members' needs.
Again in 2018, survey questions were specifically designed using the Fraternity's educational learning outcomes, mission and Four Founding Principles to measure personal development in areas including problem-solving, social justice, ethical decision making, belonging and more. For the third consecutive year, the response rate was an impressive 79 percent.
Not only is DU's assessment data compared to national collegiate assessment data, the Fraternity is able to compare results year over year to gauge member development over time, as well as the effectiveness of Fraternity programs and the changes made to address member needs.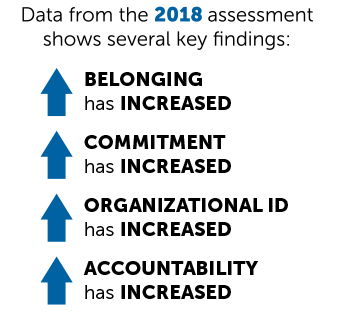 After analyzing Year Two data, Delta Upsilon made it a priority for the 2017-2018 academic year to develop brotherhood based on belonging. This means creating a chapter environment based on trust, authenticity, care, support and the ability to have meaningful conversations. DU wants brothers to have a strong connection to their chapter because they feel like they belong and are appreciated. Members' responses toward belonging have increased each year of the survey, and the Fraternity is encouraged by its continued growth again in Year Three.

Connected to belonging are scores in members' organizational identification and commitment to DU, essentially their affinity for the Fraternity.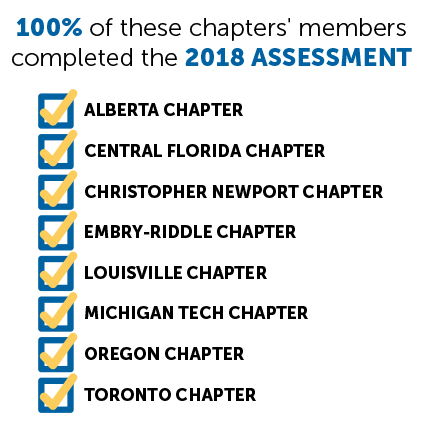 Organizational identification is the feeling that a member shares the same goals and values as Delta Upsilon, and commitment can be broken down into two types: affective commitment and normative commitment. Affective commitment is a wanting to remain part of an organization because of a connection with its goals, while normative commitment means the desire to stay part of an organization because it is the right thing to do. Scores in all three of these areas saw improvements in Year Three after trending slightly downward in Year Two.
"In short, the more you feel like you belong, the more connected you are to the Fraternity," said Delta Upsilon Senior Director of Educational Programs Noah Borton. "When members feel accepted and are valued as a positive contributor to the group, you find men who are committed to DU's Principles and are willing to hold one another to acting in accordance with those values."
Member data toward accountability—the desire and commitment to hold oneself and others accountable—also improved in Year Three after dipping slightly in Year Two.
Throughout the 2017-2018 year, each of the Fraternity's educational programs were adjusted to address belonging, commitment and accountability. DU's Building Better Men Retreats, which are weekend-long chapter retreats led by senior Fraternity staff and trained volunteers, are specifically designed to define effective brotherhood within the chapter, identify chapter priorities and create plans of action that involve all chapter members. In the 2017-2018 academic year, the Fraternity guaranteed Building Better Men Retreats to all chapters who requested one. Staff and volunteered facilitated 26 retreats during the year, compared to 19 the year prior.