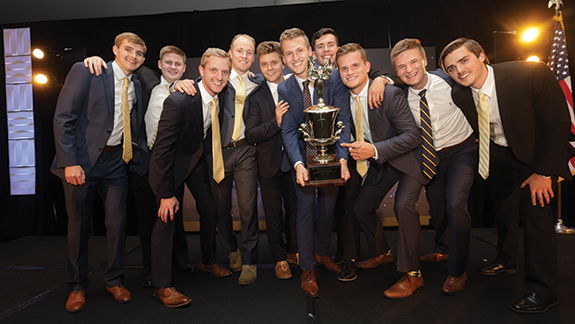 Chapter Awards
Sweepstakes Trophy Recipient
Kansas State Chapter
Sweepstakes Trophy Finalists
Bradley Chapter
Central Florida Chapter
Clarkson Chapter
Iowa State Chapter
Kansas State Chapter
San Diego State Chapter
Western Reserve Chapter
Most Improved Chapter
Western Illinois Chapter
Outstanding Alumni Chapter
Kansas State Alumni Chapter
Innovative Member Development Award
Western Reserve Chapter
Health, Safety and Prevention Award
Lafayette Chapter
Alumni Engagement Award
Arlington Chapter
Campus and Community Impact Award
North Dakota Chapter
Founders Medal
William Messick, Lafayette '68
Distinguished Undergraduate Award
Arjun Singh, Indiana '19
President's Award: Chapter President of the Year
Nikkoh Mendoza, Bradley '20
Chairman's Award: Outstanding Alumni Volunteer
Kevin Guinan, Iowa State '15
Outstanding Chapter Advisor Award
Kathryn Lopez, Kansas State Chapter Advisor
Chapter Excellence Plan Awards
Overall Chapter Excellence Award
Western Reserve Chapter
Promotion of Friendship Award
North Dakota Chapter
Development of Character Award
Western Reserve Chapter
Diffusion of Liberal Culture Award
Florida Chapter and North Dakota Chapter
Advancement of Justice Award
Western Reserve Chapter
Operations Award
Western Illinois Chapter
Top Fundraising Per Man
Central Florida Chapter
Total Fundraising
1. Central Florida Chapter
2. Kansas State Chapter
3. Oregon State Chapter
$1,000+ Fundraising Level
Alberta Chapter, Bradley Chapter, California Chapter, Carthage Chapter, Central Florida Chapter, Christopher Newport Chapter, Clarkson Chapter, Elon Chapter, Florida Chapter, Georgia Tech Chapter, Houston Chapter, Indiana Chapter, Iowa Chapter, Iowa State Chapter, James Madison Chapter, Kansas State Chapter, Lafayette Chapter, Maryland Chapter, Michigan Tech Chapter, Nebraska Chapter, North Dakota Chapter, Oklahoma Chapter, Oregon Chapter, Oregon State Chapter, Pennsylvania State Chapter, Seton Hall Colony, Syracuse Chapter, Toronto Chapter, Western Illinois Chapter, Western Reserve Chapter, Wichita Chapter
2019 Distinguished Undergraduate Award
Arjun Singh, Indiana '19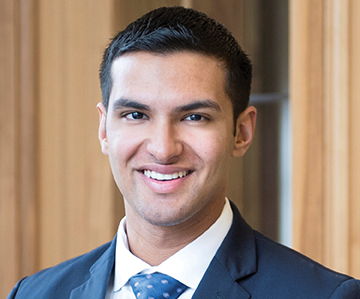 Finalists
Jack Billings, Rochester '19
Clayton Cooper, Western Reserve '19
Jacob Haugen, North Dakota '19
Ashton Mills, Oregon State '19
Delta Upsilon's Distinguished Undergraduate Award is the highest honor the Fraternity bestows upon an undergraduate and is designed to recognize brothers for their efforts to improve their chapter, campus and community throughout their entire collegiate career.
The 2019 recipient of the Distinguished Undergraduate Award was a leader on campus, in the classroom and within Delta Upsilon. Arjun Singh, Indiana '19, graduated in May 2019 from Indiana University's Kelley School of Business with an impressive 3.9 grade point average. Within the school, he served as a consultant with 180 Degrees Consulting to help local nonprofits, as a member and mentor for the Investment Banking Workshop, as well as president of the Corporate Strategy Club. Today, Arjun works for Citi Investment Banking in New York City.
Within Delta Upsilon, Arjun helped the Indiana Chapter toward a path to success. Following the chapter's reorganization, he served as Vice President of External Relations and helped the chapter become a leader on campus. He was a regular volunteer with the chapter's Home Fire Safety Campaign with the American Red Cross, attended the Global Service Initiative, and was quick to lend a hand whenever needed.
"As I'm now starting a career in the workforce, I've realized that the skills I learned in DU were more important than I could ever comprehend at the time," Arjun said. "This award is a testament to the strength of the Indiana Chapter's brotherhood, alumni support and resilience as a chapter in the face of adversity. My accomplishments would not have been possible if not for the support of the brotherhood."
President's Award: Chapter President of the Year
Nikkoh Mendoza, Bradley '20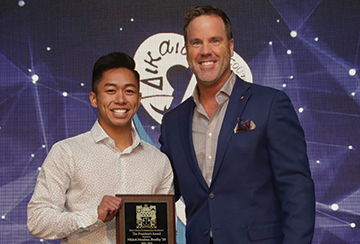 Chapter Presidents play a vital role in Delta Upsilon's success. A successful President must keep a good pulse on every aspect of the chapter yet motivate and empower others to lead in their own areas. For this reason, DU recognizes its most outstanding President each year with the President's Award: Chapter President of the Year.
Nikkoh Mendoza, Bradley '20, helped make a good chapter even better during his time as President. He focused on strengthening relationships and enhancing chapter operations. Working closely with his Executive Board and advisors, he worked to improve the chapter's budget, lower dues, hire an in-house chef, install a security system, renovate the chapter room, and improve the chapter GPA.
As President, Nikkoh learned the importance motivation, belonging and participation play within a chapter. He also learned not to be afraid to take action.
"Know that change is never going to happen overnight," he said. "Every tradition and event that we all take part in stemmed from one idea at some point. If there is a change or endeavor that you feel needs to happen, know that it starts with you. It may be five years from now or within the next year, but know that if no initiative is taken, the idea will remain just as an idea."