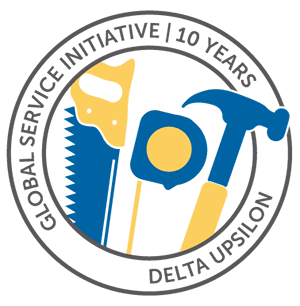 Oct. 16, 2019 - Deadlines for Delta Upsilon's 2020 Global Service Initiative trips are fast approaching. The deadline to apply for a GSI scholarship to attend any one of DU's three 2020 trips is Nov. 1, 2019. The GSI application deadline to attend the January 2020 trip is due Nov. 8, 2019.
The Global Service is Delta Upsilon's international service project and philanthropy. GSI provides students with the opportunity to travel to Jamaica to take part in hands-on service and values reflection. DU chapters across North America are tasked with fundraising for GSI to cover the overhead costs of the program. This includes building supplies and more. 2020 marks the 10th year of the Global Service Initiative.
Registration for this life-changing experience is just $500, although the real cost of the GSI experience is $1,300. The DU International Fraternity and Educational Foundation have worked together to provide a partial scholarship of $800 to all attendees. Full scholarship opportunities are also available through the DUEF to cover the full $1,300 value of the program. Some chapters also have complimentary registrations to GSI for their members due to hitting GSI fundraising marks last year. All attendees (regardless of scholarship) must pay for their travel to and from Jamaica.
Global Service Initiative Deadlines
Scholarship applications due Nov. 1, 2019
January trip applications due Nov. 8, 2019
May trip applications due Feb. 21, 2020
June trip applications due April 10, 2020
$250 of the registration fee is due at the time of application. If a student is attending GSI on a full scholarship (whether through the DUEF or thanks to chapter fundraising totals), there is a spot to note that on the registration form so the registration deposit is not charged.
2020 GSI Trip Information
GSI Jamaica #1
Jan. 4-11, 2020
Applications due Nov. 8, 2019
Full payment due Nov. 22, 2019
GSI Jamaica #2
May 9-16, 2020
Applications due Feb. 21, 2020
Full payment due March 6, 2020
GSI Jamaica #3
June 13-20, 2020
Applications due April 10, 2020
Full payment due April 30, 2030
Want to know more about GSI?
Check out these resources with more information about the Global Service Initiative.