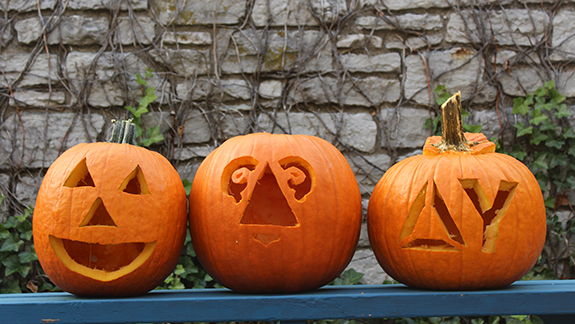 Oct. 23, 2020 - Halloween is next weekend, and Delta Upsilon wants to make sure everyone has a happy and safe Spooky Season. From pumpkin carving to COVID-19 precautions and making sure your costume choices don't come back to haunt you later, here are some tips and resources to use this Halloween.
Pumpkin stencils
First, what is Halloween without a few jack-o'-lanterns? The Fraternity has three different DU-themed stencils you can download for all your pumpkin carving needs.
Download DU Halloween jack-o'-lantern stencils
Halloween and COVID-19
Don't make Halloween extra scary by bringing COVID-19 into the mix. This year, it is more important than ever to make sure you celebrate in a safe way. Celebrating the holiday is not worth the risk of contracting or spreading COVID-19.
Don't host large gatherings. Chapters are discouraged from hosting Halloween parties (both on and off campus). Like all events/gatherings, CDC guidelines; DU policies; and campus, local and state/province guidelines should be observed. This means observing recommended gathering sizes, social distancing, wearing masks and more. Also make sure to view DU's Loss Prevention Policies and the Substance-free Housing Policy before planning any event.
Avoid indoor gatherings. Indoor gatherings pose a greater risk than outdoor ones. So, if a small group of brothers do plan to get together to carve pumpkins, do so outside.
Avoid haunted houses. Indoor haunted houses should definitely be avoided. Avoid outdoor haunted houses, too, if there will be large crowds and social distancing cannot be maintained. Due to screaming and the projection of droplets, social distancing greater than 6 feet is recommended.
Remember that a Halloween mask is not a substitute for PPE. Make sure to wear a proper face mask.
Seek out low-risk Halloween activities. The CDC suggests these low-risk activities:
Carving or decorating pumpkins with members of your household and displaying them
Carving or decorating pumpkins outside, at a safe distance, with neighbors or friends
Decorating your house, apartment or living space
Having a virtual Halloween costume contest
Having a Halloween movie night with people you live with (or via a Netflix watch party)
For those in your house, host a Halloween-style candy hunt. Think Easter egg hunt but Halloween candy.
Be cautious with medium-risk Halloween activities. The CDC notes these medium-risk activities:
One-way trick-or-treating. No sticking your hand in a bucket of candy. Use individually wrapped goodie bags and sit them on a table for grab-and-go trick-or-treating.
Outdoor costume parade where people are socially distanced.
Pumpkin patches and orchards are ok as long as you use hand sanitizer, wear masks and can social distance.
Outdoor Halloween movie night. Make sure to social distance and wear masks if possible. Remember, if you expect screaming, sit farther than 6 feet apart.
Halloween Costumes
Halloween costumes are always a fun part of the holiday. Remember that your costume says a lot about you and the organization you represent. It is our responsibility to make sure our costumes are appropriate and respectful. Avoid racially and culturally insensitive words and themes.
Check out this article from USA Today about avoiding culturally appropriated Halloween costumes.
Check out this resource from Holmes-Murphy (DU's insurance provider) regarding cultural appropriation and party themes.
Remember: Diffuse Liberal Culture. Don't Mock It.