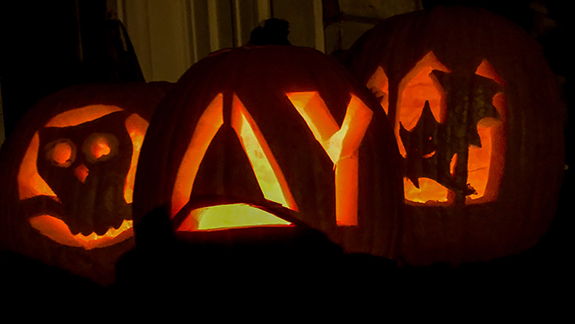 Oct. 25, 2021 - Halloween is this weekend, and Delta Upsilon wants to make sure everyone has a happy and safe Spooky Season. From pumpkin carving to COVID-19 precautions and making sure your costume choices don't come back to haunt you later, here are some tips and resources to use this Halloween.
Pumpkin stencils
First, what is Halloween without a few jack-o'-lanterns? The Fraternity has three different DU-themed stencils you can download for all your pumpkin carving needs. Make sure to tag us in your DU pumpkin photos on Facebook, Instagram and Twitter at @deltaupsilon.
Download DU Halloween jack-o'-lantern stencils
Halloween and COVID-19
Don't make Halloween extra scary by bringing COVID-19 into the mix. This year, it is still important to make sure you celebrate in a safe way. Celebrating the holiday is not worth the risk of contracting or spreading COVID-19.
Follow safe gathering protocols.
As with other times throughout the pandemic, avoid hosting large gatherings where people cannot safely social distance.
Follow all CDC guidelines; DU policies; and campus, local and state/province guidelines regarding gatherings, masks and more.
Make sure to view DU's Loss Prevention Policies and the Substance-free Housing Policy before planning any event.
Avoid indoor gatherings. Indoor gatherings pose a greater risk than outdoor ones. Keep this in mind when planning or attending social functions, especially if you do not know the vaccine status of all attendees.
Remember that a Halloween mask is not a substitute for PPE. Make sure to wear a proper face mask.
Seek out low-risk Halloween activities.
Carving or decorating pumpkins with members of your household and displaying them
Carving or decorating pumpkins outside, at a safe distance, with neighbors or friends
Decorating your house, apartment or living space
Having a virtual Halloween costume contest
Having a Halloween movie night with people you live with (or via a Netflix watch party)
Follow these trick-or-treating guidelines from the CDC:
Avoid direct contact with trick-or-treaters.
Give out treats outdoors, if possible.
Set up a station with individually bagged treats for kids to take.
Wash your hands before handling treats.
Wear PPE.
Halloween Costumes
Halloween costumes are always a fun part of the holiday. Remember that your costume says a lot about you and the organization you represent. It is our responsibility to make sure our costumes are appropriate and respectful. Avoid racially and culturally insensitive words and themes.
Check out this article from USA Today about avoiding culturally appropriated Halloween costumes.
Check out this resource from Holmes-Murphy (DU's insurance provider) regarding cultural appropriation and party themes.
Remember: Diffuse Liberal Culture. Don't Mock It.