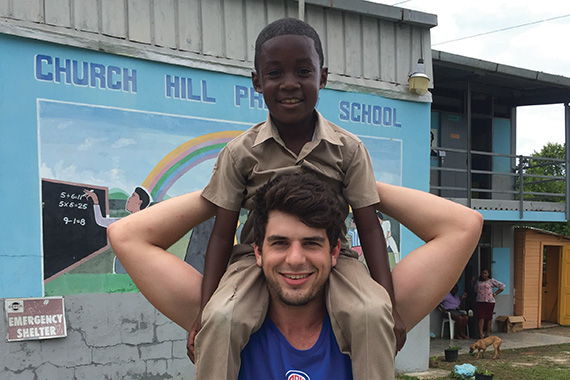 Feb. 13 started as a typical day for Codey Thomas, Indiana '18. After a day of class and studying—Mondays were one of his "long days" that semester—he headed back to the Delta Upsilon chapter house. It was around 8 p.m. His day was almost over.
Codey had been at the chapter house for about 20 minutes when he heard people yelling. Naturally, he and chapter president Matthew Blossom, Indiana '19, headed outside to see what was happening. Across the street, a brother had noticed a woman on the ground, unconscious, face bloodied. The other DUs around were in panic. Calm and collected, Codey sprung into action.
A certified EMT, Codey surveyed the crowd. Did anyone see what happened? Who found her? Was she able to say anything? The scene in front of them was all they knew. Codey went to work.
"It was like seeing an artist or a craftsman in his shop," said Arjun Singh, Indiana '19, Codey's friend and the chapter's vice president of external relations. "Without even hesitating—it was as if he rehearsed it—he told one person to go get water. One person to get a blanket. One person to call 911."
Codey checked for a pulse. He couldn't find one. The woman looked familiar, but he didn't want to think about that. For what Codey says was about 20 to 25 minutes, he administered CPR until the proper emergency personnel arrived. When they did, he gave them his credentials and explained he, too, was an EMT. He told them to get an AED (automated external defibrillator) started. Then, in the cold, alongside the first responders, Codey continued to work on the woman for another 10 minutes. They began to shock her and continued CPR. Finally, as they were loading the woman into the ambulance, they found a weak pulse—her first in more than a half hour.
The ambulance headed to the hospital. Codey stayed at the DU house to talk with the police while Matthew and Arjun controlled the crowd. With the lights and the sirens, many DUs and others in the neighborhood had gathered to check out the scene. They were relieved the woman had come back around, but still worried for her. All were thankful Codey had been there.
By staying in contact with the police, it was later Codey learned the woman would be ok. It had been a cardiac arrest. During the incident, she had fallen, likely hitting her head on her car then on the cold, February ground. The Indiana University professor, Helen Levesque, had been Codey's criminal justice professor from the semester before.
"I had thought it was her, but I never want to make assumptions," Codey said. "Doing that stuff, it's the very last thing you want, for it to be someone you know."
____
Eleven years ago, Helen had open heart surgery to repair a prolapsed mitral valve. Scar tissue from that operation left her prone to arrhythmias, but never before had she experienced something as serious as cardiac arrest.
The night of the incident, she was leaving class in Jordan Hall to return home to her family. She always parked in the campus Atwater Garage. That day, she didn't. For no reason other than what Helen can describe as divine intervention, that February day, she parked on the street not far from the Delta Upsilon house.
"I really don't know why I deviated from my routine that night other than because I was clearly supposed to be where I was when I collapsed," she said.
Helen doesn't remember anything from that night, but she has heard the story of Codey's heroics and those of the police officers and first responders. Not a day goes by that she doesn't think of them. Everyday tasks now have more meaning to her: exercising in the morning, spending time in her garden, going to the grocery store, picking up her 4-year-old daughter. To Helen, her life wasn't saved; it was given back to her. Given back to her husband, her children, her family and her students.
"I was thinking about how unique CPR is; transferring the energy from one person's heart to another," Helen said. "That energy remains in me, and as I go about my days, I am constantly reminded of the gift Codey and the officers gave me."
In May, Helen and Codey had hoped to reunite. During an awards ceremony, the city of Bloomington honored Codey and the officers who helped Helen for their outstanding actions for the community. Codey, however, was unable to attend. Once again, he was busy helping others. He was in Jamaica for DU's Global Service Initiative.
____
Codey was diagnosed with Crohn's Disease, a chronic inflammatory bowel disease, when he was 8 years old. During his many trips to Riley Children's Hospital in Indianapolis, he would see the ambulances come in and interact with the paramedics, doctors and nurses. He knew he wanted to be involved in medicine, too. So, as a senior in high school, as soon as he was able, he became EMT certified.
At IU, Codey is an exercise science major with a minor in nutrition. His hope is to get into medical school after graduation, but he is also applying to physician's assistant and physical therapy programs. He wants to "widen his horizons." In addition to his classes, he works for a private EMT service in Bloomington.
According to Matthew, Codey is too humble to talk about how special it is that he lives his life to help others. It's who Codey is. He is "a genuinely good guy."
In Delta Upsilon's Indiana Chapter, Codey serves as the vice president of loss prevention. Above those officer duties, he is constantly looking out for others. For example, if the brothers are outside playing football or some other sport, a 5-gallon jug of water will appear—filled by Codey—as a reminder to stay hydrated. When brothers aren't feeling well, they find Codey to get his advice. If his suggestion is to go to the doctor, it is often accompanied with an offer to drive them there. In the spring, he helped an alumnus visiting the chapter house who fell down the stairs and busted his head.
"Codey is one of the best people I have ever met," Matthew said. "He is a true gentleman and the definition of an ideal fraternity man. He has an incredibly kind heart."
In the fall 2017 semester, Codey's plan is to have the entire Indiana Chapter certified in CPR and basic first aid. He is working with the local hospital to make it happen.
"We want to eliminate risk as best we can, and one of the ways we can do that is to train everyone in some sort of basic understanding of what to do," Codey said. "You are taught to call 911 and check to see if someone is breathing, but if you aren't medically certified, you don't know what to do after that. Those few minutes between something happening and when paramedics arrive, those moments are life and death for some people and in some instances."
Helen knows this all too well.
"I am so thankful that Codey knew what to do and how to do it," she said. "[Codey and the officers] will certainly always be heroes to me and to my family."
"It's more usual to say that Codey and the officers saved my life, but I keep thinking of it as that they gave my life back to me, and in doing so, gave a wife back to her husband, a mother back to her children, a daughter back to her father, and a teacher back to her students." - Helen Levesque