Alumnus Terry Hart to Deliver Lehigh's Commencement Address
Feb. 26, 2020 - Story by Carina Sitkus posted at www2.lehigh.edu
Distinguished NASA Astronaut Terry Hart '68 '88H to Deliver 2020 Lehigh Commencement Address
Hart '68 '88H—a former NASA astronaut, U.S. Air Force fighter pilot and telecommunications executive who joined Lehigh's faculty in 2006—will deliver the commencement address on Monday, May 18.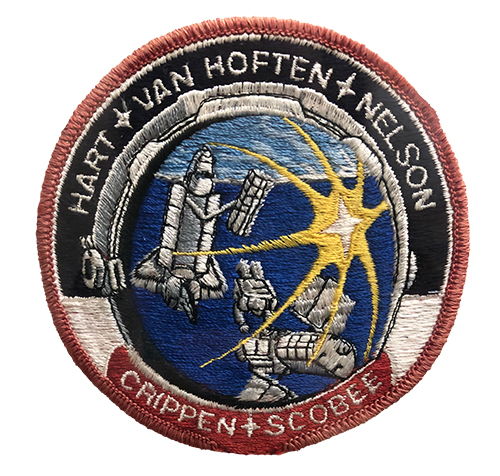 Former NASA astronaut and Lehigh mechanical engineering and mechanics professor Terry Hart '68 '88H will deliver the address at Lehigh's 152nd spring commencement on Monday, May 18.
Hart was a member of NASA's "Group 8"—the first selection of space shuttle astronaut candidates in nine years—and later joined NASA's 11th space shuttle mission aboard the STS 41-C Challenger, launched from Kennedy Space Center on April 6, 1984.
"I'm deeply honored to deliver this year's commencement address," said Hart. "After my varied career experiences, I was proud to return to my alma mater as a member of the engineering faculty and to pay forward what had been provided to me years ago as a student at Lehigh. I am particularly touched to have the opportunity to address the members of this year's graduating class, some of whom I have had the privilege to teach."
Lehigh President John D. Simon '19P said: "It's hard to imagine a more distinguished and fascinating career than Terry's. Our graduates will benefit immensely from hearing his stories and insights. It's not every day they get to hear from someone who proudly flew the Lehigh banner in outer space."
Hart's Illustrious Career at NASA
Hart began his career at Bell Telephone Laboratories after graduating from Lehigh University in 1968 with a degree in mechanical engineering and was responsible for the mechanical design of magnetic tape transport systems. A year later, he took a four-year leave of absence to serve in the U.S. Air Force, flying more than 3,200 hours in high-performance fighters over his career. After returning from active duty with the Air Force in 1973, he went back to work at Bell Labs, receiving two patents for a mechanical safety device and a noise suppression circuit.
In January 1978, Hart was selected by NASA as an astronaut candidate and, after a year of training and evaluation, was assigned as a Mission Control Center CAPCOM (spacecraft communicator) for the first three space shuttle launches. Hart went into space aboard the STS 41-C Challenger. He and fellow Challenger crew members logged 168 hours in orbit above the Earth and were the first astronauts to repair a satellite from the shuttle. On that mission, Hart conducted the first rendezvous of the shuttle program with his commander, Bob Crippen, and operated the Remote Manipulator System (RMS) that retrieved the Solar Maximum Satellite for repairs. He also operated the IMAX camera for the documentary The Dream Is Alive (1985).
Hart continues to share his space experiences and his reflections on the future of space travel. In an interview with Rutgers School of Engineering after the 50th anniversary of the historic Apollo 11 moon landing, Hart said: "A couple hundred years from now, historians might very well conclude that, foremost, the space program made us aware of the need to work together to take good care of our planet and each other."
After retiring from NASA in 1985, Hart had a successful career in telecommunications. He held a variety of technical management positions at Bell Labs and led several projects in systems and software engineering, including an assignment as the director of the Government Data Systems Division of AT&T in Stockholm, Sweden. He returned from Europe in 1991 as the director of Satellite Engineering and Operations for AT&T Skynet, and in 1997 became the president of Loral Skynet when AT&T sold its satellite division to Loral Space and Communications. Hart retired as president of Loral Skynet to join Lehigh's P.C. Rossin College of Engineering and Applied Science faculty in 2006.
A Long-Standing Commitment to Lehigh
Hart was born Oct. 27, 1946, outside of Pittsburgh, Pennsylvania. Sputnik I was launched by the Soviet Union just three weeks short of his 11th birthday. In his 1984 preflight interview at the Johnson Space Center, Hart reminisced, "Everybody went out at sunset when (Sputnik) would be in bright sunlight and you would have a chance to see it from the ground. I had an interest right from then."
Hart's interest led him to pursue both engineering and piloting. After graduating from Mt. Lebanon High School in 1964, Hart began his first of four years in Lehigh's undergraduate engineering program. He was accepted into the engineering honors society Tau Beta Pi, played for the varsity golf team, and was president of his social fraternity Delta Upsilon.
As a current professor of practice in the mechanical engineering and mechanics department of Lehigh's Rossin College, Hart has developed several new courses in aircraft and spacecraft engineering in support of the department's aerospace minor while advising his students on a variety of NASA research projects.
Hart is a member of the American Institute of Aeronautics and Astronautics, the Institute of Electrical and Electronics Engineers, the Tau Beta Pi engineering society, and the Sigma Xi scientific society.
He earned his M.S. in electrical engineering from Rutgers. He also holds an M.S. in mechanical engineering from Massachusetts Institute of Technology. Hart received an honorary Doctorate of Engineering from Lehigh University in 1988.
His honors and awards include induction into the Space and Satellite Hall of Fame, the Aviation Hall of Fame of New Jersey, the Rutgers Hall of Distinguished Alumni, the Rutgers University Medal, the New Jersey Distinguished Service Medal, the Delta Upsilon Medallion, the Pride of Pennsylvania Medal, the NASA Space Flight Medal, the National Defense Medal, and the U.S. Air Force Commendation Medal. Hart was also named Outstanding Officer of Undergraduate Pilot Training in 1970. He was inducted into the Rutgers Hall of Distinguished Alumni in 1994 and received Lehigh University's Alumni Award in 2013.
A Lehigh banner he carried with him on his space flight is currently hanging in the Rossin College dean's office in Packard Lab.
Photo: This patch was worn by Terry Hart, Lehigh '68, aboard the Space Shuttle Challenger in 1984. This patch is on display at Delta Upsilon International Headquarters.