Associate Chapter Ceremony held for Delaware and Washington State
Nov. 15, 2021 - This past weekend was one of celebration for Delta Upsilon. The Fraternity has officially returned to the University of Delaware and Washington State University with the hosting of the Associate Chapter Ceremony for each group. Both associate chapters will continue recruit, build brotherhood and work toward the requirements for reinstallation.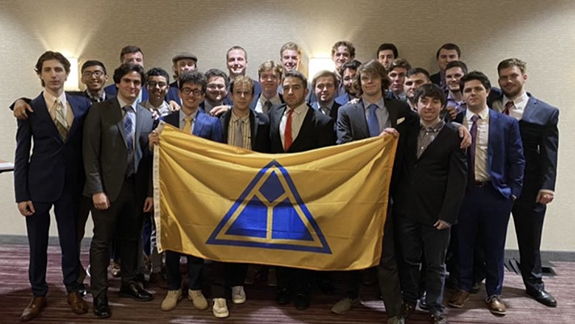 University of Delaware
The Associate Chapter Ceremony was held at the University of Delaware on Friday, Nov. 12, at the Courtyard by Marriott in Newark, Delaware. Alumni Frank Desantis, Delaware '73, and Bill Sullivan, Delaware '74, conducted the ceremony along with DU Leadership Consultant Matthew Ferguson, Nebraska '20. During the event, 25 associate members were pledged into the Fraternity, and the associate chapter's first Executive Board officers were installed.
Expansion efforts at Delaware begin in spring 2021 with virtual recruitment efforts led by DU staff. Due to COVID-19 restrictions, the Fraternity was limited in the types of recruitment event it could host. Then, in fall 2021, DU Leadership Consultants were able to have a physical presence on campus to recruit, promote the Fraternity, and set the group up for success.
The Delaware Chapter was first installed into the Fraternity on April 11, 1970, as DU's 102nd chapter, but closed in 1983.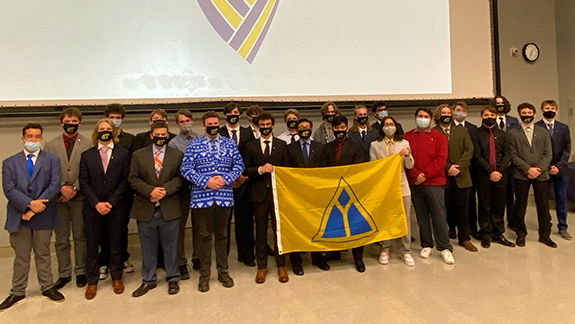 Washington State University
The Washington Associate Chapter held its Associate Chapter Ceremony on Saturday, Nov. 13, in the Todd Hall 116 Auditorium on campus and was led by DU Leadership Consultants Matthew Talley, Maryland '21, and Blake Coan, Bradley '20. During the event, 27 associate members were pledged into the Fraternity and Executive Board officers were installed.
The Washington State expansion began in August 2021 as Talley and Coan traveled to Pullman to begin conducting recruitment efforts. The two men have spent the fall 2021 term living in the chapter facility, promoting DU on campus, recruiting, and working with alumni and advisors.
The Washington State Chapter became DU's 63rd chapter on March 4, 1933, when it was installed into the Fraternity. The chapter was closed in 2000, reinstated and closed once again in 2016, and reinstated in 2021.