Associate Chapter Ceremony held for Kansas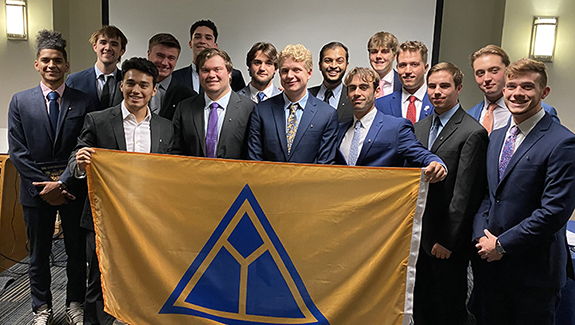 Nov. 12, 2022 - Delta Upsilon has officially returned to the University of Kansas! On Nov. 12, 2022, DU held the Associate Chapter Ceremony and Pledging Ceremony for the group. The Kansas Chapter first opened in January 1920 but closed in 2018. DU and its alumni are excited to be back at KU.
Expansion efforts for Kansas began in fall 2022 with International Fraternity staff leading expansion recruitment efforts. At the time of the Associate Chapter Ceremony, 18 men had joined the group and were pledged into the Fraternity. Chapter advisor John Esau, Kansas '78, and DU's Coordinator of Expansion Kenny Benjamin, Iowa State '21, led the ceremonies, which were held in the Big 12 Room of the KU Memorial Union. A reception was held afterward for the associate members and guests.
The Kansas Associate Chapter will continue to recruit new members and set up chapter operations as it works toward the requirements for re-chartering. If you know unaffiliated students at KU who you would like to recommend for membership, complete the Member Interest/Referral Form.
For more information about the Kansas Associate Chapter, follow it on Facebook and Instagram at @kudeltaupsilon.