DU Awards of Merit are presented to esteemed members and friends of the Fraternity who have exhibited a devotion to Delta Upsilon, as well as excellence or notoriety within their profession. The awards get their name from the Fraternity's historical tie to our Founders' description: "the only superiority that we acknowledge is the superiority of merit." Awards are then named for outstanding DU alumni in that particular field. Each of the 2018 honorees received his award during the Leadership Institute and led breakout sessions while at LI. To listen to their acceptance speeches, visit www.deltau.org/awards-of-merit.
Thomas Darcy, San Diego State '72
Sloan-Kettering Award of Merit in Business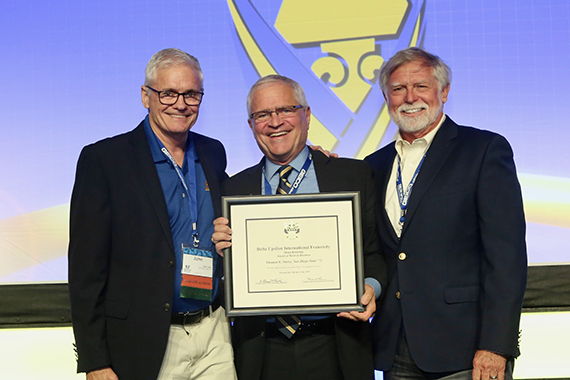 Tom Darcy is a director, co-founder and retired Executive Vice President and Chief Financial Officer of Tocagen Inc., a biopharmaceutical company pursuing the discovery, development and commercialization of novel products for cancer treatment. Prior to co-founding Tocagen, Brother Darcy served as Executive Vice President and Chief Financial Officer of Science Applications International Corporation (SAIC), and is a former Director of McAfee, Inc. Prior to that, Tom had a 27-year career with the accounting firm of PricewaterhouseCoopers LLP. While at PWC, Tom developed the company's first professional education course on initial public offerings and co-authored the firm's companion handbook, "Taking Your Company Public." He also serves as a Director and Chairman of the audit committee of Lytx, Inc.
Tom graduated from San Diego State University with a degree in accounting and has completed the UCLA Anderson Graduate School Advanced Executive Program "Competing in a Global Environment."
David Diesslin, Indiana '70
Sloan-Kettering Award of Merit in Business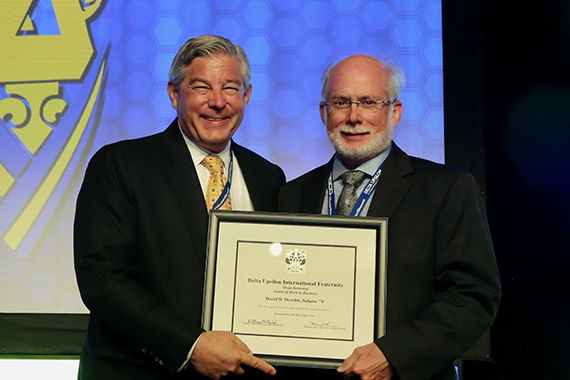 David Diesslin is the founder and Chairman of Diesslin & Associates, Inc., a business created in 1980 to provide fee-only financial planning and wealth management services to individuals, corporations, foundations and nonprofit organizations. Throughout his career, Brother Diesslin has worked to promote and advance the financial planning profession. He has been honored as one of the Best Financial Advisors in Worth Magazine, Medical Economics, Money Magazine and "D" Magazine. He is also endorsed by the Consumers' Research Council of America as one of America's Top Financial Planners.
David received his bachelor's from Indiana University, M.B.A. from the University of Dallas, and Certified Financial Planner (CFP) designation from the College for Financial Planning. David is a former Board Chairman for the CFP Board of Standards. He is a founding member, and Past Chairman and President, of the National Association of Personal Financial Advisors (NAPFA).
Stephen Henning, Nebraska '85
Charles Evans Hughes Award of Merit in Justice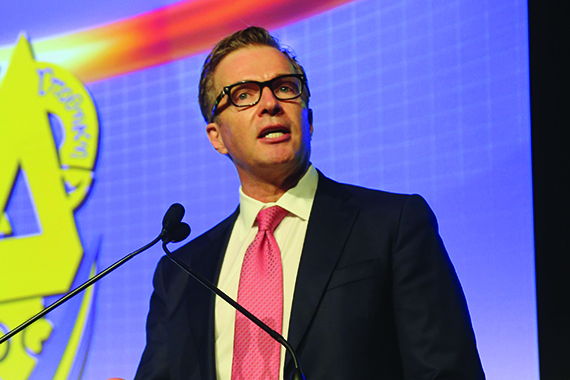 Stephen Henning is a co-founder of Wood, Smith, Henning & Berman LLP, an AmLaw 200 law firm with 22 offices throughout the United States. He is a skilled litigator, nationally recognized for results in complex construction, real estate, business and toxic tort litigation. He regularly represents Fortune 500 companies and preeminent members of the business community, including some of the nation's largest residential and commercial owners, homebuilders, developers, contractors and lenders. Steve also has a thriving practice focused on public entities, handling all facets of litigation and risk management pertaining to construction and toxic tort issues.
Brother Henning received both his undergraduate and law degrees from the University of Nebraska. He serves as Chairman of the Board of Directors for the March of Dimes; is a founding Board member and past President of the Construction Defect Community Charitable Foundation; and serves on the Boards of Directors for both the Alzheimer's Association and Levitt & Quinn, a public aid law firm providing legal services to people in need.
Ronald Peyton, Indiana '69
Sloan-Kettering Award of Merit in Business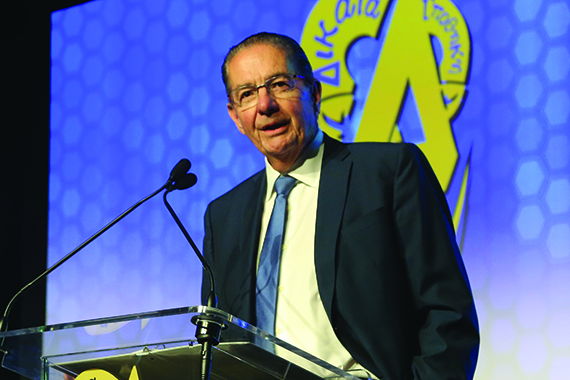 Ron Peyton is the Executive Chairman of Callan, one of the largest independently-owned investment consulting firms. He provides firm-wide oversight by conferring with associates and clients to improve communications, process and service quality. Ron also regularly engages in industry and community events through speaking and service opportunities.
Outside of Callan, Ron serves on the board of the United Way Bay Area and was President of Filoli, a National Historic Trust Property. He also served on the CFA Institute's Performance Presentation Standards Implementation Committee (now known as the Global Investment Performance Standards, or GIPS) and was Chairman of the Asset Manager Code of Conduct Advisory Committee. Ron has also worked with Marathon Oil Company's pension investments and served as an officer in the U.S. Army Reserve. He earned an M.B.A. in finance and a B.S. in accounting at Indiana University, where he was president of Delta Upsilon's Indiana Chapter.
Joseph Raudabaugh, North Carolina State '78
Sloan-Kettering Award of Merit in Business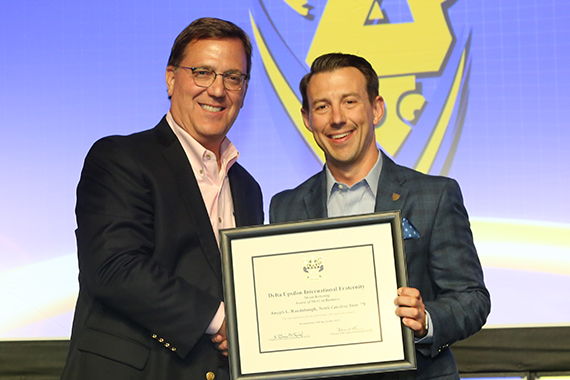 Joseph Raudabaugh enjoyed a 34-year consulting career with A.T. Kearney where he led various service practices and geographic units, including serving as the managing director of the firm's Japan unit and founder and president of A.T. Kearney's Procurement and Analytic Solutions business. He has served more than 100 clients with an emphasis on strategy, operations and supply management issues. Brother Raudabaugh founded and developed the A.T. Kearney Student Lab Program, which has brought experiential learning to more than 3,000 students across most of the top 15 global business schools. He also led the Innovative A.T. Kearney initiative to inspire and nurture enhanced innovation across the firm.
Brother Raudabaugh earned his B.S. in economics at North Carolina State University and an M.B.A. in marketing and finance from the University of Chicago Booth School of Business. He is a co-author of "The Purchasing Chessboard" (Springer, 2008) and was named to Consulting Magazine's Top 25 Consultants list in 2012. Joe also serves on the board of the Glacier National Park Conservancy.
Joseph Schoendorf, Purdue '66
Linus Pauling Award of Merit in Science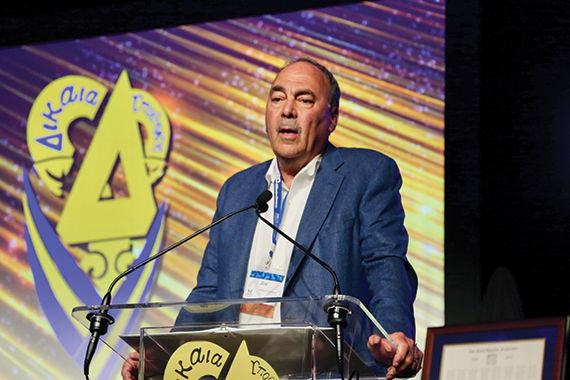 Brother Schoendorf has been active in the technology industry for four decades. He has been a partner at Accel since 1988, a venture capital firm that helps companies start and grow their business. Accel has worked with companies including Facebook, Slack, Venmo, Spotify and more. Joe also currently serves as a strategic partner of the World Economic Forum and is a sought after speaker and collaborator.
Prior to joining Accel, Joe's past positions include serving as the Vice President of Marketing for Apple Computer; Executive Vice President for Worldwide Sales and Marketing at Ungermann-Bass; CEO of Industrial Networking; and an 18-year career with Hewlett Packard. Joe is a graduate of Purdue University and has served on the Dean's Advisory Council at Purdue's Krannert School of Business.