Bruce McKinney Named Distinguished Delta Upsilon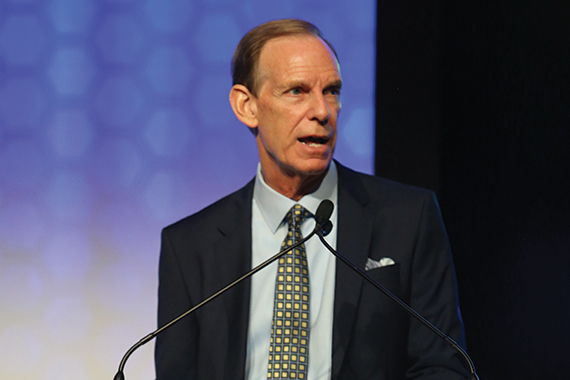 Every Delta Upsilon has a unique membership experience. Our DU journey, the reasons for joining and staying involved, as well as the memories we make, are our own. When Bruce McKinney, Missouri '74, graduated and began his life as an alumnus, he never imagined where his DU journey would take him. In fact, it would be two decades before Bruce, a former Chapter President, would re-engage with the Fraternity as a chapter advisor. Fast forward to today, and Bruce is a Past International Fraternity President and the recipient of DU's top individual honor, the Distinguished Delta Upsilon Award.
"I was a DU undergraduate, and I thought that was it for 23 years," Bruce said during the 2018 Leadership Institute's Grand Banquet as he explained how his son's decision to join a fraternity brought him back to DU. "The next thing you know, you are looking at [fraternities] through the eyes of a parent, and that's a different perspective."
Bruce's experience as a parent quickly led him into working with the Missouri Alumni Chapter and chapter advising. He cherished this role for several years, which earned him a DU Founders Medal in 2008, before deciding to lend his talents to the Delta Upsilon International Fraternity Board of Directors. For 13 years, Bruce served on the Board, first as an Alumni Director from 2004-2008, then Treasurer from 2008-2014, and finally as President from 2014-2018. During the 2018 Leadership Institute, Bruce retired from Board service and was succeeded in the presidency by Thomas Durein, Oregon State '92.
During Bruce's tenure on the Board of Directors, Delta Upsilon grew into the Fraternity it is today. Throughout the course of his 13 years on the Board, DU launched and completed an ambitious strategic plan that improved Fraternity operations, launched new initiatives, and put Delta Upsilon at the forefront of its peers. For this service and past leadership at the local level, Bruce earned the title of Distinguished Delta Upsilon.
"Bruce's dedication over the past 13 years has been tremendous, and his leadership has helped Delta Upsilon grow and thrive," said Richard Taylor, North Carolina State '82, another Distinguished DU who presented McKinney with his award."His service to Delta Upsilon has left a lasting impression and legacy."
In his professional career, Bruce is a retired businessman, having served in a number of financial executive leadership positions during his 40-year career. Corporate experiences included Marathon Oil Company, Marion Merrell Dow (now Sanofi-Aventis) and Hallmark Cards, Inc., where he was Vice President-Treasurer for 15 years. Most recently, Bruce was the Vice President and Chief Financial Officer for Community Blood Center of Greater Kansas City. In addition to his DU work, Bruce has served on the board of the Mizzou Alumni Association, including a term as President from 2017-2018. He currently resides in Kansas with his wife, Teresa. Together, they have two children (Christopher and Stephanie) and three grandchildren.
Bruce's Delta Upsilon journey to this point has left him with many takeaways, which he shared with the 2018 LI attendees. These takeaways involve teamwork, using DU's Four Founding Principles to guide decision making, and aligning yourself with people and causes important to you.
"It is really, really important to make sure you attach yourself to things you care about and that you surround yourself with people who give you energy," Bruce said. "There are too many things that can pull you down and waste your time. It's the things you care about and the people who give you energy. For me, that thing is DU and you are those people."