Bucknell Chapter Reinstalled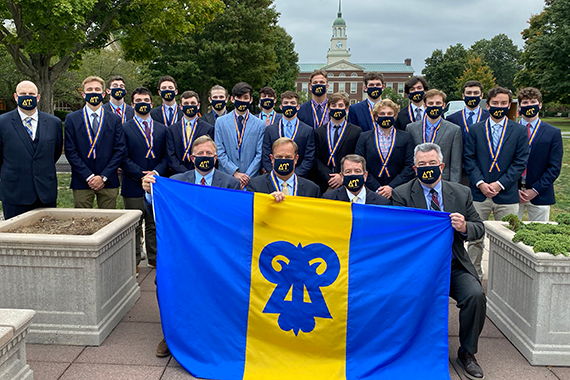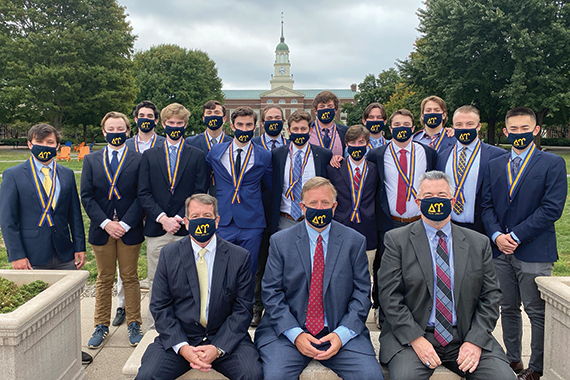 Seventy years after first joining Delta Upsilon, the Bucknell Chapter rejoined the ranks of active DU chapters on Sept. 26, 2020. In his Charge Address remarks, John Zaharchuk, Bucknell '81, described brotherhood as demonstrating "certain shared beliefs, such as a commitment to each other, an unwavering willingness to contribute and to invest in the Fraternity, and the extraordinary pride of membership." This description—particularly the aspects of commitment and unwavering willingness to invest in the Fraternity—could be used to describe the Reinstallation event itself, which had been scaled back and postponed due to the pandemic.
Expansion efforts to re-establish the Bucknell Chapter started in fall 2018, and the group was scheduled to be reinstalled just a year and a half later in April 2020. The COVID-19 pandemic, however, had other plans. Instead, the associate chapter members left campus early and were forced to postpone the event.
"We were so close to having our Initiation when we were sent home last spring," said Kevin Doyle, Bucknell '22, Chapter President at the time of Reinstallation. "It was tough to see us come so close and have that happen."
Fortunately, the Bucknell campus reopened in fall 2020, allowing the Reinstallation to move forward. However, due to limitations on gathering sizes stemming from the pandemic, the event had to happen in multiple parts. Instead of celebrating and sharing in the Reinstallation and Initiation Ceremonies as one, the 37 new initiates were split into two groups, each group with its own set of ceremonies. It also meant that alumni, parents and campus officials could not attend in person as usual, instead relying on a live stream recording of the festivities, which were held in the campus Trout Auditorium.
An additional 14 brothers were virtually initiated into the chapter on Oct. 18, 2020. Thirteen of these men had been associate chapter members but graduated prior to the September Reinstallation Ceremony. The other was a traditional alumni initiate.
"Having the Initiation Ceremony split in half was not ideal for us," Doyle recalled. "Since we pride ourselves on having such a strong brotherhood between the guys, we really wanted to be together for it. In the end we were just happy to have gotten to that point for the chapter, even if that meant we had to make some adjustments."
The Reinstallation and Initiation Ceremonies were led by International Fraternity board member Brad John, Iowa '96, as Master; Derek Dunham, North Dakota '89, as Examiner; Pat Flannery, Bucknell '80, as Chief Marshal; and Zaharchuk as Chaplain and Charge speaker.
In the Charge Address, Zaharchuk continued to describe the essence of brotherhood by using a written message from Dick Boddie, Bucknell '61. In 1958, Brother Boddie became the first Black member of any fraternity at Bucknell when he joined Delta Upsilon.
"It took something very special and a serious commitment by those brothers from our house way back then, to take a step towards creating a unique real brotherhood in our Fraternity and on that campus," Boddie wrote. "That's the kind of commitment to a cause, a belief, an organization, a fraternity, that actually makes a real difference in this thing called life."
These sentiments of justice and brotherhood are not lost on the undergraduates who have worked hard to restart the Bucknell Chapter with a foundation rooted in the Fraternity's Four Founding Principles. Since expansion, the men have focused on creating an atmosphere of care and support, even hosting campus Mental Health Summits on addiction and speakers on sexual assault intervention and prevention.
"My vision for the future of this chapter is to stay true to our values," Doyle said. "The chapter has already grown, and will continue to grow so much in different ways, I know the guys to follow will remember what is really important to our chapter."
The Bucknell Chapter was first installed into Delta Upsilon on Nov. 18, 1950, as local Fraternity Delta Sigma (previously known as the Demosthenean Society) affiliated with DU. The chapter existed for 53 years before closing in 2003. The chapter restarted in April 2007 and later closed in May 2015.
The chapter is hoping to host an in-person Reinstallation celebration with alumni and other guests once pandemic-related restrictions are lifted.