Building Better Men with Estate Gifts
Each year, the Delta Upsilon Educational Foundation relies on alumni and friends to support our mission of Building Better Men across North America. These loyal donors make an immediate impact through educational programs like the Emerging Leaders Experience, Global Service Initiative and the Leadership Institute. Without annual supporters of the Foundation, the programs and scholarships that support DU undergraduates and their chapters would not be possible.
Thankfully, alumni and friends continue to answer the call, and some extend their loyalty forever by joining the Heritage Circle. The Heritage Circle was established in 2000 to honor living brothers and friends who have listed the Delta Upsilon Educational Foundation as a beneficiary in their will, insurance policy, 401(k), or other deferred giving instrument. Currently, there are 71 living members of the Heritage Circle.
The DUEF recently received two estate gifts from deceased alumni—men who will forever be known as Lester Cox Benefactors in honor of Lester E. Cox, Pennsylvania 1898, the first DU alumnus to give an estate gift to the Fraternity for building the International Headquarters in 1971. The legacy of these two DU alumni (Ed Mosher, San Jose '52, and Dick Hegeman, Purdue '49) will now come to life through DU undergraduates for generations to come.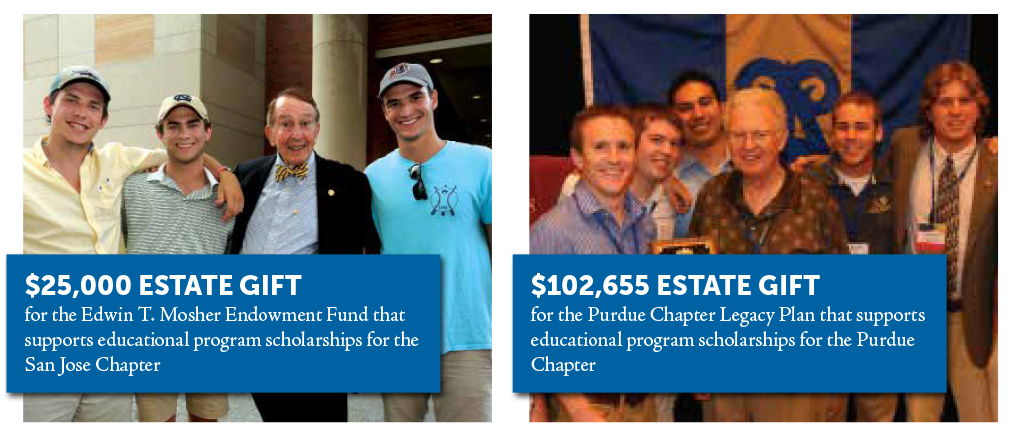 Most Common Ways to Join the Heritage Circle
Charitable Bequest – Language in your will or trust that provides cash, securities, property or a percentage of your estate to the DU Educational Foundation.
Retirement Plan Beneficiary – Name the DU Educational Foundation as a beneficiary of your 401(k), IRA or other retirement plans.

Life Insurance Policy – Name the DU Educational Foundation as the owner and/or beneficiary of a life insurance policy.

Want to Learn More about the Heritage Circle?
Do you have questions, or is the DU Educational Foundation already in your will or estate plans? Contact the DUEF staff at king@deltau.org or (317) 875-8900. The Foundation's Tax ID# is 35-1976226.