Butler Education Chair
Delta Upsilon builds better men through outstanding educational programs.
For nearly a quarter century, Brother Wilford A. "Bill" Butler, Western Michigan '61, led Delta Upsilon Fraternity as its Executive Director. To date, he is the longest serving DU of all time on the Headquarters staff. The Wilford A. Butler Education Chair was established in 2010 to help endow a position on the IHQ staff dedicated to supporting DU's educational initiatives. An initial investment of $30,000 was made by Brother Butler's two sisters to honor his memory following his death. The Wilford A. Butler Education Chair is currently the staff's senior director of educational programs.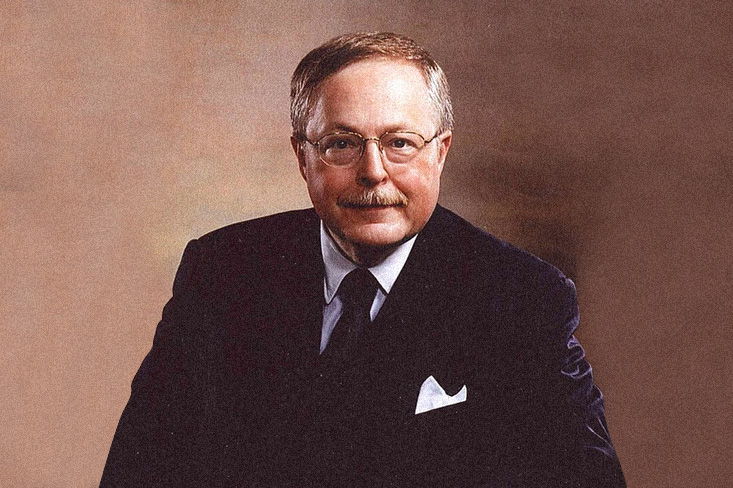 The Wilford A. Butler Education Chair was an important step in securing Bill Butler's legacy as DU's premier mentor of men and an educator to all. A fundraising goal of $150,000 will complete phase one of the effort to permanently endow the fund.
Funds contributed in support of the chair are invested, and the income from the endowment is used to further DU's educational programs. More specifically, funding is used to salary the senior director of educational programs position and support those programs that help build better men.
This staff member is responsible for the development and implementation of DU education curricula and programs. He is the person responsible for administering and evaluating programs that meet the needs of undergraduates, alumni and chapters.
The Fraternity's longest serving staff member, Brother Butler was hired in 1962 to help better organize the Fraternity's operations and make it a stronger and more viable organization. During his tenure with Delta Upsilon, the Fraternity grew by more than 50 percent, with Bill overseeing the addition of nearly 40 new chapters.
Bill helped orchestrate and oversee the major relocation of DU headquarters from New York City to Indianapolis. He also helped design the area in which the Headquarters facility was constructed, which includes a host of other fraternity and sorority headquarters. In 2010, DU's International Headquarters was named the "Butler Memorial Headquarters Building" in tribute to Bill's many contributions to the Fraternity.
During his service to DU, Bill also made major contributions to the fraternity movement by serving as president of the Fraternity Executives Association (FEA), where he introduced a highly regarded publication titled News & Notes that was circulated to fraternity leaders and college deans throughout the U.S. and Canada. In his capacity as an FEA member, Bill often served as a mentor to fellow executives, some new to the field and others just needing sound advice.
Wilford A. Butler impacted the lives of thousands of DU members during his 24 years as Executive Director, and transformed Delta Upsilon into a leading fraternal organization. Bill believed the fraternity experience had the ability to transform young men into tomorrow's leaders.