Chad Leat Receives Award of Merit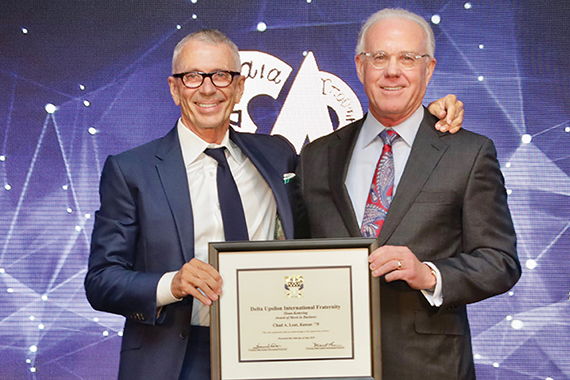 Delta Upsilon's Awards of Merit are presented to esteemed members and friends of the Fraternity who have exhibited a devotion to Delta Upsilon, as well as excellence or notoriety within their profession. The awards get their name from the Fraternity's historical tie to our Founders' description: "the only superiority that we acknowledge is the superiority of merit." Awards are then named for outstanding DU alumni in that particular field.
During the 2019 Leadership Institute, Brother Chad Leat, Kansas '78, was honored with the Sloan-Kettering Award of Merit in Business. This award is named after Alfred P. Sloan, Technology 1895, and Charles Kettering, Ohio State 1904, who were philanthropists and long-time executives with General Motors.
Chad is a retired Vice Chairman of Global Banking at Citigroup and has nearly 30 years of markets and banking experience on Wall Street. An acknowledged leader and innovator in corporate credit and M&A finance, he has completed some of the largest acquisition financings in history. Over the years, he has built and led numerous successful and profitable businesses at Citigroup, JPMorgan Chase and their predecessor companies.
Currently, Chad serves as Chairman of the Board of Directors for both J.Crew and MidCap Financial, PLC. J.Crew is an American specialty retailer with revenues in excess of $2 billion and includes the rapidly growing Madewell brand for women. MidCap Financial is a middle market direct commercial lending business affiliated with Apollo Global Management with nearly $20 billion of assets under management. In addition to this work, Chad sits on the Board of Directors of Norwegian Cruise Lines, where he serves as Chairman of the Audit Committee and a member of the Compensation Committee; is on the Supervisory Board of Hamburg Commercial Bank, headquartered in Hamburg, Germany, where he also serves as Chairman of the Risk Committee; and serves on the Board of Directors of TPG Pace Holdings Corp. (TPGH-UN) where he serves as Chairman of the Audit Committee.
On the civic and philanthropic front, Chad is a member of the Economic Club of New York and has served on the board of several charitable organizations. He is currently a Trustee of the Parrish Museum of Art.
Chad is a 1978 a graduate of the University of Kansas, where he received his Bachelor of Science degree. He finished the Directors' Consortium at Stanford Graduate School of Business in Palo Alto, California in spring 2019. He was named a Distinguished Kansan in 2018 and is an avid equestrian who splits his time between Paris, France; Bridgehampton, New York; and New York City.
Chad was presented with his Award of Merit during the Leadership Institute's Awards Luncheon on Friday, July 26, 2019. During his acceptance speech, he spoke not of his career, but of the impact Delta Upsilon brotherhood has had on his life. The friendship and generosity of a DU brother and his family helped Chad finance his education after his father passed away in Chad's second year of college.
"It was that relationship, that friendship, that brotherhood, that kept me going for something that had been my life's dream—a college education," Chad said. "Being part of the DU Fraternity, a part of the DU community, made sure that I had someone with a helping hand when I needed it."
Following the Awards Luncheon, Chad hosted a "fireside chat" with undergraduates interested in learning more about his career and his advice for a successful future. A recording of Chad's acceptance speech can be found at www.deltau.org/awards-of-merit.