Colonization Ceremony Held for Bucknell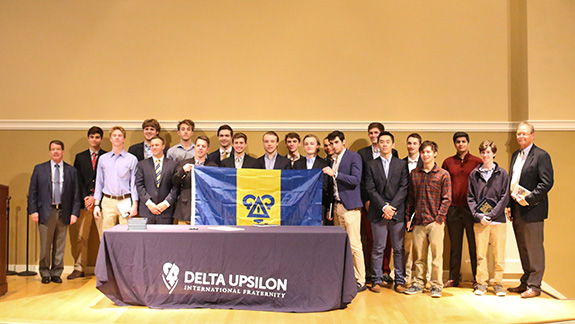 Oct. 28, 2018 - Delta Upsilon hosted the Colonization Ceremony for its Bucknell Colony on Sunday, Oct. 28, 2018. Delta Upsilon first joined the Bucknell community in Lewisburg, Pennsylvania in November 1950 when the Bucknell Chapter was installed as the Fraternity's 74th chapter. The group closed in 2002, reopened in 2007, and closed again in 2015.
The Colonization Ceremony was held on campus in the Leann Freas Trout Auditorium at 1 p.m., as 20 associate members were pledged into the Fraternity. Alumnus John Zaharchuk, Bucknell '81, served as Master, while DU Leadership Consultant Sam Schmelzer, DePauw '18, served as Chief Marshal.
Expansion efforts unofficially began during the 2017-2018 academic year as the alumni and DU staff prepared for the group's return. Thanks to support from the alumni, Delta Upsilon was able to not only fundraise for the expansion efforts, but also begin advertising DU on campus. At the beginning of the fall 2018 semester, Schmelzer made his way to Lewisburg to begin recruitment efforts and set the early foundation for the group. Post-colonization, the group will work toward the requirements for chartering, which include recruitment, chapter operations, academic excellence, service/philanthropy, and more. During the colonization weekend, Delta Upsilon Director of Educational Programs Veronica Moore also led a colony retreat focusing on team building and leadership development.
Delta Upsilon International Fraternity would like to thank all those who have made our expansion possible. This includes the Bucknell Office of Fraternity & Sorority Affairs, the IFC and Panhellenic Councils, family, friends, alumni, and advisors.
Congratulations to the Bucknell Colony!
Bucknell Colony Founding Fathers
Shehryar Asif
John Belinsky
Nick Bermeo
Karl Clayter
Jackson Davenport
Ford DelVecchio
Rylan Forester
Andrew Gabriel
Ryan Galli
Luke Grygier
Ben Iwaoka
Joshua Lee
Jakub Malecki
Patrick Messana
Parker Sanders
AJ Scavone
Alex Smith
Logan Stiles
David Thompson
Benny Wilken