Colonization Ceremony Held for Missouri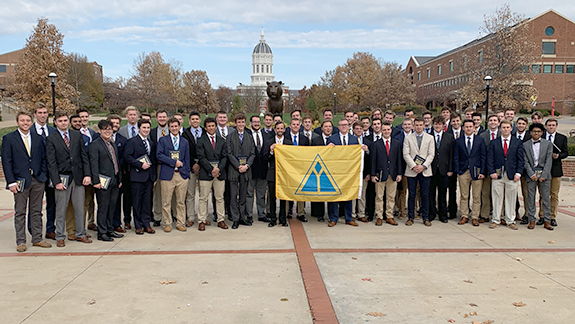 Nov. 12, 2018 - Delta Upsilon has officially returned to the University of Missouri. The Colonization Ceremony for the new group was held Sunday, Nov. 11 at 11 a.m. CST in Strickland Hall on campus.
DU's expansion efforts at Missouri began in summer 2018 as Fraternity staff visited the Columbia, Missouri campus for summer recruitment efforts. Recruitment continued throughout the fall semester and was spearheaded by a number of DU staff and volunteers.
The occasion marks Delta Upsilon's return to campus following the closure of the Missouri Chapter in December 2016. The new colony serves as a fresh start for the group, as each man in the colony is new to Delta Upsilon. Per the terms of the chapter's closure, those undergraduates in the chapter at the time of closure cannot be involved with the Fraternity until after leaving school. The Missouri Chapter became Delta Upsilon's 54th chapter with its installation on Dec. 6, 1924.
During the Colonization Ceremony, 65 men were pledged into the Fraternity. The Ritual Team consisted of Jeff Kreutz, Missouri '99, as Master, and Collin Smith, Missouri '16, a Chief Marshal. DU Expansion & Development Director Hayden Rahn, Oregon '16, led the Officer Installation Ceremony. A reception was held for the colony members, parents, friends and guests following the ceremonies.
Post-colonization, the group will work toward the requirements for chartering, which include recruitment, chapter operations, academic excellence, service/philanthropy, and more. During the colonization weekend, Rahn also led a colony retreat focusing on team building and leadership development. The group will also continue to receive unwavering support from its alumni base, which has helped with expansion efforts, fundraising and chapter advising. The colony plans to move into its chapter house in fall 2019. The home is currently being rented by another fraternity.
Delta Upsilon International Fraternity would like to thank all those who have made our expansion possible. This includes the Missouri Office of Fraternity & Sorority Life, the IFC and Panhellenic Councils, family, friends, alumni, and advisors.
Congratulations to the Missouri Colony!
Missouri Colony Founding Fathers
Levi Alldredge
Kyle Bals
Michael Barch
John Baur
Andrew Beckerdite
Jack Bell
Daniel Bingham
John Borgmeyer
Marcus Buchanan
Alex Burden
Miles Buttress
Devin Callahan
Joe Carroll
Chase Chick
Eli Chiles
Adam Cohen
Gavin Cork
Nathan Cowie
Ryan Crothers
Jake Domalewski
Nathan Etheridge
Patterson Fallis
Ahabb Fisher
Matthew Fishering
Colton Franke
Sam Furrer
Tyler Gillum
Chance Gotsch
Briggs Hall
Duncan Hall
Matthew Hensey
Isaac Hylton
Matthew Jobe
Colin Kalish
Cole Kearby
Payton Kearns
Andrew Krause
David Lees
Duncan Lemon
Frank Licavoli
Quinn Lowery
Justin Marrs
Dylan Matz
Russell Mitchell
Trenton Moore
Grayson Mueller
Payton Nichols-Pittman
Henry Niere
Daniel O'Leary
Shyamal Patel
Timothy Pawlowski
Drew Payne
Braydon Pemberton
Nick Puent
Mason Renshaw
Nathan Rood
Mason Scheidler
Grant Scott
Deacon Sears
Dawson Shively
Anthony Sirna
Will Sobkoviak
Carson Stewart
Ethan Vaughn
Steven Yoon