The brothers listed below are our most consistent donors and have given for a minimum of 25 consecutive years to the DU Educational Foundation. These brothers have invested in multiple generations of DU undergraduates. We offer our most sincere and eternal gratitude for the lifelong commitment these donors have made to Delta Upsilon's mission of Building Better Men.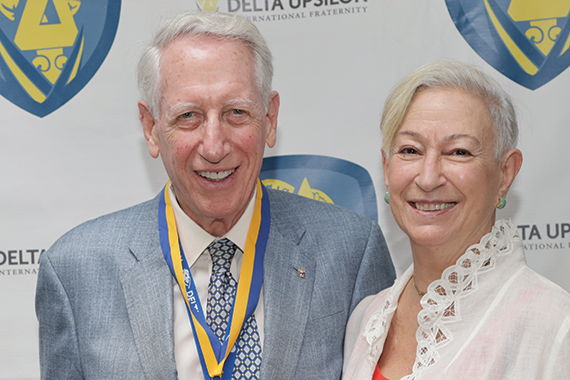 "I am proud of my support of the DU Educational Foundation over the past 50 years. Delta Upsilon has provided me with a life-changing experience through undergraduate associations and lifelong friendships ever since. It is highly gratifying to see the tradition of developing new leaders continue from the Fraternity's efforts, and I'm glad to support the work DU continues to do."
- Maury Mandel, Chicago '55
DUEF Donor for 50 Consecutive Years!
50 Years
Leland J. Adams, Bucknell '64
Michael G. Boylan, Bradley '69
Keith O. Kaneta, Washington '59
Maurice S. Mandel, Chicago '55
Thomas E. Mattson, Oregon '63
Howard O. Mielke, Carnegie '51
Michael G. Mitchell, Texas '65
J. David Nelson, Northwestern '63
Aubrey H. Polser, Texas '65
Richard B. Thompson, Michigan State '67
James V. White, Michigan '50
49 Years
Jere E. Bremer, Bradley '66
Richard B. Hallman, Purdue '54
John K. Johnston, Pennsylvania State '58
Robert J. LaFortune, Purdue '51
Charles A. Phillips, Clarkson '64
James S. Roberts, Florida '63
George S. Studle, Washington State '57
48 Years
Dennis S. Kanemori, Western Michigan '66
Ben T. Walkingstick, Oklahoma '52
47 Years
William C. Krommenhoek, Nebraska '57
46 Years
Robert G. Yingling, Missouri '62
45 Years
Gregory L. Allemann, Missouri '69
Robert A. Dahlsgaard, Bradley '63
Lewis D. Gregory, Kansas '75
John W. Rogers, Miami '57
44 Years
Bruce C. Anderson, Purdue '65
John R. Ashby, Arlington '74
John L. Cassell, Texas '70
David Franzetta, Michigan State '70
Paul E. Rosenthal, Florida '73
Mark L. Rupert, Oklahoma '74
43 Years
Mark A. Clemente, Cornell '73
George J. Hamilton, Arkansas '77
Bradley B. Hoot, Michigan State '65
David O. Johnson, Kansas State '75
Charles L. Kavanagh, California '64
Thomas F. Keating, Cornell '57
Angelo J. Magistro, Rochester '60
Henley L. Smith, Lafayette '51
Ronald E. Wischhusen, Clarkson '76
42 Years
Dieter F. Czerny, Lehigh '74
John A. Delaney, Florida '77
John K. Dunlap, Texas '73
Terry D. Finnell, Syracuse '57
Robert W. Haerr, Creighton '72
Stephen G. Katsinas, Illinois '78
William T. Lauder, Columbia '44
Dave Maguire, Southern Illinois '73
Leland W. Waters, Texas '73
41 Years
Robert B. Buchanan, Illinois '55
Scott D. Hahner, Rutgers '78
Warren P. Nesbitt, Wisconsin '76
James L. Ryan, Michigan State '55
Richard L. Smith, Colgate '68
40 Years
Keith B. Bruening, Iowa State '80
Thomas W. Foote, Purdue '50
John F. Herma, Rutgers '70
Thomas E. Hoover, Ohio State '56
David A. Krebs, Miami '80
David C. Myers, Tennessee '74
David E. Vinson, Wisconsin '59
39 Years
Stephen J. Anderson, Northern Iowa '79
Michael B. Donnelly, San Fernando '68
John R. Ehrlich, Missouri '67
William B. Hallam, Delaware '80
Mark S. Jones, Arlington '75
Kenneth D. Miller, Iowa '67
Brian E. Mudrick, Louisville '82
Gary A. Rugel, Illinois '78
John T. Weisel, Oregon '48
38 Years
John A. Buist, Illinois '78
Philip E. Eubanks, Georgia Tech '71
Patrick S. Hobin, California '59
Robert W. Shively, Nebraska '82
Richard B. Wilcox, Florida '68
37 Years
Dennis A. Johnson, California '63
L. G. Lawrence, Washington & Lee '59
James A. Oppy, Kansas State '64
Jeffrey A. VanEenenaam, Colorado '79
36 Years
Kelley J. Brennan, Marietta '64
Alan R. Chapman, Illinois '69
Jeff W. Courter, Iowa State '84
Andris Lacis, Purdue '64
Stephen L. Mahannah, Colorado '61
Alan L. Mores, Iowa State '80
35 Years
Richard L. Delano, Indiana '85
Michael E. Hogan, Purdue '85
Willard C. Loomis, Miami '59
Albert P. Stauderman, Syracuse '58
34 Years
Bruce S. Bailey, Denison '58
Walter R. Brookhart, Virginia '71
Gary E. Middleton, Carnegie '86
Robert C. Nelson, Missouri '83
Jack A. Ritt, Illinois '52
33 Years
Philip B. Groebe, DePauw '62
John C. Herron, South Carolina '88
Joseph D. Joyner, North Carolina '77
James W. Lambert, Indiana '87
Jordan B. Lotsoff, Northern Illinois '88
William D. Rose, North Carolina '69
Al P. Saufley, Virginia '54
Jeffrey Siegel, Maryland '78
32 Years
Dennis A. Barbour, Virginia '77
Lee A. Doble, Cal Poly '68
George N. Graf, Pennsylvania '55
James W. Griffiths, Louisville '69
Donald G. Hanson, Johns Hopkins '50
James F. Harris, Wisconsin '72
Edwin J. Taff, North Carolina '61
Bruce N. Wilson, Stanford '50
31 Years
B. Chris Brewster, Colorado '77
Michael J. Caporaletti, Maryland '73
Kim C. Cox, Illinois '76
Gregory A. George, Central Missouri '89
Jeffrey M. Gordon, DePauw '88
Patrick D. Laper, Wisconsin '68
Richard M. Levin, Indiana '87
William J. Spanfellner, Ohio '61
Walter G. Tibbitts, Texas '61
30 Years
Bruce K. Balderston, Pennsylvania State '76
William M. Leete, Carnegie '58
Jon D. Lundy, DePauw '90
David M. Neese, Michigan State '68
Stephen K. Rowley, Ohio '65
Charles T. & Marion M. Thompson Foundation
29 Years
Scott R. Bayman, Florida '68
Craig W. Graham, DePauw '82
Richard L. Stern, Georgia Tech '90
28 Years
Edwin E. Boldrey, DePauw '63
Robert J. Brand, Louisville '70
Edwin D. Crane, Arkansas '76
Thomas F. Durein, Oregon State '92
Bradley R. Elfers, Washington '92
Charles B. Fulghum, Georgia Tech '78
Michael L. Fuller, Georgia Tech '79
Richard C. Johnson, Middlebury '58
Ronald C. Magnussen, Illinois '60
Shawn D. McCormick, Ohio State '92
Douglas B. McLeod, North Dakota '63
27 Years
James P. Girolami, Maryland '75
26 Years
Roy F. Allan, Lehigh '68
Paul B. Edgerley, Kansas State '78
Gary G. Harris, Washington '71
John T. Henderson, Auburn '62
Clifton C. Jones, Kansas State '77
Gregory J. Lamb, Iowa '94
Kenneth W. Pober, Colorado '62
Craig S. Sowell, Houston '92
Ashton M. Tenney
John W. Wingate, Hamilton '85
Craig D. Zelent, Illinois '84
Richard A. Zimmerman, Michigan State '53
25 Years
David V. Allard, Indiana '70
Robert W. Broad, Syracuse '60
Richard B. Campbell, Nebraska '68
Stephen C. Hartstern, Louisville '70
Scott B. McClanahan, North Carolina '74
Terry K. Schmoyer, South Carolina '88
Kevin M. Sullivan, North Carolina '86
William S. Tekien, Bradley '69
Robert L. Tyburski, Colgate '74