Cornell Chapter turns 150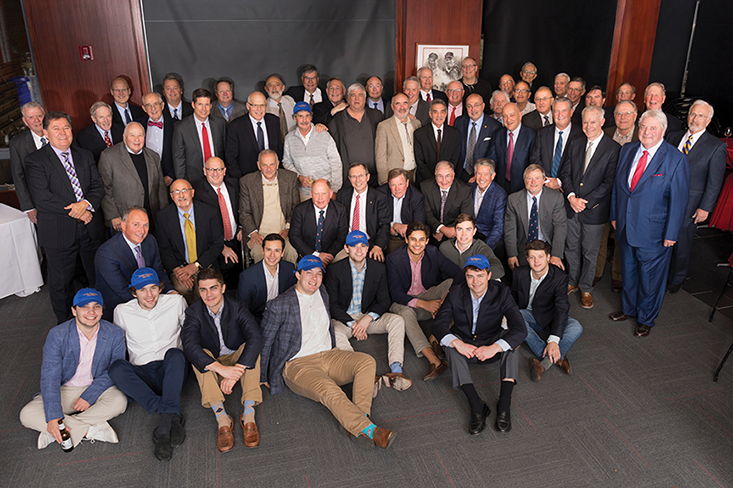 It is always special to celebrate an anniversary. They provide time to not only reflect on, but also celebrate the past. In 2019, Delta Upsilon's Cornell Chapter celebrated in a big way to honor its 150 years as a chapter.
The Cornell Chapter was installed as Delta Upsilon's 18th chapter on June 6, 1869. Today, it stands as the Fraternity's eighth oldest chapter currently open. Over the course of the Cornell Chapter's 150 years, it was only closed for a span of two years (2001-2003), leaving only three current DU chapters having been open for a longer amount of time.
So, what is the chapter's secret to longevity? According to the Chapter President, it is the friendships created in DU and the support that friendship brings.
"Although the makeup of the [chapter] has changed over the last 150 years, we continue to persevere because of our incredible alumni support," said President Scott Zelov, Cornell '21. "This overwhelming support comes from the bonds we all form as undergraduates. Plenty of houses talk about how close the undergraduates are, but I have yet to hear about or witness a house as close-knit as DU is at Cornell."
To celebrate this milestone anniversary, a celebratory weekend was held Nov. 8-10, 2019, in Ithaca, New York, the home of Cornell University. Preparations began nine months in advance with a committee of alumni leading the charge. Frank Tataseo, Cornell '76, chaired the committee with assistance from Kevin Burns, Cornell '79; Scott Keenum, Cornell '76; Mark Merila, Cornell '82; Duane Phillips, Cornell '79; and Bob Straka, Cornell '82. For Frank, the anniversary provided the perfect opportunity for alumni of all ages to come together, reminisce, and thank those who had given their time and treasure to the Cornell Chapter over the years.
"I don't think I was the only one experiencing a runner's high without doing a lap," Frank said while recalling the weekend. "Reconnecting with so many brothers with whom I shared so much so many years ago was exhilarating and euphoric."
Weekend activities included a Cornell Big Red hockey game with 20 alumni in attendance, a tour of the campus wrestling facility and conversation with coach Rob Koll with 34 DU alumni, lunch at the chapter house, and a celebration dinner. Fifty-two alumni attended the lunch where Cornell sprint football coach Terry Cullen served as guest speaker along with Frank and Cornell Alumni Chapter President Mark Kamon, Cornell '75.
The highlight of the festivities was the celebration dinner held Saturday evening in the Hall of Fame Room inside Cornell's Schoellkopf Field House, a fitting setting as a number of Cornell DU alumni are former student athletes. During the event, Judge Mark Clemente, Cornell '73, greeted the crowd with humorous and heartfelt remarks about the Fraternity before General John Paxton, USMC, Cornell '73, gave the keynote address. In total, 63 alumni, guests and undergraduates attended the dinner. This included four members of the class of 1957.
"Paxton hit the bull's-eye on why Cornell DU was so special to them and such an important and meaningful part of their lives," Frank said.
"What really stuck out to me was how alumni who had not seen each other in 30, 40, even 50 years acted as if they had just been away for a long weekend," Scott also recalled. "There was never a dull moment that weekend because someone was always telling an incredible story about their time in DU."
With such an inspiring and eventful celebration, Cornell DUs are even more determined to see another 150 years.