Dave Jorgenson: Tik Tok Journalist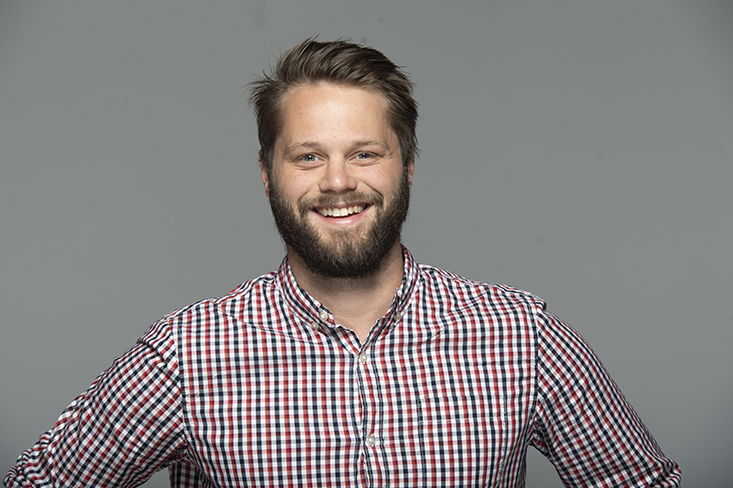 Dave Jorgenson, DePauw '13, works for The Washington Post, one of America's leading daily newspapers. In October 2019, he met with Julian Castro, a former U.S. Cabinet member who, at the time, was also a candidate for president. Most people would likely assume this meeting was a formal, button-downed interview. … Not so much.
You see, Dave runs The Washington Post's TikTok account, and this encounter resulted in a 14-second viral video, not a lengthy print article. During this meeting, which took place in an airport, Julian, his brother Joaquin Castro (himself a member of the U.S. House of Representatives) and Dave made a lip dub video to rapper JUFU's song "Who R U"—a song made popular by the TikTok platform. Today, the video has more than 3.9 million views.
If you haven't heard of TikTok, you likely will soon. In 2019, it was the second most downloaded app in the world, and it is one of the fastest growing social media platforms. The video-based app encourages users to create and share short videos. Most often, these videos involve singing, dancing, comedy or other creative endeavors, however, one can find videos of all types. With more than 500 million active users worldwide, TikTok has become more popular than LinkedIn, Twitter, Pinterest and Snapchat.
Dave joined The Washington Post in 2017 as part of its video department after spending time at other news outlets doing both print and video journalism. As a video journalist for The Washington Post, he was tasked with creating both long- and short-form creative videos that would appeal to younger viewers and expand the newspaper's subscriber base. Among many others, one of the projects Dave led was a series called "Short Takes" where he interviews children on the street. In his words, the series is like a YouTube version of "Kids Say the Darndest Things."
So, with a desire to attract a younger audience and explore different communications platforms, it wasn't hard for Dave to sell the idea of The Washington Post joining TikTok. Armed with a seven-page proposal and the backing of a member of The WaPo social media team, Dave successfully made his pitch. Because of his regular workload, it was another few months before the newspaper's first TikTok posted. Now, less than a year later, TikTok comprises the majority of Dave's workload.
"Right off the bat, we had a couple TikToks go viral," Dave said. "Then, because of the success, it was kind of interesting. It sort of had this outside-in effect where people were so impressed with it, even just in D.C. and other news media companies, that they really couldn't tell me to stop making them."
Dave's TikTok strategy involves using authenticity and humor to educate without going too deep into the news. For example, Dave's video with the Castro brothers has been one of The Washington Post's most successful TikToks. Its intent was to be a fun, relatable piece of content that just happened to bring attention to two relevant political figures. Many other posts take place in The Washington Post newsroom and show a day in the life of a journalist or office worker without necessarily commenting on the news. Other times, Dave has traveled to cover high profile events like the Iowa Caucuses and the Super Bowl. Because the intent of TikTok is to produce and share creative videos, Dave wants to show that The Washington Post understands those on the app instead of trying to force the platform to be something it's not.
"I've seen it before, especially with Instagram or even Reddit—any social media company to some extent—when it became popular, a lot of people, brands or newspapers got on the app and kind of ruined it for the people that were already on it," Dave said. "I want to kind of slowly grow our base and the people that really like our content, then start to casually move it more into the news side of things."
For now, Dave views The Washington Post's TikTok account as a modern-day version of a newspaper daily crossword or editorial cartoon. Yes, there is value in informing others through the videos, but there is also value in simply providing a creative outlet.
A major factor in Dave's TikTok strategy is the fact that Generation Z makes up the majority of TikTok users. The platform has reported that 60 percent of its U.S. users are between the ages of 16 and 24. (Eighty percent are between 16 and 34.) Gen Z craves authenticity, and as digital natives, can quickly pick up when something is not genuine. This is why Dave finds the platform to be such a genuine and creative space. Yes, TikTok has dark corners and privacy concerns like the rest of the internet, but overall, Dave finds the platform to be a breath of fresh air.
"I think TikTok in some ways is the answer to all the negativity on Twitter, all the shaming on Instagram, and everything like that," Dave said. "I think TikTok has now kind of moved into a place where you can be yourself. That, to me, is not only valuable, I think it's just a really great thing for humans."
Personally and professionally, Dave finds that the TikTok experience has helped him grow. He enjoys being able to produce and publish content daily. He has also enjoyed getting to work with more and more of his colleagues. His work has spurred him to simply introduce himself to more people from other departments when he thinks they might be good for a TikTok.
Getting to know more people is also Dave's advice for Delta Upsilon undergraduates. When he transferred to DePauw University as sophomore, Dave says joining Delta Upsilon opened him up to more people and experiences.
"DU is very diverse both ethnically and in interests," Dave said. "It really improved my experience where there were so many different people in our Fraternity that I wouldn't have met in the middle of Indiana otherwise. … Obviously, my degree was valuable, but I feel like the people I grew bonds with, that still is very significant."
This reverence for human connection is part of what makes Dave such a good journalist. One needs to understand both their subject matter and other human beings to more adequately inform and persuade. Today, Dave and The Washington Post are trying to prove this one TikTok at a time.