Delta Upsilon Mourns Ed Mosher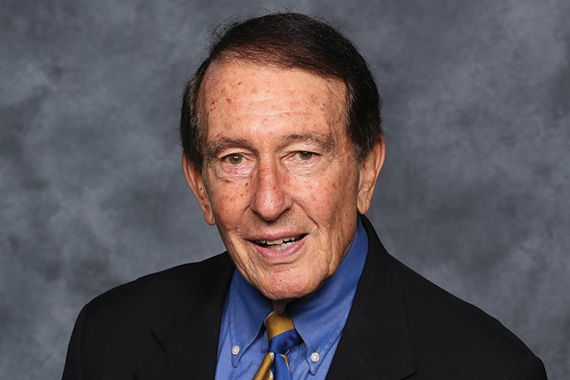 Delta Upsilon International Fraternity mourns the passing of Brother Edwin T. Mosher, San Jose '52. Ed passed away Jan. 27, 2019, after battling cancer.
Ed was a beloved and dedicated brother who left an indelible mark on Delta Upsilon. For decades, including up to his death, Ed volunteered with the San Jose alumni chapter and housing corporation. Through this work, Ed helped to advise students and young alumni, lead alumni efforts, and oversee management of the chapter facility. In 2003, he received Delta Upsilon's Founders Medal, which honors alumni and volunteers for their support of the Fraternity above and beyond the bonds of brotherhood. In addition to his service with the San Jose Chapter, Ed served on the International Fraternity's Board of Directors from 1981-1987.
Ed's love for Delta Upsilon played an important role in his life. Each summer, he would make it a priority to attend DU's Leadership Institute to connect with brothers from across North America. In total, Ed attended an impressive 37 Leadership Institutes. In fact, from 1982 to 2017, he only missed three LIs.
Ed was born March 18, 1929, in San Jose, California. After graduating from San Jose State in 1952, Ed spent time in the U.S. Marine Corp. During his time in the Marines, Ed, the son of a tailor, became interested in East Coast fashion thanks to his travels. Upon his return to San Jose in 1955, Ed opened his own clothing store, Mosher's Ltd., which grew into an iconic local establishment. The store was open for 62 years, closing in 2017 as Ed focused on his health.
In addition to his passion for Delta Upsilon, Ed loved his alma mater, was a longtime supporter of the university and a football season ticket holder. A former student of the Theatre Arts Department, in May 1999, he was recognized by the department as the Alumnus of the Century for his tireless commitment, enthusiasm and support of the department and his alma mater. While in college, Ed met Patricia (Pat) Turner, and the two were the first couple ever married in the San Jose State Chapel on June 1, 1952. Together, Ed and Pat had two sons and four grandchildren.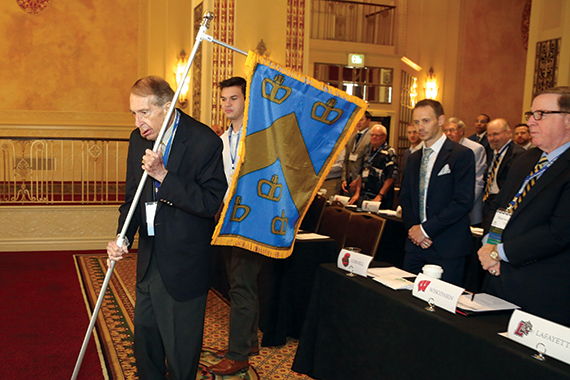 "Ed's passion for DU and San Jose State were always there strongly," said Patrick Spooner, San Jose '55. "He never missed a national DU convention, and he kept records on every San Jose DU. But my favorite memories of Ed would be at San Jose State football games, as he so got into every game and so very much enjoyed observing those guys playing football."
Throughout his life, Ed felt it important to give back not only to DU, but also San Jose State University and his local community. He volunteered countless hours on various boards and committees including the Spartan Foundation, San Jose Symphony, Opera San Jose, SJSU Academic Senate and the San Jose Arts Council. During his career in retail, Ed held leadership positions in several national trade organizations including President of Apparel Retailers of America (ARA) and a member of the Board of Directors of the National Retail Federation (NRF).
Family and friends held a memorial celebration March 16 to coincide with what would have been Ed's 90th birthday weekend. Those wishing to honor Ed's life and legacy can do so through a gift to the Edwin T. Mosher Chapter Legacy Plan, which provides scholarships for undergraduates of the San Jose Chapter to attend DU educational programs.