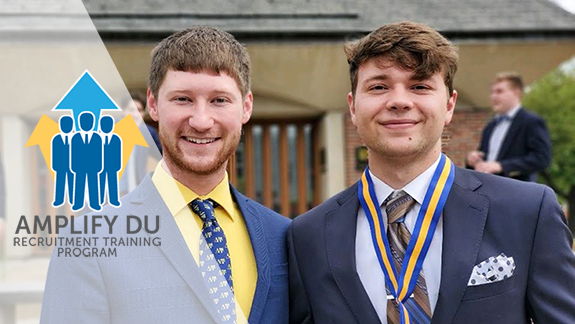 May 5, 2021 - This week, Delta Upsilon International Fraternity announced its newest educational program — Amplify DU: Recruitment Training Program. This summer, virtual program will begin in June and help chapters with focused recruitment programming and coaching.
"Coming out of the pandemic, Delta Upsilon has the unique opportunity to provide college men the support, connection and friendships they may have been missing over the past year," said DU Executive Director Justin Kirk, Boise State '00. "Fraternity membership is more important than ever, and this program will help you and your chapter best promote and share the DU experience."
Amplify DU is geared toward chapter Vice Presidents of Recruitment and will consist of five recruitment webinars, as well as three small-group coaching calls and three guided GroupMe chats. Alumni Recruitment Coaches and DU staff will facilitate webinars and small-group discussion, and small groups will consist of 6-10 chapters based on similar characteristics (campus type, recruitment timeframe, housed/unhoused chapters, etc.) and provide more focused recruitment coaching. One to two additional recruitment chairs/assistant VPs, as well as advisors, will have the opportunity to attend the five webinars.
It is expected that every DU chapter/associate chapter have its Vice President of Recruitment take part in Amplify DU. As part of the training program, all participating chapters will be eligible for incentives based on recruitment performance this upcoming year.
Chapters can register for Amplify DU here.
Advisors who would like to attend the webinars should complete this interest form.
AMPLIFY DU 2021 SCHEDULE
Attend five recruitment education webinars via Zoom

Wednesday, June 2, 8:00 – 9:00 p.m. EDT
Wednesday, June 16, 8:00 – 9:00 p.m. EDT
Wednesday, June 30, 8:00 – 9:00 p.m. EDT
Wednesday, July 14, 8:00 – 9:00 p.m. EDT
Wednesday, August 11, 8:00 – 9:00 p.m. EDT

Participate in three small-group coaching calls at a date/time that works best for your small group during each of the following weeks:

Week of June 7
Week of July 5
Week of August 2

Participate in three guided team GroupMe chats during each of the following weeks:

Week of June 21
Week of July 19
Week of August 16