DU Quarterly Goes Digital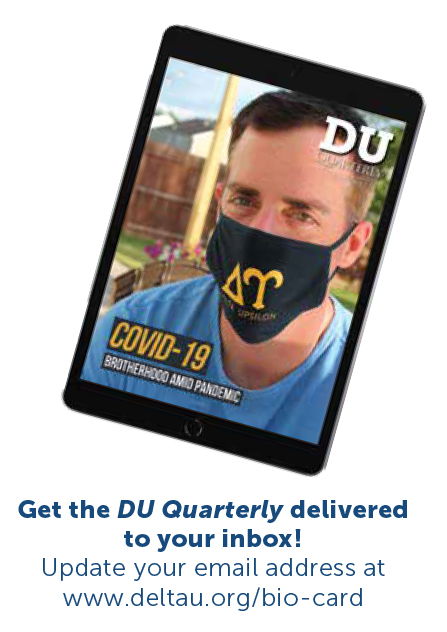 This issue of the DU Quarterly is the first to be completely digital! While each issue of the magazine is always uploaded to our website and available in PDF form, this issue was not released in print. Due to the COVID-19 pandemic, the Fraternity looked at a number of ways to reduce costs for the year ahead, and the decision was made not to print the DU Quarterly. We know that sharing DU news and stories of our outstanding brotherhood is important, so we are excited to continue to offer the DU Quarterly in a digital format!
Digital editions of the DU Quarterly are sent to all undergraduates, alumni and parents via email. They can also be found on our website at www.deltau.org/quarterly. Make sure you get the DU Quarterly in your inbox by ensuring the International Fraternity has your most up-to-date email address. Members should complete our Member Bio Card at www.deltau.org/bio-card. Parents can complete our Parent Contact Form found at the bottom of www.deltau.org/parents.
Receive the fall issue in print
The fall issue of the DU Quarterly will be a special edition Delta Upsilon Annual Report, and it will be mailed to DU Educational Foundation donors! To receive this issue in print (as well as future print issue), simply make a donation to the DU Educational Foundation. You can give by sending a check to 8705 Founders Road, Indianapolis, IN 46268 or going to www.deltau.org/give.