DU REceives Communications Awards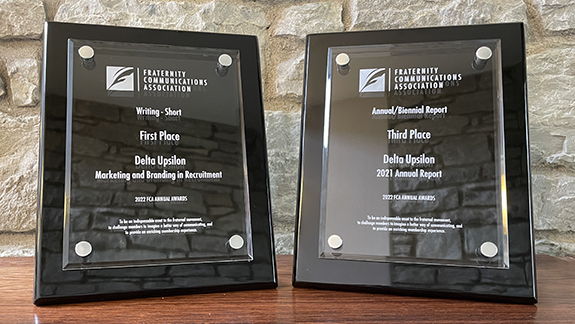 May 4, 2022 - Delta Upsilon was recognized with two awards from the Fraternity Communications Association during its Annual Conference held April 27-29 in Cincinnati, Ohio. DU received a first place writing award in the Writing - Short category for its recruitment blog entry titled "Marketing and Branding in Recruitment." It also received a third place award in the Annual Report category for the Fraternity and Foundation's 2021 Annual Report.
The Fraternity Communications Association is a professional development organization for those who work in communications and marketing at various Greek-letter organizations. This includes fraternities and sororities from the North American Interfraternity Conference (NIC), National Panhellenic Conference (NPC), National Pan-Hellenic Council (NPHC), Professional Fraternity Association (PFA), honor societies and more. FCA's three main tenets are education, networking and recognition. The 99-year-old association is the oldest interfraternal professional development organization.
Each year, FCA hosts a robust awards competition to recognize the work of its member organizations. It honors first, second and third place winners in 25 different awards categories ranging from writing to social media engagement, video presentations and more. The 2022 awards competition recognized work completed in the 2021 calendar year, and FCA received more than 600 award submissions. Twenty-nine different organizations were honored with awards. DU's Director of Communications Ashley Martin Schowengerdt and Creative Specialist Natalie Tate were on hand to accept the awards.
Over the past 10 years, Delta Upsilon has received 15 awards from FCA. Schowengerdt is a former president of the Fraternity Communications Association, and DU Executive Director Justin Kirk, Boise State '00, is a former FCA board member.