DU Receives NIC Laurel Wreath Award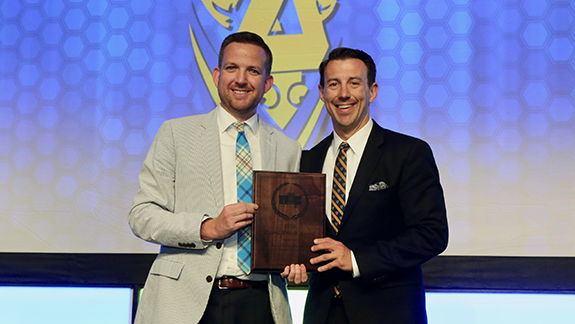 Aug. 3, 2018 - During the 2018 Leadership Institute in Scottsdale, the North-American Interfraternity Conference recognized Delta Upsilon's Associate Member Education Program with a Laurel Wreath Award. The NIC announced award recipients in late spring 2018, and NIC staff member Dominic Greene, Oregon '99, presented DU with its plaque at LI on Thursday, July 26.
Each year, the NIC presents Laurel Wreath Awards to individuals or groups in recognition of their unique programs, community outreach, or influence within the fraternal world. This is the second consecutive year DU has received a Laurel Wreath Award, and the fourth time in nine years. DU was honored for its use of UniLOA in 2010, the Global Service Initiative in 2013, and the Membership Outcomes Assessment in 2017.
"[The Associate Member Education Program] is truly aimed at the growth and development of DU's newest members," Greene said while presenting the award. "Not only does it provide associate members with foundational knowledge of the organization, it provides information about important skills, such as understanding self, interacting with others, and how to process information. This program gives students tools they can utilize to further their learning and development throughout their membership experience and beyond. And that is what fraternity membership is all about."
The NIC also noted it was impressed with Delta Upsilon's data that shows the positive effects of the program. Thanks to the Membership Outcomes Assessment, DU has been able to show how students utilizing the program have scored higher in a number of critical areas (including self-esteem, openness to diversity, brotherhood based on belonging, and more) than those brothers who did not participate in the program. The Associate Member Education Program was rolled out to all DU chapters in fall 2016.
Other 2018 Laurel Wreath Award recipients include Alpha Tau Omega; Phi Kappa Psi; Sigma Chi; Sigma Nu; and Sigma Alpha Mu, Zeta Beta Tau, Alpha Epsilon Phi and Sigma Delta Theta.