DU Recolonizes at Colorado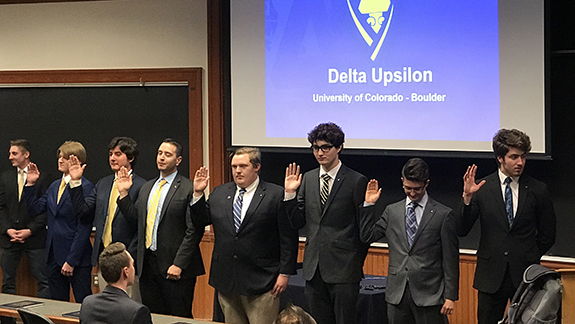 Nov. 18, 2019 - Delta Upsilon has officially returned to the University of Colorado Boulder! Expansion efforts started in August 2019, and the Colonization Ceremony for the new group was held Nov. 15 at the Hale Sciences building on campus.
The Colorado Chapter was first installed into Delta Upsilon on Feb. 28, 1953. However, the chapter closed in 1997. With the return to campus, DU joins five other fraternities as part of the university-recognized IFC.
DU staff began recruitment efforts in fall 2019. During this time, staff recruited Founding Fathers into the colony and began to set the group up for success. Recruitment efforts remain ongoing as the colony works toward the goals needed for Reinstallation.
Leadership Consultant Max Parent, James Madison '19, served as Master for the Colonization Ceremony. Chapter advisor Joe Fetherling, Iowa State '19, served as Chief Marshal. During the ceremonies, 19 men were pledged into the Fraternity. A reception for the associate members, family, friends and campus partners was held immediately following. The next day, a colony retreat was held to help the group set goals and develop deeper friendships.
The International Fraternity would like to thank the Colorado Chapter alumni, local alumni and University of Colorado administration for their support and partnership.
Congratulations Colorado Colony!
Colorado Colony Founding Fathers
David Banda
Michael Bush
Ryan Fletcher
Nick Gerlach
Thomas Harris
Jack Hau
Fernando Hern Munoz
Nick Johnson
Andrew Kuzik

Jonah Munoz
Alex Nichols
Tristan Palermo
Andrew Pike
Hunter Posso
Caleb Riccio
James Sines
Ethan Walters
Zachary Weiss