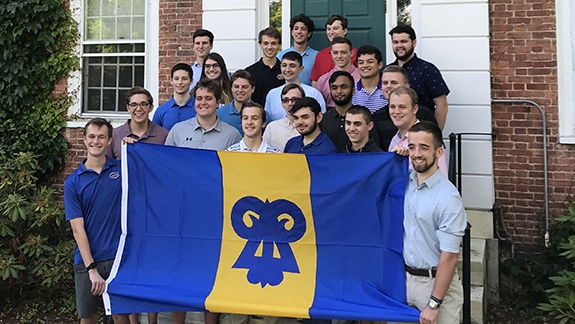 March 31, 2020 - As the COVID-19 pandemic continues, Delta Upsilon International Fraternity has made the decision to cancel the 2020 DU Emerging Leaders Experience. DUEL was scheduled to take place June 1-5 in Amherst, Massachusetts. Students who had already applied for the program have been notified. Fortunately, students had not been assessed registration fees for DUEL as the cost of attendance is funded by the DU Educational Foundation.
"While it saddens us to have to cancel programs, the Fraternity believes it is in the best interests of our students not to host DUEL this year," said Delta Upsilon Executive Director Justin Kirk, Boise State '00. "At this time, there are too many unknowns regarding COVID-19, and we did not feel comfortable continuing with our plans. We look forward to hosting the program in 2021 and invite those who applied for this summer's program to apply again next year."
DUEL is a five-day, inclusive program uniquely designed to help young leaders. First- and second-year DUs have the opportunity to identify, analyze and understand their personal leadership while at DUEL. They begin to take ownership for creating their ideal DU experience and create action plans to make it a reality. DUEL takes attendees to Williams College, the founding site of Delta Upsilon, for the most intensive Ritual education offered through DU.
According to DU's Membership Outcomes Assessment, DUEL is one of the Fraternity's most impactful programs with attendees scoring higher in a number of critical areas than brothers who have not attended the program.
The date for DUEL 2021 will be announced later this summer, and applications will open in spring 2021.
If you have any questions regarding DUEL, please contact Director of Educational Programs Veronica Moore at moore@deltau.org.