DUEL Applications Now open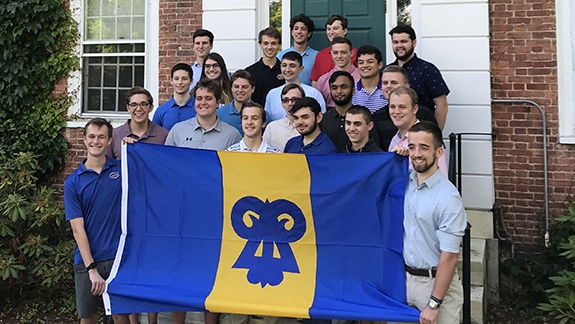 Feb. 5, 2020 - Applications for the 2020 DU Emerging Leaders Experience (DUEL) are now open. Held June 1-5, 2020, on the University of Massachusetts, Amherst campus, DUEL is an immersive experience for first- and second-year DUs. Registration fees are covered by the DU Educational Foundation.
Applications will close April 1, 2020, and applicants will know of their status by April 6.
The Fraternity's Membership Outcomes Assessment data shows DUEL to be Delta Upsilon's most impactful program. Data shows that those who attend DUEL show stronger senses accountability, commitment and openness to diversity than non-attendees. This highly interactive program encourages newly initiated members to create a deeper and broader definition of who they are and where they can have an impact. Participants learn about the journey of DU and are encouraged to reflect on their own personal journey.
Using the StrengthsQuest Inventory, the men begin to identify, analyze and understand their personal leadership. By developing confidence in their talents and clarifying their personal values, participants take ownership for creating their ideal experience through Delta Upsilon. Then, they identify the specific actions they need to take to make that experience a reality, including identifying a mentor to support them throughout their fraternity experience. This further helps the participants to create an ongoing cycle of self-reflection, goal setting, coaching and action.
DUEL provides an opportunity to visit Williams College and connect with the history and founding of Delta Upsilon. Through the visit to the Fraternity's founding location, the program creates the most intensive ritual education offered through Delta Upsilon's educational programs. Participants leave better able to connect the Delta Upsilon mission and Principles to today's man and the fraternity experience.
There are no registration or lodging fees for attendees, however, they are responsible for their own travel costs.
Questions about the program and application can be sent to Director of Educational Programs Veronica Moore at moore@deltau.org.