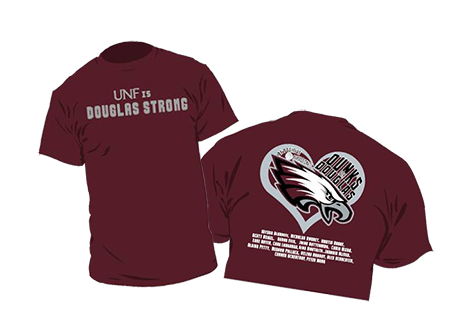 March 7, 2018 - News of the Feb. 14 shooting at Marjory Stoneman Douglas High School in Parkland, Florida, sent chills across the United States. The tragedy left 17 dead, dozens more injured, and community and nation in tears. Even at the University of North Florida, a five-hour drive up the coast from Parkland, the shooting hit too close to home and left many ready for action.
Jared Rubin, North Florida '20, was in disbelief when he saw the news. A 2016 graduate of Marjory Stoneman Douglas, he didn't believe what he was hearing could be real. Something like this couldn't happen in his hometown. However, as the deaths were confirmed and names of the victims began to be released, reality started to sink in. Some of his victims were his friends and coaches.
"When I heard the number 17 and names of victims that I knew personally, I knew I had to help," Jared said.
Jared and his Delta Upsilon brothers quickly began to brainstorm ways to help the victims and mobilize the North Florida fraternity/sorority community. Many campus Greek philanthropies revolve around sports and competition, so they decided to start there. Soon, plans for a 3 on 3 basketball tournament, Dunks for Douglas, began to take form.
A few days later, the event had approved by the university and Jared, DU's North Florida Chapter President, was set to announce the tournament to the Interfraternity Council. As the IFC's biweekly meeting began, several other fraternities began to talk about ways to help the shooting victims. Men from other chapters had lost friends and family in the tragedy, too. Seeing the impact the tragedy was having on the entire Greek community, Jared suggested everyone join forces.
With the IFC's involvement, Dunks for Douglas was able to grow beyond Jared's initial plans. In addition to the basketball tournament, 16 local businesses donated items for a raffle, and a T-shirt was created and sold through the IFC. Things moved very fast because, according to Jared, everyone knew "we had no time to wait." In total, Dunks for Douglas was put together in the span of about 10 days.
"For everything and anything we needed done, we had people willing to help," Jared said. "It was amazing to see the community come together the way we did."
Dunks for Douglas was held March 1 at The Fieldhouse, UNF's campus recreation center. For a $50 registration fee, teams could play in the basketball tournament while other guests enjoyed free food, live music and games. In total, about $2,000 was raised.
"We have a lot of people within UNF, IFC and just the Greek community in general that are alumni of Douglas or that have brothers or sisters that go there," Mark Favia, IFC President, told the student newspaper. "I just think this is something that really hits close to home because those people are four to five years younger than us. They'll be in the same classrooms with us next year. They're the same ages as our younger brothers and sisters."
Despite officially handing the event over to the IFC, Jared remained one of the key organizers for Dunks for Douglas. On site, he helped facilitate the basketball tournament by making brackets, ensuring participants signed waivers, and encouraging fair and safe play. Without the stress of having to host the tournament, DU's North Florida Chapter took the opportunity to donate and field a team of its own.
"Without the help and support of the chapter, this event would never have taken place," Jared said.
Now that Dunks for Douglas is over, many of the North Florida DUs are looking into additional ways to help Marjory Stoneman Douglas. Jared specifically plans to return to Parkland over spring break to help with the track team, which lost its coach in the shooting.
"I will continue to help my community in any way possible," Jared said. "[As a chapter] we have not thought past this first event raising money. However, if we felt more help was needed, I know I speak on behalf of the chapter when I say we would not hesitate to help."