Founders Day of Giving 2017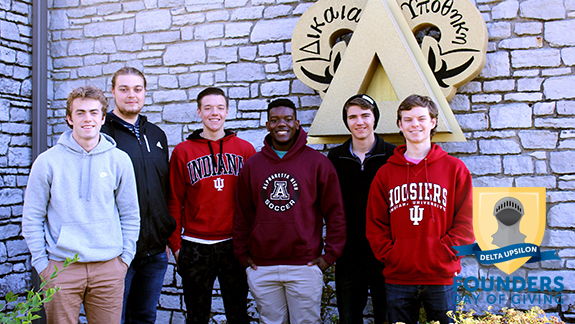 Nov. 4, 2017 - For the second year, the Delta Upsilon Educational Foundation hosted a Founders Day of Giving to honor Delta Upsilon's 183rd Founders Day. This day-long campaign is designed to generate excitement about the Fraternity and raise funds for the DUEF's Annual Loyalty Fund. This year's campaign began Friday, Nov. 3 and ended Nov. 4 at noon.
The DUEF is proud to announce it has raised $37,127 from 157 donors! (This total does not reflect donations that may come in my mail.)
The Annual Loyalty Fund is the DUEF's general fund and is used to fund items including educational programs, scholarships and operating costs. DU's educational programs truly help DU fulfill its mission of Building Better Men by developing leadership skills in brothers. The programs go beyond chapter operations and are designed to support values reflection, identifying leadership skills and personal development.
Throughout the Founders Day of Giving, targeted emails and social media posts connected DU members and friends to the day. Special campaign ambassadors even created giving pages through the Founders Day of Giving online portal to support peer-to-peer fundraising. The DUEF would like to specially thank these ambassadors for the support and passion for Delta Upsilon.
Members of the Indiana Chapter also traveled to Delta Upsilon International Headquarters to help with the campaign. The men wrote personalized thank-you letters to donors, ran the Fraternity's Snapchat account and participated in a Facebook Live event.
"On behalf of the DU Educational Foundation, we thank everyone who participated in our Founders Day of Giving," said Colin Finn, Iowa State '05, Director of Advancement. "It is heartwarming to see so many of our brothers and friends honor our Fraternity's heritage and support the development of our members. Every gift goes a long way toward helping us provide best-in-class programming and support."