GSI is Returning to Jamaica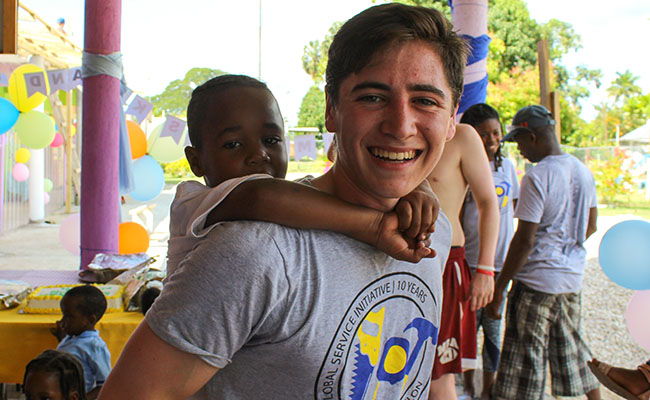 Oct. 19, 2022 - Delta Upsilon International Fraternity is proud to announce the Global Service Initiative is returning to Jamaica in March 2023. This trip will mark the first time the program has been held internationally since January 2020.
Since 20211, Delta Upsilon has taken students to Jamaica annually as part of the Global Service Initiative, which serves as the Fraternity's international service project and philanthropy. On these trips, participants experience hands-on service, often doing construction projects for local schools. The experience allows them to provide manual labor; interact with students, teachers and other locals; and participate in daily discussion facilitated by trained DU staff/volunteers. These discussions center on global competencies and connecting the GSI experience to personal and DU values. Due to the COVID-19 pandemic, the Fraternity has been unable to travel to Jamaica for the past three years.
"We are thrilled to return to Jamaica for the Global Service Initiative," said Delta Upsilon Executive Director Justin Kirk, Boise State '00. "GSI is an experience unlike any other in the interfraternal community, and it truly allows our members to connect the value of service to their personal values, as well as DU's Four Founding Principles. Our brothers leave GSI energized and equipped to better serve their home communities."
The March 2023 trip will be held March 11-18 in Negril, Jamaica. Applications are now open and are due Jan. 15. The cost of attendance is $100 plus travel and miscellaneous expenses for undergraduates and $500 plus travel and miscellaneous expenses for alumni. The $100 and $500 fees include lodging, meals and travel within Jamaica during the program. Delta Upsilon is able to keep these costs low for attendance thanks to support from the DU Educational Foundation. Fundraising efforts from DU chapters support the cost of building materials and supplies for each trip.
For questions about the Global Service Initiative, contact Director of Educational Programs Kody Rother, North Dakota '09, at rother@deltau.org.
Apply for the Global Service Initiative