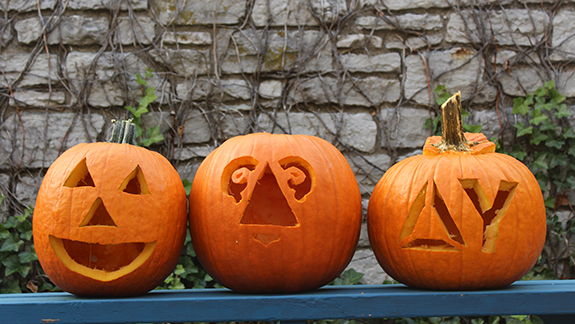 Oct. 23, 2019 - Halloween is next week, and Delta Upsilon wants to make sure everyone has a happy and safe Spooky Season. From pumpkin carving to making sure your costume choices don't come back to haunt you later, here are some tips and resources to use this Halloween.
First, what is Halloween without a few jack-o'-lanterns? The Fraternity has three different DU-themed stencils you can download for all your pumpkin carving needs. DU International Headquarters is looking festive with its pumpkins (see photo).
Download DU Halloween jack-o'-lantern stencils.
Second, and most importantly, DU wants to make sure you enjoy the holiday responsibly. As always, make sure you and your chapter follow all Fraternity, university, state/province and federal laws/policies when hosting any event. View DU's Loss Prevention Policies and the Substance-free Housing Policy before planning any event.

In addition to following policy during events, remember that the themes you choose for events and costumes you wear say a lot about the organization you represent. By avoiding racially and culturally insensitive words and themes, fraternity and sorority members can protect themselves and ensure they are respectful of others.
Check out this article about avoiding culturally appropriated Halloween costumes that was recently published in USA Today. Remember: Diffuse Liberal Culture. Don't Mock It.