In HIs own words: walter oliff, central florida '17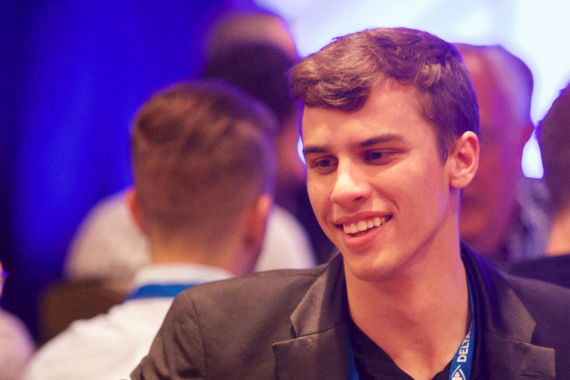 Walter Oliff, Central Florida '17, holds two important positions in Delta Upsilon: chapter president and Undergraduate Advisory Board Chairman. (The UGAB is a team of six undergraduates—one from each DU province—elected to serve as a focus group of the undergraduate membership.) The DU Quarterly team recently spoke with the Woodville, Florida, native about his plans for the UGAB, vision for the Fraternity, work with the Young Marines youth education program and more.
How would you like the undergraduates to better utilize the UGAB?
Our most important role is to generate a conversation. I think to better utilize the Undergraduate Advisory Board, the first step is to just utilize us to begin with. Contact us via email. Give us a call. Things like that would be a fantastic start.
While attending the 2016 Leadership Institute, what made you want to run for UGAB Chairman?
DU has given so much to me. I wanted a way to give back, and I wanted to help influence the direction of Delta Upsilon. I think that we are doing so many great things internationally. We are leading the industry in a lot of different ways, and I want to be a part of that movement and continue to propel the mission of Delta Upsilon forward.
Your vision for DU is to lead the industry in all metrics. What do you think the undergraduate membership can do to help that vision become a reality?
If the undergraduates want to make that vision a reality, it starts with them. What can each undergraduate member do personally to continue to propel that vision and our mission forward? I think a lot of the times, people get lost in the numbers thing; "Hey, I'm just one in X-thousands of DU members." But that one person makes so much of a difference. One member can completely ruin and corrupt our image. One member can also highlight all DU has to offer... If we can focus on bettering ourselves and giving back to our chapters, then we are going to make tremendous, positive changes.
In addition to Delta Upsilon, you are also very involved with Young Marines. Tell us a little about that.
Young Marines is a drug demand reduction program focusing on youth leadership between the ages of eight and 18. Think of the Boy Scouts but with a Marine Corps twist. I started when I was 9 years old. I was looking for something to join that was bigger than myself, which I don't think is something a lot of elementary school students do. When I found the Young Marines, I liked how challenging it was and its focus on public speaking, leadership and saying "no" to drugs. I completely fell in love.
I continue to be involved now as an adult staff member. I teach at its National Leadership Academy in the summer, and I have assisted in starting the Young Marines Alumni Association where I serve on the executive committee and advisory board. I control all things finance and marketing related.
You will graduate in December 2017. What are your plans?
Right now, I have already accepted a full-time position with Lockheed Martin as a multi-functional financial analyst supporting the F-35 (fighter jet) program here in Orlando. I'm really excited to be doing that. I also want to be able to give back to the Young Marines and Delta Upsilon.
What is one piece of advice you would give to your fellow DU undergraduates?
Seize every opportunity. DU has so much to offer, more than just what you do in your day-to-day chapter experiences. Go to DUEL. Go to LI. Go to RLA. Participate in GSI. Network with alumni and reach out to brothers. Seize every opportunity and get involved in any way you can to give back to your chapter. You will, in turn, become a better man. It will not only enrich your college experience, it will enrich your life.