In His Own WOrds: Joe Unger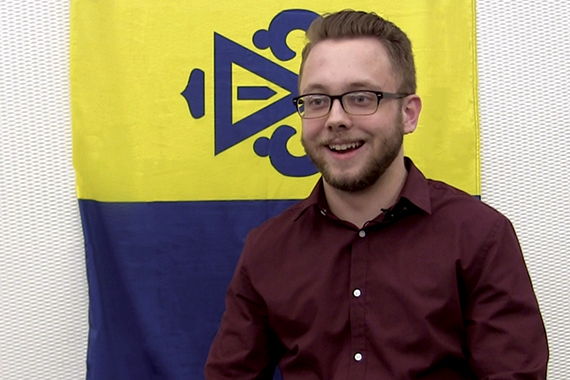 Each February, Delta Upsilon hosts five Regional Leadership Academies across the United States. RLA is the Fraternity's largest undergraduate educational program, and each academy serves as a unique opportunity for current and future chapter officers in a specific geographic region to attend sessions on a wide range of topics. The DU Quarterly team recently attended RLA Midwest in Chicago and caught up with Joe Unger, Ohio State '19, the Ohio State Chapter's former President, and asked about his RLA experience.
What has been a major takeaway from this weekend? How will it benefit you and/or your chapter?
The biggest takeaway I got from RLA is just being able to share ideas with other chapters. Finding out what they do well, what works for them, what doesn't work for them. It really helps us develop our own chapter. I know last year we were at RLA, and we were looking to make a Judicial Board and really hammer that down. So, it was really useful to talk to other chapters about what they do that has worked for them. It really helped our own ideas develop. There was good synergy around the whole weekend.
What are some of your goals for this year? How will RLA help you achieve your goals?
At Ohio State, one of our biggest goals is to really improve our recruitment numbers. For us, RLA really helps us with that because there is a whole Recruitment Symposium. I have not been a part of it, but the guys we send always come back with so many helpful new ideas, new tactics on how we go about recruiting. Spending a whole day making a plan around that really helps us make actionable decisions.
Why do you think it is important for more of your chapter brothers to attend DU educational programs?
You go to college to really open up your mind about a lot of things. That is one of our values in a way: Diffusion of Liberal Culture. It's about introducing yourself to new people, new ideas and new ways of thinking. So, when you get the opportunity to go to one of these educational programs, you are opening up your mind to ideas that DU can instill in you and the values you can really embrace, so that's the biggest benefit.
Tell me a little about yourself and what motivates you to succeed.
I am a final semester senior at The Ohio State University. I am majoring in accounting and minoring in business analytics. Something that really motivates me is helping other people and certain world issues. I am extremely passionate about food insecurity. I spent a whole semester serving at a food pantry and just want to connect with other people about that issue and solve problems.
How do you think your DU experience will help you achieve your future goals?
To be a part of my chapter and being President for a term really taught me how to handle a variety of difficult situations, and those kind of skills are the ones that benefit you 5 to 10 years down the road. Dealing with men in the setting I have has really helped me make difficult decisions, have confidence in those decisions, and execute those plans with the confidence that I am doing the right thing aligned with the right values.
Is there anything else you'd like to add?
Your time in Delta Upsilon is what you make of it. You can choose to put in a lot of effort. You can choose to learn about the values. Embrace it. It is a leadership opportunity, and it takes you wherever you want to go, but you have to be the one to make those decisions and actions.