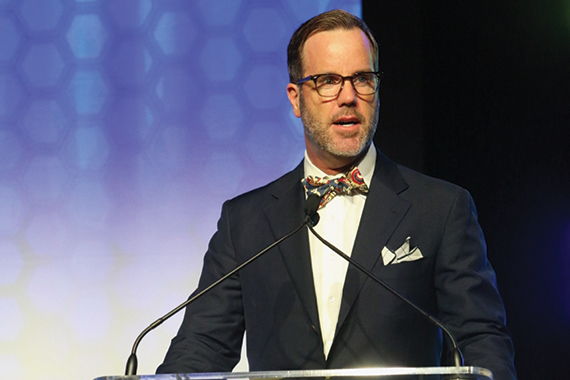 Tom Durein, Oregon State '92, was elected as Delta Upsilon's 42nd International Fraternity President during the Leadership Institute's Assembly of Trustees on July 28, 2018. Brother Durein served on the DU Educational Foundation's Board of Trustees from 1998-2015 before transitioning to the Fraternity's Board of Directors in 2015. He is a former Greek Advisor for the University of California, and a past IHQ staff member having served in a variety of expansion, member development and Foundation roles. Today, Tom is a Vice President of Account Management for NetJets, Inc., and lives in San Francisco.
What inspired you to want to become International Fraternity President?
Honestly, I've been incredibly inspired by the brothers who asked me to serve. As mentors of mine, their commitment to the organization and belief in me to help further our mission was more than enough to engage me. I count many brothers and interfraternal colleagues among those from whom I draw inspiration. I've watched how they impact undergraduates by the way they interact, respond to a crisis, or simply listen. That quiet leadership has never been lost on me and is a constant source of inspiration.
As a member of the Board of Directors, we're constantly looking to the future, assessing needs and planning for change. At this time in DU and the interfraternal world, I welcomed the opportunity to help bridge the audiences impacted by our organization—including undergraduates, their families, alumni and our partners in higher education. I've been inspired to revisit my time on the DU staff, and as a fraternity and sorority advisor, and to use those skills to build connections among our fraternal constituencies.
As we have discussed, you have served Delta Upsilon in so many staff and volunteer roles. What has motivated you to give back to the Fraternity and put in so much of your time?
I've always said when done right, when we live up to the values upon which we were founded, I believe fraternity has the potential to impact an undergraduate's collegiate experience more than any other student organization out there. My motivation has always been about doing anything I can to further that kind of an experience. There has not been one part of my personal or professional development that has not been affected by my involvement with Delta Upsilon, and I feel a true sense of responsibility to return on that investment.
What do you consider to be the biggest challenge facing DU right now, and how do we overcome this challenge?
Relevance! Not just for DU, but for all fraternities and sororities. How do we continue to create a fraternity experience, steeped in our Principles, that makes sense for college men today? How do we continue to deliver upon friendship, character, culture and justice in a way that's meaningful for both students and alumni in today's crazy world? These are the questions I would be asking if I were recruiting today. We need character building and friends to hold us accountable to our values. The continued push for cultural understanding and justice confronts us every day. These are not esoteric concepts. The Fraternity must pay attention to the way students live and learn today, and we need to help bridge the gap between young members and alumni so DU continues to enhance lives for generations.
What excites you most about DU's future?
I still get excited about the things that drew me to Delta Upsilon to begin with. I get excited about making new friends and visiting with old. And I'm confident that those same relationships, that same commitment to finding a group of people with whom I share interests, values and fun, will be the primary tenet upon which DU continues to thrive. Our Principles are perhaps the most well suited to advancing fraternity today. I hope the next 30 years of Delta Upsilon will see innovation, education, and a commitment to safe and cordial brotherhood that enables students to build the same kind of lifelong, committed friendships I've turned to for strength and support since my initiation in 1988.